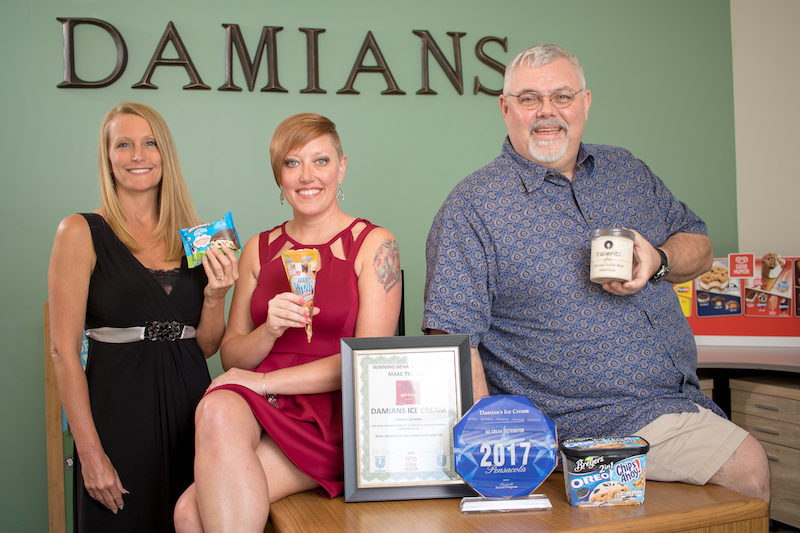 Damian's Wholesale Ice Cream
Damian's Wholesale Ice Cream aims to acquire new accounts by doing all it can to meet the needs of each customer.
Damian's Wholesale Ice Cream has earned a reputation across the Southeast for delivering quality frozen treats since 2001. President and CEO Tony Jacobs acquired the ice cream business 16 years ago and rebranded it under its current name.
The Pensacola, Fla.-based company has seen significant growth of at least 15 percent annually, according to Jacobs. "Our business expanded rapidly when we took on better products," he recalls.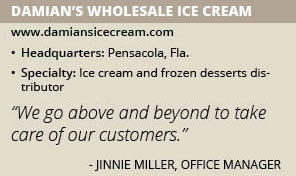 Damian's has established relationships with Good Humor, Ben & Jerry's and Breyers. This has opened the door to an array of high-quality national retail accounts such as Walgreens, Tom Thumb, Circle K, Family Dollar and CVS. As an ice cream and frozen desserts distributor, the company is also proud to work with many regional and independent businesses.
Sweet Ideas
In an effort to increase its online presence and name recognition, Damian's recently rolled out a new website and social media platforms, including Facebook and Instagram. "We want to make it easier for consumers to find our company," Office Manager Jinnie Miller explains. "Although we sell recognizable brands like Ben & Jerry's and Magnum, our name, Damian's, is not necessarily known as we are the middleman."
The company's new website has "better visuals" with a user-friendly layout, and all of its products are listed. "This is a very mobile world, as everyone is on his or her phone," Miller says. "The more accessible we are, we believe that we'll be successful. We strive to establish a more local and regional presence."
In addition, last summer Damian's, with Unilever's help, hired college students – one in each city, including Pensacola, Tallahassee and Jacksonville, for its "Joy Team." "They were brought on to help with our merchandise," Miller explains. "The whole point of our business is ensuring not only our products are delivered on time, but that they are also presented in a clean, efficient manner.
"This includes keeping the boxes clean, ensuring the correct products are present and their labels are properly displayed, as well as that the pricing is right," she continues. "Ultimately, we want to guarantee everything is accurate across the board for our customers."
Every morning the Joy Team traveled to different accounts to make certain Damian's was meeting its customer's needs. "They cleaned everything up, checked the freezers and displayed all the signage in its correct place," Miller says. "We'll likely hire more college students this summer because they really did a great job."
In addition, to guarantee it ships products quickly when needed, Damian's has five cold storage facilities – one in Pensacola and three other warehouses in Tallahassee, Jacksonville and New Orleans – and employs about 50 people.
The business development managers present information via iPads to potential accounts. "Visuals are key, especially when potential customers can view the products, see what's popular and how we can help them," Miller notes. "They also show how we are competitive on pricing and can earn them new business. The pre-salesmen take it from there and maintain each location with a standard of excellence."
Sweeter Sales
Miller has been with Damian's for eight years. She says that she is most proud of the way the company works with its customers. "We go above and beyond to take care of our customers," she says proudly. "For example, there are times where a freezer will melt down, and it'll take a couple days to repair. Sometimes we're not necessarily in that area that specific day. However, we'll rearrange our schedule to get to them immediately. It becomes our highest priority and we complete the service regardless of expense."
Miller notes that an "above and beyond" mindset is ingrained in every employee at Damian's. "Someone will work on a Saturday or drive several hours to ensure we are meeting our customers' needs," she says. "We have a lot of integrity and always try to do the right thing by our customers."
As Damian's looks ahead, it aims to ensure it is the best in the business. The company is also looking to acquire new accounts. "We are developing the grocery store segment and we are ready to break into that market," Miller concludes. "Ultimately, we want to keep expanding. We have a great customer base, but there are more out there we can build relationships with."