Dana Hospitality's fresh and local philosophy is driving the Canadian company to grow and prosper.
Keep it fresh. Stay local. Cook from scratch. Dana Hospitality values these words. The Ontario-based food service and catering company, which serves thousands of meals daily throughout Canada, has carved out a special niche in the hospitality market by following a few simple rules.
"Our mantra is food made fresh from scratch and as local as we can get it," Executive Vice President Ross Munro says.
The company specializes in preparing custom meals for independent schools, universities, retail healthcare facilities, recreational venues and corporate cafés of all shapes and sizes. It operates primarily in Ontario, Alberta, Manitoba and British Columbia though it recently expanded into Quebec.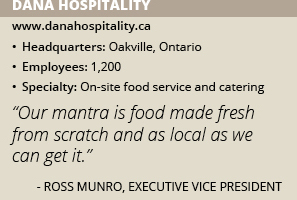 High-quality and locally sourced ingredients are an integral part of the company's philosophy. It sources only from local Canadian producers, greenhouse growers and farmers that meet certain standards. Perhaps it's this ideal that has propelled the company to grow (its revenue) more than 20 percent annually for the past few years. It expects to grow 20 to 25 percent by next year.
"We want to be bigger without acting big," Munro says. "We want to stay nimble, which we are, and continue to grow into new markets."
In recent years, Dana Hospitality has grown to include a catering company, Jewell Catering, and Morningstar Hospitality, a majority aboriginal-owned food services company.
The company believes that a blend of local sourcing, culinary craftsmanship and inherently healthy menu choices have helped it grow and prosper. Its chefs are empowered to be creative and they are not forced to use corporately produced cycle menus. They also work with nutritionists to create menus that are healthy as well as pleasing to the palate.
"Our organization is run by nutrition and culinary excellence," Munro says. "In our organization, it's all about the food. Our chefs are empowered to satisfy client needs. They have freedom to create custom menus."
Spotting Trends
Educational institutions often are at the forefront of trends in the food industry, Munro says. Since Dana Hospitality services many educational facilities, it hears the voice of the youth.
Gluten-free. Organic. Fresh. Non-dairy. Vegan. Healthy. These words ring loudly on university campuses. Dana Hospitality understands that today's students are far more connected and informed regarding healthy living than were previous generations. They use technology to make informed decisions about food choices and often demand special diets and nutritional requirements.
"We have a highly educated population today and an increasing number of dietary focuses," Munro says. "People are more concerned about their health and they are looking for food made from scratch."
Dana Hospitality embraces these needs. It roasts its own meats, makes hand-cut french fries from real potatoes, soups from scratch and refuses to use pre-made entrées, processed cheese, frozen meats or canned soups. It considers itself an authentic Canadian alternative to the international food service conglomerates.
In addition, meals no longer have specific time clocks. In years past, people ate lunch at noon and dinner around 6 p.m. That no longer applies. "They want it when they want it; they don't want to be limited to certain hours," Munro says. "Nowadays people eat at all hours of the day."
Aside from residence dining and student meal plans, the company's business arrangements include on-site corporate food service programs, retail-style cafés, catering services for any size event, national branded franchise operations and facility design, capital planning and project management.
Dana Hospitality can cater a barbecue for 300 people or 3,000 people. It offers its clients access to its online catering menus, order forms, pricing models and outside services such as linens, tents and even floral arrangements.
Additionally, the company offers in-house food and beverage vending services. Being an on-site provider, it carries its made-from-scratch philosophy into its vending services. It considers what it does "fresh vending" by offering a balance of somewhat salty, savory and healthy snacking options.
"We're pretty passionate about what we do here," Munro says.
To further ensure quality service, the company allows its district managers to supervise no more than 10 accounts at a time. This allows them to give the proper amount of focus to their associates and clients alike – in tune with its corporate mandate and brand belief.