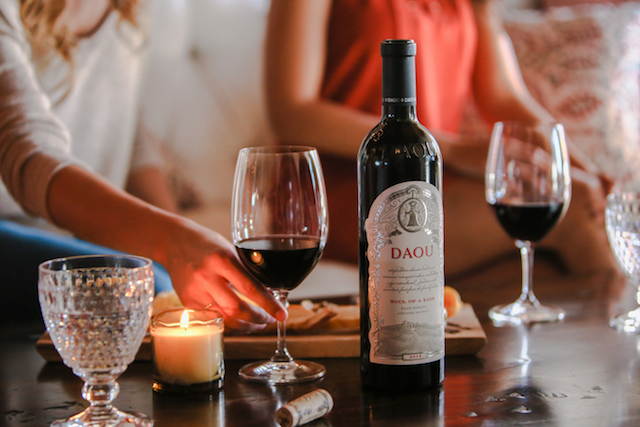 The Daou brothers use science and art to produce world-class wines.
Daniel and Georges Daou were born and raised in Lebanon until an errant rocket destroyed the family home in 1975 at the beginning of the Lebanese civil war. They moved to the south of France where Daniel began thinking of becoming a winemaker but "if you don't have friends or contacts in the wine industry, it doesn't work," he says.
The brothers moved to the United States to study engineering at the University of California-San Diego and upon graduation in 1987 they started Daou Systems, a medical networking technology firm. The firm did well and after a decade they went public. At age 32 Daniel retired and began to consider what he should do next. "I had been drinking and collecting wines for years and I was always enamored with being a winemaker," he says.
Daou spent the next several years researching winemaking and in 2007 the brothers found and bought 100 acres of the former HMR winery in Paso Robles, Calif. By 2012, they had expanded to 212 acres and named the business DAOU Vineyards & Winery and the property DAOU Mountain. The brothers restored the winery and began producing Bordeaux-style wines. Today, Daniel handles the winemaking process while Georges manages the commercial side.
Two Rare Things
DAOU Mountain, located in the Adelaida District of Paso Robles, has an elevation of 2,200 feet and is perfect for the style of wines that DAOU produces. "It combines two things that are very rare," Daniel explains. "The soil of Bordeaux [France] and the temperature and climate of Napa [California]."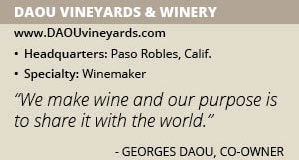 Beyond location, winemaking is half science and half art, Daniel says. The science involves using an optical sorting system for grapes along with developing and testing yeasts. Then there is the art. "I have an innate gift to make the wines I am making," Daniel says. "I trust my palate."
DAOU Vineyards produces cabernet sauvignon and chardonnay that Daniel says have become the talk of experts. "There are five major critics that say we are rivaling the best wines made all over the world, particularly in Napa," Daniel says. "We have ratings over 90 points and many ratings that are 96 to 100 points – which is extremely rare outside Napa. We are creating quite a bit of disruption."
Around 2008 when the Great Recession began, much of the wine that sold for about $40 a bottle was lowered to about $20 a bottle, Daniel explains. "When the market came back, most of those wines went back up in price. We filled the gap in the $20 to $30 range." DAOU also sells wines in the $50 to $125 range that it says are equivalent to $200 to $300 wines. But it's not just about price. "We have been delivering incredible quality wines that are approachable" Daniel says. "It's approachable luxury."
"DAOU has been a unicorn in this state," Georges adds.
The wines have been a hit. "We sell in all 50 states and in a least a dozen countries in Europe, Asia, Canada and the Caribbean islands," Daniel says. "They tend to sell out in a few months. We've seen great growth."
An Experience
DAOU Vineyards sells both through wholesalers and directly to consumers at its winery. The brothers make a point of producing separate wines for each outlet. "At the winery, we create small-production SKUs," Daniel says. "If you come to the tasting room, you will likely see wines you can never get wholesale. We want to provide an experience for people and members at the tasting room."
The winery has created a membership club program for those who like to visit the winery. "We get people from all over the country although California is the biggest percentage," Daniel says. "We've see hundreds of people sign up each month. We actually had to close two clubs to new members."
Members get to taste those exclusive and small-run wines, take part in complimentary tastings, get priority in winery visits and enjoy unique culinary and wine pairings at DAOU Winery.
Ocean View
In late 2018, the brothers bought a three-and-a-half-acre property in Cambria that overlooks the Pacific Ocean, about a 25-minute drive from DAOU Mountain. They are restoring a two-story building that they expect to open sometime in 2019. The property also has arches, footbridges and paths that wind through garden areas. "We will have a tasting room that overlooks the ocean," Daniel says. "Customers can drive 25 minutes from DAOU Mountain and have the same experience and overlook the ocean."
"Picasso said the meaning of life is to find your gift and the purpose of life is to share it," Georges says. "We make wine and our purpose is to share it with the world." The new oceanside location will help DAOU do exactly that.