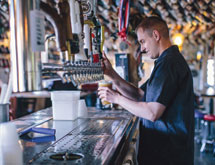 Don't count the Dark Horse out. The little brewery that could in historic Marshall, Mich., is coming up from behind some of the biggest craft brewers in the business with its idiosyncratic beers, such as blueberry stout, raspberry ale and coffee doppelbock.
Founded by Aaron and Kristine Morse in 2000, Dark Horse Brewing Co. has been expanding rapidly but in a controlled fashion, like the head on a finely poured stout. The brewery values distinctive personalities in its employees and the beers it brews, as a look at the company's innovative new website indicates.
Dark Horse Brewing Co. relies on the dedication of its customers to keep it prospering in Marshall, Mich., in the state's southern midsection between Battle Creek – home of Kellogg's Cereal and Tony the Tiger – and Detroit.
"The people that come here basically named themselves, and we picked up on it," Director of Taproom Operations Travis Glenn says. "They call themselves the 'Dark Horse Nation.'" In his 25 years in the restaurant industry, "I've never seen anything that rivals it."
That loyalty has extended to people who were so interested in learning about the brewing business that they volunteered to help out for free at the brewery. "A lot of them had full-time jobs," Co-owner Kristine Morse points out. "So they would come here after work to work four to five hours bottling and cleaning kegs. When you see someone spending all their free time they have at a company and are really passionate about what we're doing, they're going to be a good asset to us and get hired on. That's how we acquired a lot of these good workers."
Train From Within
People's interest in working for Dark Horse Brewing has enabled it to train its brewers in its processes from finish to start. "We have 10 guys on the brewing staff, and every single one of them – barring our chemist that we just hired a little bit ago – was trained backwards, from packaging to brewhouse," Head of Brewery Operations Bryan Wiggs declares. "It's a pretty unique situation. Everybody knows what everybody else knows, and we're all dangerous weapons.
"Dark Horse is much more practical application," Wiggs continues. "It's one thing to be able to have a degree on the wall and say, 'I went to a six-month course or this two-year course,' but when it comes down to it, we need guys who – when they're in the fire – know how to put it out. There's books on brewing in our library that are available for all the guys on the staff. We always encourage learning more, but that doesn't necessarily for us mean we need to have guys who went to Siebel Institute of Technology or UC Berkeley. The school of hard knocks is where I came from."
Dark Horse beers are distributed in every state that touches the Great Lakes, along with South Dakota, North Carolina, Pennsylvania, Long Island and Manhattan, N.Y., and the greater Boston area. How were those locations chosen for distribution? "They called and asked for our beer," Wiggs explains. "If we make enough quantity, we ship it, and people drink it. The great thing about craft beer is somebody gets a Dark Horse beer, and they tell their friends. The beer tastes good, so people talk about it."
Consistency Is Key
Some microbreweries have pointed out that the trick is not just to produce a great beer, but once you have, to reproduce it. But that is not a problem at Dark Horse Brewing. "Consistency in the process begets consistency in the glass," Wiggs notes. "That's how we train our guys. It's like baking a cake. There's a recipe, and our guys are trained to go up there and be seamless."
The brewery produces approximately 15,000 barrels of beer annually in a 19,000-square-foot plant that has been expanded gradually since 2006. It runs 24 hours a day for five days weekly with a 20-barrel production system assembled by the staff.
"We don't let manufacturers in here," Wiggs insists. "They send it to us and we put it together. We're very much a DIY company. There's two or three welders and two or three electricians on staff. As far as the brewery and general compound maintenance and expansion go, it's pretty much been done by the staff and the rest of the gang."
That DIY mentality extends to the company's other business interests, which include a beauty parlor and skateboard shop, a general store, a motorcycle repair shop and local maple syrup production. The brewing complex has always included a taproom, which serves a full menu of food with the company's brews seven days a week for at least 10 hours daily. The Morses have plans for additional businesses.
"The idea is to make this a destination compound," Glenn says, "where you can walk in the front door and go grab a beer, walk around, see cheese being made, bread being baked, liquor being distilled – we'll sell all those things – and end up back in the taproom and enjoy the fruits of all our labors."