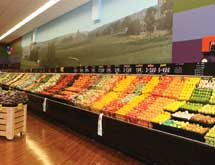 After several years of selling fish and produce out of a horse and buggy, George Darrenkamp opened a retail store in the front room of his home in Lancaster, Pa. The family called it the General Store, and few could have anticipated the ongoing success that would stem from this modest convenience store. Today, the company has grown to three locations throughout Lancaster County, Pa., and is operated by the third generation of family ownership.
"It's easy to see how the family business has grown over time, but the one thing we haven't grown out of is our dedication to our customers," Darrenkamp says. "What separates true customer service from mere lip service is the willingness to put the customer first in everything we do."
Today, President Joe Darrenkamp and his two brothers, Vice President Dave Darrenkamp and Secretary Treasurer Larry Darrenkamp, own the company. Before entering the family business, each of the brothers pursued their own aspirations, which has proven to be key to their success as a management team. "The best thing we ever did for ourselves is the fact that we did something else," Darrenkamp says. "It made us all appreciate working for a family business, and we all got back into it in time."
Anything But Ordinary
Darrenkamp's might operate as a traditional supermarket, but its services are anything but ordinary. In addition to a full food court, Darrenkamp's stores offer Lancaster County's largest full-service delis featuring its popular chicken salad made of white meat, Darrenkamp says.
This variety of products, along with commitment to customer service, sets Darrenkamp's apart from traditional supermarkets. "People can buy peas in 20 different stores, but they would be hard-pressed to find 24 different types of sausages and seven kinds of store-made hamburger patties made from only the finest meat trimmings," Darrenkamp says.
In addition, the company's dedication to customer service is unmatched. "For example, if a bag is forgotten in somebody's cart, it is not uncommon for us to drive it straight to the customer's house," Darrenkamp says.
The company's register software system stores customers' phone numbers and information for this reason. "We'll immediately call the customer and bring the products right to them, because we pride ourselves on going the extra mile," Darrenkamp says.
"In many chain stores, half the time, customers have to bag their own groceries, but we have people stationed outside to help place bags in the car and basically take care of the customer however they can," he adds. "This places us above the competition."
However, competing with low-cost providers is not easy for smaller operations like Darrenkamp's. The company is affiliated with Associated Wholesalers Inc. and purchases products from the same warehouse as many of these low-cost competitors. Darrenkamp says the company's buying power is nearly as strong as the larger chains, but its flexibility and service allow it to adapt quickly to changing market trends. "We can purchase just as well as the rest of them, but we're able to make decisions and any necessary policy changes on the spot," he says.
Creating a Culture
The company is always on the lookout for ways to make life easier for customers, including providing ready-to-eat meals and featured sales. "Every year for Thanksgiving, we prepare entire turkey dinners for customers who don't want all the fuss, and it gets more and more popular each year," Darrenkamp says.
Darrenkamp's also strives to ensure employees stay happy, as well. As a result, the company has earned the loyalty of its workers and a low turnover rate. "We would never ask a team member to do something that we wouldn't want to do ourselves," Darrenkamp says. "We like to get our hands dirty and make sure everyone has a positive experience."
The company promotes from within 100 percent of the time and provides extensive ongoing training for many employees. "We want to make sure employees truly understand the importance of customer service," Darren­kamp says.