Dash In proves that food to-go can still be fresh and innovative.
In the world of convenience store food chains, Dash In is relatively small. But with 57 stores in three states (Maryland, Virginia and Delaware), the family-owned chain is small enough to care, yet big enough to make an impact. "Our mission is to give innovative, delicious twists to familiar food items," says Barbara Nova, director of food, beverage and retail programs.
Dash In eases customers into new products by taking items people are familiar with, and, those they're already willing to try, and elevating the taste. Take, for example, the ever-popular commissary pre-made ham sandwich. The chain recently took it up a notch by launching a ham sandwich with avocado and mayonnaise on ciabatta bread.
The delicious item is part of the "Craveable" menu Dash In is rolling out throughout the summer. Other items include a steak, egg and cheese croissant with black pepper mayo, as well as a classic chicken parmesan with fresh mozzarella cheese on a rustic Italian sub. Another innovation is the walking French dip sub. Instead of au jus sauce on the side (this is food to-go, after all) the sauce comes inside the sandwich.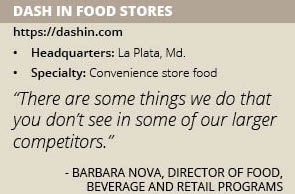 Made Fresh and To Order
"There are some things we do that you don't see in some of our larger competitors," Nova says. Dash In looks to differentiate itself from the rest by offering chef-inspired recipes and items that are made in-house daily. Specialty sauces such as the black pepper mayo and Italian pesto are made each morning. Recently, some stores also began making doughnuts in-house. The plan is to roll out that offering to all the stores.
Through its popular kiosk system, customers can order food exactly as they like it and have it prepared on the spot. This addresses some of the challenges present in the food industry. For instance, a large percentage of people want to cut carbs from their diet. At the kiosk, they can order "fresh bowls," meals served over a bed of lettuce rather than as a sandwich. So far, these items have had a very strong response, Nova says.
The Dash In team sees overwhelming demand for customization options driven by several trends. Consumers want to have it their way, whether it's carb-free, low-fat or low-sugar. They're snacking more frequently and the lines have blurred between meal times. The rules are gone as people are eating more on the go. The traditional three-meals-a-day isn't so much the norm anymore.  Nova notes that people are much more adventurous nowadays as they experiment with food and look to eat fun and exciting things, especially Instagram foodies who enjoy taking photos of their food.
This convenience store food chain wants to be part of the action and a leader in food innovation. In fact, CS News awarded Dash In the 2018 Food Service Innovator to Watch award. "It's an exciting time to be in the food industry," Nova remarks. "There's little limit to what you can do as far as creativity and excitement."
More innovations are on the way. Dash In is currently testing a growler concept in its Virginia stores. Customers can come in and buy cold beer tapped on site; 32 ounce cans are also available. Taking the made-to-order kiosks into all the stores is a major goal for the future. The chain is working on changing all its stores to 24-hour operations, a plan that will take several years to roll out.
Big Heart
Dash In is committed to giving back to the communities where it operates through its signature program, Eliminating Childhood Hunger.  By partnering with both local and national organizations, like No Kid Hungry, the retailer hopes to make a major impact in helping to narrow the hunger gap kids face over weekends, holidays and summer months when they are without access to breakfast and lunch at school.
A few months ago, the management team went to Baltimore and spent an entire day building a new playground. They also took a trip to Washington, D.C., to pack boxes and help at a food bank. Community service is near and dear to the hearts of many Dash In employees. Many volunteer for food banks on their own time and outside of company events.