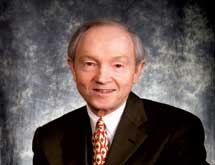 When Daymon World­wide was form­ed 40 years ago by Peter Damon Schwartz and Milt Sender, the two developed a strategy to grow retailers' private label products. At the time, private label products (as they were known then) were often considered low qua­lity and inferior to major, national brands. Where most saw a lesser product, Schwartz and Sender saw an opp­or­tu­nity.
"They developed an unheard of concept that would use comprehensive services to grow private brands through dedicated on-site teams," Pres­ident Allan Noddle explains. "Private brands were an afterthought for most people and they set out to change that." Today, Daymon World­wide has 20,000 employees and is in 26 countries.
Daymon Worldwide has achieved suc­cess in building private labels into brands by aggregating supplier funds to apply those resources directly to the re­tailer's offices with the focus on driving private brand sales. The company also advocated one private brand strategy across categories to create and build consistent quality and built one communications message to en­sure continuity of the brand message.
Branding Services
Daymon Worldwide provides its customers with a vast array of services, capabilities and expertise that is centrally housed in the Daymon Resource Center in Stamford, Conn. These services include branding and marketing, package design, business development, information resources, consumer marketing insights, quality assurance, information systems, and training.
"Our mission is to build brands with our partners," Allan states. "We use these services to do that. We partner with suppliers and retailers to analyze sales, develop practical solutions and improve the brand."
Through its branding and marketing service, Daymon Worldwide helps its partners understand the private brand business to assist them in developing actionable opportunities. The company also provides "Consumer Intelligence," which is a thorough understanding of consumer behavior to enable effective private brand development. The brand and portfolio strategy develops the foundation of a successful private brand program, and strategic planning creates the roadmap for success through a collaborative planning process with its retail and supplier partners. Daymon Worldwide even helps train its retail partner associates by turning them into brand ambassadors and helps them establish a bond with their consumers through a comprehensive private brand communication platform. The service helps supplier partners succeed with specific marketing programs and contributes to successful execution with detailed guidelines for in-store merchandising. When all that is done, Daymon Worldwide monitors the progress and success of the plan.
The business development team at Daymon Worldwide, in conjunction with its on-site teams, manages the business and relationships with its supplier partners, or product manufacturers, provides a centralized focal point for category knowledge and related issues, and develops new business opportunities for current and prospective supplier partners. "The foundation of our business is the development and maintenance of our supplier partner relationships," the company says. "We work with 5,000 supplier partners both domestically and internationally. It is our obligation to identify the needs and opportunities for each that will effectively create long-term profitable partnerships for all. Our relationship with each partner is predicated on delivery of quality services specific to their line of products at the customer where we have been appointed to represent them."
The business development team consists of the category experts and the innovations team has built account level iDrivers to encourage a paradigm shift in innovative product development. The category experts consist of business experts overseeing specific categories from perishables, frozen foods, foods, HBC, office and auto to general merchandise. Each leader is responsible for all facets of the categories managed and is a central resource to all the supplier partners and customers. The innovations team includes expertise on lifestyle programs such as organic, health and wellness, ethnic, premium, kids and value. Additionally, the innovations team works on developing and sourcing new and innovative products and helps weed out the "fads" from the trends with real staying power.
"Our working relationship with our supplier partners will vary according to the needs of the business and our partners," the firm says. "The reason for these varying services is that each customer team is customized according to our partner's needs. Once we establish representation with a supplier, it is our agreement to be their best choice on a go-to market strategy. Our fo­cus is to ensure we do everything in our power to increase the supplier partners' overall sales, while keeping them in­for­med on all facets that affect their business."
The consumer insight team's mission is to leverage the company's industry knowledge and best-in-class data pro­viders to demonstrate leadership, de­v­elop efficient business processes and de­liver insightful information that en­hances decision-making while supporting the profitable growth of Daymon Worldwide's supplier partners, and retail and wholesale customers.
The company's quality assurance department makes recommendations for improving systems/procedures. The department can review a retailer's label to assure it meets all federal and state requirements and assures compliance with NLEA regulations in regards to label claims. Plant inspections include a review of sanitation, quality control, HACCP and good manufacturing practices systems.
The information systems department focuses on making our associates effective and efficient by providing accurate information in real time so they can make confident recommendations that help drive profitable sales and maximize the value proposition. To do this, Daymon is focused on increased sharing of data, improved management of information among trading partners and a holistic approach to data quality.
Daymon Worldwide information systems offers the following expertise:
Advisory services;
Business intelligence;
Business solutions;
Customer care;
Electronic data interchange;
Network and system operations;
Systems development;
Knowledge sharing and collaboration;
Operational;
Process workflow; and
Reporting and analytics.
Daymon Companies
Daymon Worldwide created its own company to provide its customers with package design services. Daymon Worldwide Design, launched more than 25 years ago, has achieved commercial and critical success around the globe, developing brands and executing package designs and brand activation (POS, website development, etc.) for the private brand industry.
For event demonstrations and event marketing, Daymon Worldwide developed Daymon Interactions and Triple Point. Daymon Interactions brand am­bassadors are handpicked by the company to embody the brand and communicate its attributes to targeted consumers one-to-one.
Triple Point capabilities include in-store events and promotions, mobile tours, bilingual/ethnic marketing, sports marketing, street teams, nightlife programs, generational marketing, guerilla marketing and more. "We optimize the consumer experience by connecting the consumer and the brand via innovative, customized and impactful Triple Point experiences," the company says.
Caliber is Daymon Worldwide's company designed specifically for measuring the consumer's in-store experience. Caliber provides solutions that measure how customers are delivering on their brand promise. Caliber shoppers act as mystery shoppers to help customers uncover what is working well and what needs improvement. They will anonymously evaluate stores based on the predetermined customer criteria.
Services provided include:
Measure actual performance against the ideal experience of consumers;
Increase top line by assessing desired sales behavior;
Identify organization-wide trends and training opportunities; and
Analyze real-time results via the company's online reporting portal.
Daymon Worldwide recently ac­quired SAS Merchandising. This company helps customers merchandise promotions, manage shelf layouts, re-organize stores and handle project-based initiatives. SAS, the company says, serves as a conduit to Daymon Worldwide customers to solve problems and generate incremental sales.
Back to School
When it comes to training, Daymon Worldwide takes the job very seriously. "When we hire someone, we work them for a while to find their strengths and weaknesses," Noddle explains. "Once those are determined, we send them to Daymon University."
Daymon University is the company's proprietary training arm located in Stamford, Conn. It was created to provide career development, leadership coaching and educational opportunities that challenge Daymon Worldwide associates at all professional levels in developing private brand expertise, strategic thinking and managerial skills.
"As your career at Daymon Worldwide progresses, we send associates to Daymon University to further enhance their skills," Noddle explains. "They get homework and take tests. It's a real school."
Sometimes, Noddle says, the company takes the school on the road. "We brought the university to South Africa for one of our partners," he adds. "However, most associates come to the university in Stamford." With employees all over the world, the university can often resemble the United Nations.
"We started by offering classes to our own associates, so that they can provide better value, insight and knowledge to our customers, supplier partners and ourselves," the company says. "Today, Daymon University has opened its doors to our supplier partners and customers and is fast becoming the preeminent school of private brand thought and insight."
Noddle explains Daymon University's vision is to create a global and dynamic learning environment that will provide the company and its partners with a competitive advantage, and accomplish the following:
Educate associates and partners on global private brand concepts;
Institutionalize and retain the company's knowledge to share it with associates and partners;
Provide opportunities for interaction and networking between associates, partners and leaders in the industry;
Continually challenge associates and partners intellectually to develop their global perspective; and
Encourage retention.
Daymon Worldwide Employees are the company's biggest asset, Noddle adds. "Our associates have extensive industry experience and we invest heavily in training – development – re­ten­tion," he says.
Daymon Worldwide has one of the largest employee stock ownership plans in the United States. Daymon associates have the opportunity to be owners after one year of employment and create a culture of decision ownership. Every decision an associate makes affects his or her personal ownership in the company.
Noddle's plans for the future of Daymon Worldwide include doubling the size of the company and creating more private brands. "We have more than 5,000 supplier partners," he says. "We plan to marry them to as many retailers we can. With the talent and experience we have here, the best years are yet to come."