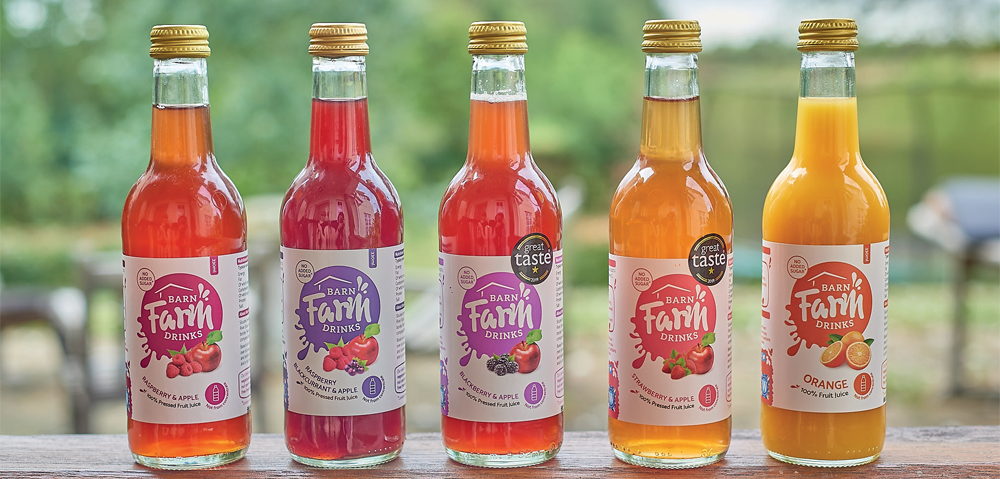 DC Williamson Ltd and Barn Farm Drinks
Home grown success
DC Williamson Ltd and Barn Farm Drinks are proud to fly the flag for British farming and endeavor to keep customers supplied with delicious fruit and juice products
If you head to the border of Suffolk and Essex, and find a farm with views overlooking the banks of the River Stour, then you will be standing on the grounds of D C Williamson Ltd (DCW). An innovative soft fruit, stem fruit and bush fruit farm, the business was founded in the year 2000 by Craig and Gail Williamson. As Founder and Managing Director Craig Williamson began by explaining, DCW got off to a flying start in business after its three elder shareholders retired from F.E Williamson (Fruit Farm) Ltd, which was itself established in 1932. "As many third generational family members find out, eventually you have to grab the nettle and plough on into business world on your own," he said.
The farm started out growing apples before moving into strawberries, raspberries, blackberries, blackcurrants, redcurrants, gooseberries, plums, damsons and rhubarb. DCW is now known for supplying fresh fruit for supermarket retail, as well as frozen fruits, juices and purees, Not from Concentrate (NFC) Juice, and Drum and Bag in Box products for onward manufacturing and beverage clients. Through innovation and continually searching out new avenues of success, DCW has expanded and developed, and it achieved a milestone in 2007 when it supplied Innocent with
blackberry puree for its Smoothie of the Month.
Nine years later, in November 2016, Barn Farm Drinks was born following the successful application and award of a RDPE Rural Development Grant. This took Craig and his team into ready to drink juice production after purchasing a juice press and bottling line for both cloudy and clear juices, and beginning a range of crafted farm pressed and bottled fruit juices. "The grant was the spring board for entry into new markets bringing worldwide processing techniques to both DCW and Barn Farm Drinks," added Craig.
Describing DCW as simply a fruit supplier does not in any way do justice to what is now a sophisticated and diverse range of products and capabilities in the processing and packing of high-quality fruit with full traceability. DCW is also able to manufacture superior tasting juices and purees to customers' requirements, and can provide frozen and chilled fruit storage, as well as Individually Quick Frozen (IQF) fruit – harvested or received from approved growers, this is frozen within 12 hours, to seal in and maintain the fruits natural goodness.
"Our factory is BRCGS certified AA for categories 5, 6 &7 and we are processing frozen IQF, pasteurized aseptic juices and puree products along with fresh fruit in season," Craig explained. "As we are nestled around the corner from the International Ports of Harwich and Felixstowe, we are well placed for container QC, insurance inspection, demurrage and ingredient pack optimization."
Craig went onto highlight that fruit juices for the beverage industry have been the largest growth area for the business, with juices crafted into individual recipes. "It's been a steep learning curve and not for the faint hearted," he said. "This new product range has allowed distillers to reduce steeping times, which has enabled them more flexibility in meeting retail and web sales demand."
The creation of these new products relies not just on DCW's ability to supply excellent quality fruit, but its in-house team that have the passion and energy to engage with customers who want something new and different. "This is a key driver," Craig agreed. "Our customers' technical and sales teams have spent days on site working with our staff on the new product development trials. It's our employees' ability to 'think outside of the box' on which machine and process will mirror the customers end product expectation that sets us apart."
Craig had a lot of praise for the team at DCW, with some of the members beginning at the most basic entry level position and never leaving. "We have staff who came to us fruit picking 13 years ago and stayed, who have now worked up through our business into top management positions!" he exclaimed. A believer in open communication and a collaborative management style, Craig urges employees to share their ideas and opinions. "We have weekly stand-up meeting in front of a white board, where we encourage all our staff to get involved with five weekly planning and problem solving.
"We have a company policy of having 'no road blocks', so if you get to a T-junction situation or problem they cannot say we can't progress. Instead, we trust staff to make an informed decision to turn left or right. In that way, the company always moves forward with the resolve to adapt and learn," he added.
Green strategies
Jason Clench, Operations Director at DCW noted that this combination of experienced and enthusiastic staff with innovative farming and food production techniques has seen both DCW and Barn Farm Drinks recognized with several significant awards, including Best Essex Producer 2019 and a 2019 Business Excellence award for Sustainability.
"We are proud that three of our Barn Farm Drinks received Great Taste Awards in 2019 and the Opal Apple gained a Great Taste 2020 award," he added. "The Opal Apple was highly commended for the Great British Food Awards 2020, and was described by renowned food critic and judge Williams Sitwell as 'delicious' with which we are delighted. We were also the winner of the Essex Business Awards 2020 Environmental Award."
This last prize also highlights an area that is a top priority for DCW and Barn Farm Drinks, and one which Jason identified as part of the three pillars that make up the company ethos. "Be it a frozen or fresh punnet of fruit, a drum of aseptic fruit juice or a bottle of Barn Farm Drinks, we believe that consumers and industrial customers respect and value our three pillars – Natural, Local and Environmentally-Kind," he explained.
In keeping with the philosophy exemplified by these pillars, DCW is LEAF Marque certified, ensuring that all activities on the farm are environmentally friendly, from wildlife habitat formation to the creation of solar energy via the onsite solar farm. "We take great pride in working in harmony with the environment; our small solar array helps generate the electricity to power our production cold stores and freezers, and there is a larger solar array on the farm that generates enough electricity for 1400 homes," Jason revealed. "We harvest rainwater from farm buildings, which, when treated through a fertigation system, helps to irrigate the crops on the farm. All cardboard and waste plastic generated is baled and sent for recycling, and fruit waste is sent to a local anaerobic digester for electricity generation.
"There are over 4.2km of hedgerows on the farm, which are maintained in order to attract beneficial insects and wildlife," he continued. "We also have 24 beehives, which are vital for pollination. Conservation of local fauna and flora is preserved and sustained by the introduction of beetle banks, mammalian gates (allowing safe access in and out of the solar farm for small mammals such as hedgehogs) regular tree planting and the introduction of newt houses. One of the key performance indicators for the business is that we continue reduce our carbon footprint year on year."
Full traceability
All produce grown is picked and packed to Red Tractor Assured Produce standards, with full traceability in every process from the field to the factory gate. "Nowadays people increasingly really want to know where and how the food and drink that they purchase and consume comes from. So, we take great pride in knowing that we can trace each pack of fresh or frozen fruit, and every Barn Farm Drinks product back to the field where the fruit within it was grown," commented Jason. "This robust traceability system is validated annually through regular customer audits, annual Red Tractor Assured Produce audits, and our yearly two-day BRCGS food safety audit, in which we have gained AA grade status for the past six years. Having Red Tractor Assured Produce and BRCGS certification are vital pre-requisites to supplying the multiples and the factories that supply them."
Having navigated the challenging year that was 2020, DCW and Barn Farm Drinks are settling into this year with a determination to supply its new and existing customers with high-quality accredited fresh and frozen produce, as well as flying the flag for UK farming. "We will continue to evolve and innovate while maintaining sustainable growth," concluded Craig. "We did not get here on our own, as there are many custodians, wise men and women, who have guided us on this journey. One must always ask, listen and thank. Our business' core is to be honest and always true to our word."