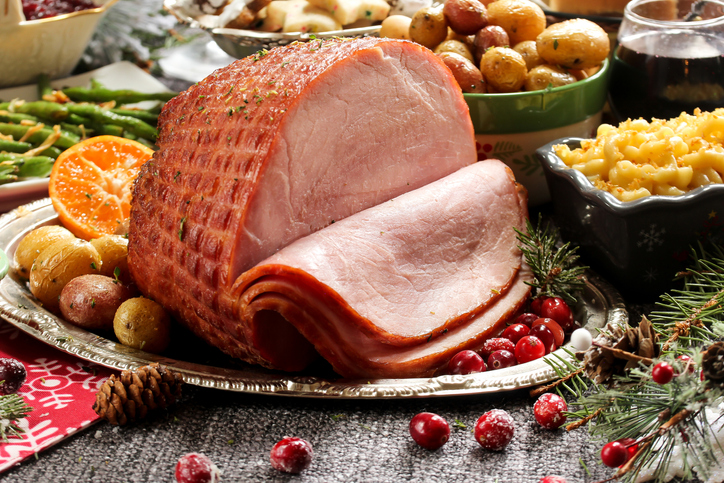 Dearborn Brand has earned a reputation for consistent, high-quality goods.
When people eat hams, franks, sausages and other meat products from Dearborn Brand, they can count on the company's focus on quality. "For more than seven decades, Dearborn Brand has maintained a far-reaching reputation for excellence, while staying rooted in our community and workforce," it says.
The Dearborn, Mich.-based family business began with European immigrant Victor Kosch and has spanned three generations. "Through the hands of his son and grandson, Victor's legacy of mindful quality and care has lived on through the changing times," the company says.
But Dearborn Brand has made sure to adapt to those times, as well, which drove the company to expand its facility to 85,000 square feet. Today, the facility can produce "large volumes and specialty Dearborn Brand or custom products," the company says.
"We have built new walls and bigger facilities to accommodate our growth, but the dedication to our employees, packing partners and consumres will always be the most important mark of Dearborn Brand's success," it declares.
"Our hearts' blood flows from Hungary and our roots run deep in Dearborn," the company continues. "As we reach further to new locations, we never forget where we came from or what matters most: our people."
Currently, Dearborn Brand products are sold in nearly 200 stores, which includes locations in Michigan, Ohio, Illinois, Canada and elsewhere. "You can also find our products served in hotels, restaurants, golf clubs and sports stadiums across the region," it says.
Today, its primary retail and outlet store is in Dearborn. "As we keep our sights set on further expansion, our goals will remain the same: maintain our reputation for consistently creating high-quality goods and take pride in our people and Metro Detroit roots."
The company notes that many of its products are specialty items inspired by the family's Hungarian heritage, including its Famous Spiral Sliced Ham, lo-cal chicken sausages and flavored jerkies. "For the best quality meat, come to us for the classics and stay connected to learn what new items we're serving up," Dearborn Brand says.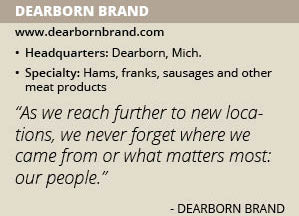 Doing it All
Dearborn Brand offers private label manufacturing through Dearborn Sausage Co. "[We are] committed to producing the highest-quality meat available, and that includes our private label products for restaurants, delis, stores and distributors," it says.
"As a private label manufacturer, we have already done the heavy lifting – production planning, certification, quality assurance and more," Dearborn Brand says. "Trust in our 70 years of experience manufacturing and selling some of the world's finest quality franks and sausages.
"It will be a smooth process for all partners involved," the company asserts, noting that it can ship and produce bulk orders ranging from 500 to 50,000 pounds weekly.
"We will provide everything [customers] need, including all required documentation and samples, to sell [their] own high-quality brand," it says. "Partner with Dearborn Brand and [customers] will keep [their] production right here in Michigan, see customer loyalty improve and experience increased profits."
Product Pride
One product that Dearborn Brand highlights are its hams, which it says are a good fit for corporate gifts. "Giving clients or staff the gift of a Dearborn Ham is always professional, thoughtful and a great way to show your appreciation," it says.
"If [our clients would] like to give a handful or a hundred hams, we can accommodate [them]," it asserts. "Our products are always premium, packaged neatly in gift boxes and delivery is free on orders of 25 hams or more."
The company highlights its Mini Stix, Jerky and Hunter Sausage products, which it says are a good fit for those venturing into the wilderness. "Every outdoor adventure requires the right gear," it says.
"You're an adventure who knows what to bring if you're heading into the woods to hunt, camp or climb," Dearborn Brand continues. "That daypack is skillfully filled when you're going skiing, hiking or cycling.
"And when you're hitting the water to canoe, kayak or fish, you know to travel light and bring just the basics," the company says. "Whether you prefer the trails, slopes or waterways, take the essentials along. Our Mini Stix, Jerky and Hunter Sausage are the portable, packable fuel you need to feed any adventure."
Lending a Hand
Dearborn Brand focuses on contributing to its community and those who have supported the firm. "That's why we have created a fundraising program that is as easy as it is delicious," it says. "We can help with any fundraising opportunities you have, whether it's for a school, PTA/PTO, scouting troop or an organization," it says.
Its hams, the company notes, are crowd pleasers, particularly during the holiday season. "If you choose to sell our hams and other products for your fundraiser, we recommend that you have a selling period of two [to] three weeks," it says.
"During that time, your organization collects all orders and payment," Dearborn Brand says. "The more you sell, the more your organization earns."
Strong Support
Dearborn Brand's work supports an important portion of the U.S. economy. According to the North American Meat Institute, the U.S. meat industry directly employs nearly 800,000 people.
While 488,500 of those people are in meat packing, 118,600 are in meat processing and 223,200 are in poultry processing. "The industry is responsible for generating nearly 2 million additional jobs for the people who produce equipment and ingredients used in meat and poultry processing, transportation, and retail and foodservice sales," the institute says.
"On an annual basis, meat packers transform 32.95 million head of cattle, 772,000 calves, 113.16 million hogs and 2.185 million sheep and lamb into beef, pork, lamb and veal," it says, noting that poultry processors turn 8.6 billion chickens and 250 million turkeys into products.