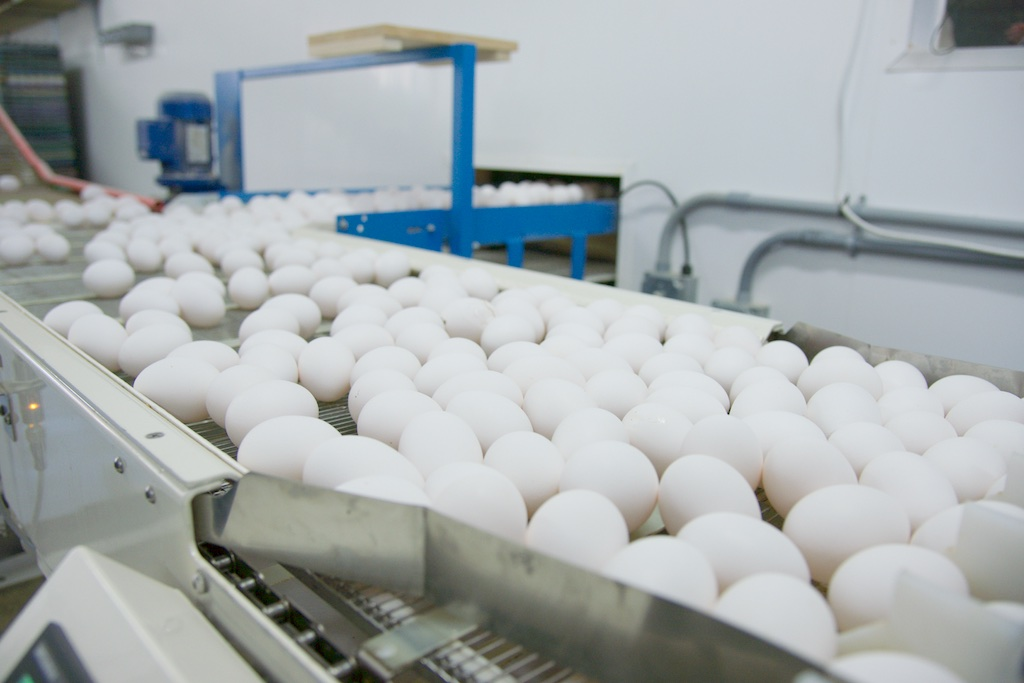 Deb El Food Products believes specialty and cage-free eggs will feed its future.
As a growing family-owned company, Deb El Food Products prides itself on its unique blend of offering high quality products at competitive prices with the personal customer service of a family owned company. The company is large enough to serve worldwide export markets, but its organization means that it can still pay attention to the customer's smallest details. "In our industry, especially on the foodservice side, the advantages of being a family-owned company enables us to be uniquely positioned," Vice President of Sales Daniel Gibber says.
Being a family owned company has made Deb El nimble enough to meet customers' specific needs in a quick and efficient way. "Ownership is personally engaged and involved with customers on a very detailed level," Gibber adds. That ability to respond is one of several factors that have allowed Deb El to grow its market and capture new clients across its marketing sectors.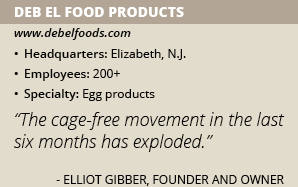 Gibber recounts the experience of one food producer that had a problem only Deb El could solve. Deb El had been in discussions with the producer about becoming a supplier for a significant period of time. During those talks, the producer had an issue with another egg supplier and called Deb El one morning to see whether it could fill the order. Deb El quickly pivoted production and was able to send a truckload to the customer later that same day – a process that usually would take more than a week.
Premier Egg Supplier
Elliot Gibber started the New Jersey-based company in 1984. Deb El is a mash-up of "Elliot" and "Debbie," his wife's name. Prior to 1993, Deb El's entire focus was serving the commercial food industry with a full line of dried egg products.
Deb El began expanding its reach when it purchased Ballas Food Products, a New York-area distributor of frozen, liquid and dried egg products. In 1996, it expanded again by acquiring a plant that manufactured mayonnaise and powdered drink mixes.
The company's focus began to further broaden in the late 1990s as industry changes created opportunities to expand its core egg product business. Deb El took on additional plants and introduced new products. The company entered the foodservice arena and began offering a full line of liquid, frozen, hard cooked and pre-cooked products to foodservice distributors, for resale to restaurants, diners, hotels, schools and health care facilities. Deb El further expanded into the retail channel, with an emphasis on private label retail products. Since then, Deb El has evolved into a full-service egg company serving industrial, foodservice and retail customers with a complete line of frozen, liquid, hard cooked, pre-coked and dried egg products.
Companies around the world have come to rely on Deb El. In addition to its domestic clients, the company exports eggs to worldwide export markets such as Asia, South America and the Middle East. Export customers include restaurant chains, hotels and food producers for items such as ice cream.
President of Business Development Michael Gibber attributes the company's growth to its ability to fill the needs of those diverse customers while taking advantage of shifts in the egg market. "Within our industry there has been some consolidation and that opened up some avenues for family owned companies such as ourselves that are customer driven," he explains.
Deb El is headquartered in Elizabeth, N.J.; however, its premier facility is located in the Empire State. The company boasts one of the most modern egg-drying plants in the country in Elizabeth, N.J., while the company's main egg breaking plant is situated on 165 acres in Thompsonville, N.Y. The company recently added a pre-cooked plant located in Sherburn, N.Y., and owns an additional distribution center in New York.
Deb El also has various co-packing agreements in place in strategic geographic areas to fulfill its production needs. All three of its manufacturing facilities utilize cutting-edge equipment and technology to provide customers with the highest-quality egg products, the company says.
Deb El facilities are off-line, meaning that the company has the ability to pull in eggs from anywhere in the world to break and process in its plants, as opposed to in-line where the hens are kept on site. Off-line production allows Deb El to create specific feed formulation and gives the company more flexibility in what it can offer customers, founder Elliot Gibber says.
The company sources eggs from chicken farms in Pennsylvania, Ohio and as well as other states across the east coast. The company owns many of its own birds, while independent farmers operate others. One such farmer started with 50,000 birds, Elliot Gibber says, and now maintains as many as 2 million. "Through our growth we've been able to help farmers and their businesses grow," he adds.
Evolving Products
The entire food market is undergoing a transformation. Consumers demand fresher and more natural foods and the egg industry is not immune from those expectations. Deb El prides itself on being ahead of the curve with specialty products, such as eggs from cage-free hens. The company maintains cage-free certifications from American Humane Certified and Humane Farm Animal Care, organizations that set standards and regulate cage-free eggs. Elliot Gibber says this is part of the company's move toward a sustainable egg supply and improved animal welfare, which consumers are demanding. "The cage-free movement in the last six months has exploded," he explains.
The rest of Deb El's lineup similarly addresses market demands. The company recently purchased New York's Egg Low Farms to fill a hole in its lineup for a tray-ready, pre-cooked scrambled egg mix. Deb El introduced the product to the market last year and is already seeing a strong response. The scrambled egg mix is a refrigerated item that only needs to be reheated in a microwave before it can be served. Its 10-week refrigerated shelf life makes it ideal for the quick-service restaurant and the lodging industry. "We look at that product as a great time saver for hotels or restaurants that might have a smaller kitchen setup," Daniel Gibber says.
The company's full lineup serves the specific needs of each of its industries. Deb El's liquid egg product offerings range in package size from as small as 1-pound cartons to as large as 48,000-pound bulk tankers. Frozen egg products range in package size from 2-pound cartons to 30-pound pails, while hard-cooked and precooked cage foodservice products are available in a variety of pack sizes as well.
Deb El is constantly investing in new products to stay ahead of its competitors. The company R&D team collaborates with customers to create specialized and proprietary items that meet specifications or fill a need. Those new products come with a promise of living up to Deb El's quality standards. The company maintains an on-site USDA and Food Safety and Inspection Service (FSIS)-approved laboratory. It also uses two independent commercial laboratories to corroborate its internal test results.
Products are tested for chemical, physical and microbiological traits and foodborne illnesses such as salmonella and E. coli. All of Deb El's eggs are received raw and then pasteurized in its facility. Those extensive testing and quality measures ensure that every customer receives safe and reliable food products, Michael Gibber says.
Deb El prides itself on being a fourth-generation family owned company. The Gibbers believe there is still tremendous potential ahead as the egg industry grows and Deb El expands alongside it by entering new markets and offering high-quality and innovative ingredient and meal solutions. "The big future growth of our company is in value-added specialty products that meet the highest animal welfare guidelines while providing for efficient and safe ingredient and meal solutions for the foodservice, industrial and retail sectors," Michael Gibber adds.