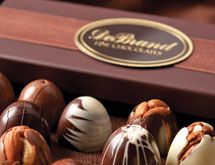 Twenty-five years ago, not that many people – let alone women – were starting artisan chocolate companies. But Cathy Brand-Beere, president and founder of DeBrand Fine Chocolates, took her background growing up in the confectionery equipment and supplies business and in 1987 meticulously started to build up a company in her hometown of Fort Wayne, Ind., that has caught the attention of such notable celebrities as Oprah Winfrey and Donald Trump.
Supplied with the Trump name on the chocolate bar and listed as one of Oprah's favorite things in O Magazine this year and last, DeBrand Fine Chocolates use recipes devised by Brand-Beere and her staff that adhere to the highest world-class standards of confectionery excellence.
"We certainly monitor the trends in our industry, but I don't really want to jump on bandwagons, especially if it compromises any of our standards," Brand-Beere emphasizes. "One popular trend we're trying really hard to avoid are all these bright-colored chocolates. I love the bright colors, but I'm trying to do it very naturally, because I am somewhat of a purist when it comes to ingredients, and these colors almost always add artificial ingredients.
"For example, in our Connoisseur Collection, we're trying to make it as colorful as possible using violet petals or other natural garnishes to add color," she explains. "We only want the pure and natural ingredients. Some companies are really making their appeal with these bright artificial colors. It may be visually appealing, but it's not as appetizing as seeing color from natural ingredients, in my opinion."
High-end Retailers
DeBrand Fine Chocolates can be found in its three retail stores in Fort Wayne and on its website, as well as in fine retailers such as Williams-Sonoma, Henri Bendel and independent high-end retailers and florists in the gourmet and gift category – small, high-end stores that are looking for a unique, artisan product.
The company also just launched a wholesale division. "Trump is one of our biggest clients," Brand-Beere reveals. "We sell to Trump properties. We do a custom bar for them, and some of their properties carry some of our other products as well." DeBrand products have been shipped internationally, and the company now has a partner in Kuwait who is distributing its products in the Middle East.
Because DeBrand manufactures fine chocolates, it competes at the high end. "You can't compete with everyone," Brand-Beere stresses. "When it comes to quality and price, you're going to have to choose, and we're not competing on price. No way can we be a mass-produced chocolate at the grocery store. We don't even try to. We do everything to the highest level possible. Both the look of the product and the packaging have to be superior. It is something we are constantly reevaluating and striving to make the best it can be.
"We try really hard to keep the prices as reasonable as possible, but we don't sacrifice any ingredients," she continues. "We can be more competitive than some because we are based in the Midwest. We can have a large production facility less expensively than in a large city. We use ingredients from all around the world. We produce them in the Midwest, where we have fabulous local ingredients, like butter and cream. We have a wonderful labor pool in the Midwest – people with a great work ethic who take a great amount of pride in their work. We can compete with anyone in terms of quality."
DeBrand Development
Some of the more unique pieces in DeBrand's exotic Connoisseur Coll¬ection are the fresh crèmes that Brand-Beere has seen only in Belgium and France. "I can't think of anyone in the states who does fresh crèmes," she maintains. "It's a two-day process to make the centers, and the centers are more like a whipped cream. They're so incredibly delicate and difficult to produce. Many chocolatiers are getting into producing the more exotic flavor combinations to the point where seemingly anything goes, but I still feel that there is an art to these flavor combinations that the consumer will be able to judge. Ultimately, not everything works."
Other Connoisseur chocolates feature chili powder, a pecan brittle, or rosemary blended with orange, lemon and grapefruit. The company also produces a line of handcrafted art boxes made out of chocolate.
Although the Connoi¬sseur Collection is DeBrand's most exotic, its Classic and Truffle Collections remain its biggest sellers. Both of these collections are created to the same high standards as the Connoisseur Collection but with more traditional flavor combinations.
DeBrand Fine Chocolates are developed by Brand-Beere herself with a team of cooks and chocolate developers. "I enjoy heading up not only the artisan design and look of the chocolate, but also the flavor combinations," she says. "Developing a chocolate can take one try in a few hours or it can take months of trial and error. Sometimes we hit it right the first time, and sometimes we go back and forth.
"A lot of times we think we hit it right, and a few days later, it turns, and we have to change it to get a better shelf life," she points out. "We try to make it where anything in our stores we can ship anytime of year in insulated containers and ice bricks. In the hottest of summers in the warmest of locations, we can get the chocolate to arrive in great condition."
Some of the chocolates have been produced since the company opened 25 years ago. "If we discontinued them, our customers would have a fit," Brand-Beere notes. "We're always adding new things and keeping current with industry trends and customer demands." The company has no set time of year or schedule for product introductions – "just when ideas arrive," she says.
DeBrand is the Brand
The company's production facility, one of its stores, the order division and offices are all located in one beautiful, 30,000-square-foot headquarters facility in Fort Wayne. Why Fort Wayne?
"That's where I grew up and started the company here," Brand-Beere explains. "A small Midwestern city isn't really the first place you would guess for a high-end gourmet retailer, but there are some real advantages with the cost of real estate, the fabulous work force, and you can easily get any ingredients from anywhere and sell and ship the product anywhere."
Her parents' confectionery business was in Fort Wayne, and it is where they taught their classes in cake decorating and candy-making.
"I grew up learning those confectionery arts, and growing up, I did things on the side," Brand-Beere remembers. "One summer, I did wedding cakes for people. I knew I didn't want to do that for a living because it's a little nerve-wracking. But the art I loved the most was chocolate. That's why I chose to start DeBrand. I didn't love teaching classes and selling supplies. I loved creating the products myself.
"I would travel through Europe always looking at what's out there and see the trends," she continues. Her parents gave her a room in their business to start DeBrand Fine Chocolates, named after the family but with the French prefix "de," which means "of" or "from," added. A year after starting the business, she married Tim Beere, now the company's lead designer and photographer for DeBrand's website and catalog.
Handcrafted Products
DeBrand Fine Chocolates are produced with a combination of old, new, revamped and customized equipment. "It's all been accumulated over the years," Brand-Beere concedes. But primarily, the company's products are made by hand using traditional equipment like stoves and mixers, she says.
"Some things we can produce thousands of in a day, and some things six or eight in a day, like a handmade art box," she notes. "We've gotten some equipment that makes it quicker. Our biggest investment would probably be a machine that we purchased about two years ago from Switzerland for a lot of products in our classic collection."
O Happy Day
Marketing is through the website, stores and trade shows. "We've always done some marketing, but obviously, the very best has always been word-of-mouth," Brand-Beere points out. "It's so much more effective if somebody tells you about it. With the launch of the wholesale division, we've done a lot of different types of advertising in trade magazines and doing trade shows. As far as retail goes, we've done most of that on a local scale."
How much did she have to lobby to be picked as one of Oprah Winfrey's "favorite things?"
"They just found us at one of the shows, probably an industrial trade show where we were," Brand-Beere says. "It always helps if Oprah endorses it. We got a big spike in business."
DeBrand Fine Chocolates has been celebrating its 25th anniversary this year. "We've done some little contests or little promotions throughout the year to celebrate it," Brand-Beere says. "Sometimes we send out emails to our customers or put them on Facebook.
"It has been slow and steady over the past 25 years," Brand-Beere says. "I think now we're looking at more growth with the wholesale division. That should increase a lot. I'm excited about it. We're ready to take on a new challenge and are open to new opportunities. We won't take every one, but we always are excited to learn what they are. We want to just continue to grow but never at the sacrifice of quality."