About 10 years ago, Larry Large got the idea to introduce his own brand of tequila to the restaurants and bar he owned in Mexico. The specialty brand, called Hermanos Large, was never intended to be sold anywhere but Large's own restaurants, but the experience inspired him to do more than dip a toe into the tequila market.
Today, as managing partner of Del Bravo Tequila, Large is dedicated to producing a high-end tequila that can stand up against any of the big names on the market. The secret, he says, is the superior quality of the agave and the company's unique distilling technique that produces a smooth, flavorful tequila suitable for sipping or mixing.
Del Bravo Tequila produces several lines of tequila, each with distinct qualities that set them apart from many of the tequila in the marketplace today, ranging from the citrus-infused Diva Tequila to Route 66, which is inspired by the world of motorcycle enthusiasts. The company got started in earnest when Large met Chuck Mosher, who helped introduce him and his partners to the Home of the Brave Brewing Company in Honolulu. Home of the Brave specializes in providing beverages to the United States Armed Forces, and at first Large wanted to develop a tequila to be sold under that brand.
In time, however, the concept changed to Del Bravo to keep it tied to Home of the Brave but allow it to stand on its own. Large met with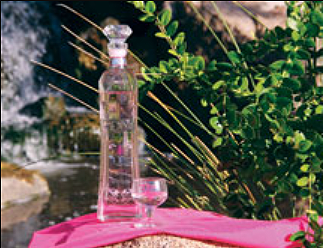 national distributors, and right away the company's ultra-premium tequila was competitive against many of the biggest names in the industry. Large's partners in managing the company include Chipper Dippel of Menard, Texas; Blaine Mills of Gilbert, Ariz.; and Brad Large of Austin, Texas.
Del Bravo built up its market for its own tequila by first licensing and distributing Tequila Penasco, named for the popular beach town of Puerto Penasco, about 100 miles from the Arizona border. The success the company had distributing Tequila Penasco and eventually Del Bravo Tequila opened the doors for it to introduce new lines. For example, Large says he was inspired by the success he had sponsoring motorcycle rallies to introduce Route 66 and its unique, motorcycle-shaped decanter. Route 66 will be introduced later this year at popular rallies in Myrtle Beach, S.C., and Sturgis, S.D.
Another addition to the Del Bravo line of tequila is Diva, which was inspired by conversations Large had with the wife of partner Blaine Mills about developing a tequila specifically for women. Del Bravo created a softer tequila without the burning sensation it typically is known for and a citrus-infused flavor. Large says his young daughter Melissa also designed the decanter, which was inspired by her favorite perfume bottles.
The company also recently signed a joint sales and marketing agreement with International Spirits for national and international coverage and promotions of all brands, according to Large. This initiative will be led by Greg Pierce.
Also helping drive awareness of the brand as well as goodwill in the community is the company's charitable efforts. Large says a portion of the proceeds from specific brands is being donated to certain causes, including the Troops First Foundation, the American Diabetes Association and the Patriot Guard Riders. Large says a portion of the proceeds from the Diva brand is being donated to breast cancer charities on a state-by-state basis according to local distributors.
The Agave Difference
With more than 1,300 different types of tequila on the market today, a brand has to find a way to stand out among the crowd. Fortunately for Del Bravo Tequila, it has a combination of distinct advantages that put it head and shoulders above many of its competitors, according to Large.
"Our slogan is, 'Discover the Difference,' and I really believe that the quality of our product sets us apart from everyone else," Large says.
He explains that tequila is broken down generally into two varieties: those produced from agave grown in low-lying areas and those distilled from agave cultivated in higher regions. Agave grown in the highlands benefits from richer soil, greater rainfall and cleaner water than plants grown in the lowlands, producing a higher quality of sugar that in turn creates a better tequila.
Large says Del Bravo's tequila are distilled from blue agave plants grown in an area known as "El Alto," where they are at an even higher elevation than the typical highland agaves. He says the region is unique because its water is cleaner, and centuries of volcanic activity have left the soil rich in mineral content. The use of these agave plants gives Del Bravo Tequila a better taste than many of the mainstream tequila it competes with, he says.
In the company's facilities, Del Bravo utilizes a unique distillation process that removes much of the burning sensation from the finished product. Large says this creates tequila that can be sipped rather than shot straight down, allowing drinkers to experience the flavors. "You'll have people tell you they like [the burn], but that's OK," Large says. "They can keep on drinking what they're drinking."
Seeking Out Quality
Del Bravo Tequila is at the forefront of a trend sweeping through the spirits industry, Large says. More consumers are becoming better educated about tequila and are seeking out boutique brands that have their own unique identities. "It's like the beer business," Large says. "More people are drinking craft beers again."
Even though Del Bravo doesn't have the marketing budget or industry presence of the biggest and most popular names in the tequila business, Large says the brand's high quality and drinkability have made it a favorite for many people, and that will only serve to improve the company's standing as the craft spirits trend continues. "More and more people are enjoying tequila by sipping it than shooting it, because the quality's so much better," he says.
As Del Bravo continues to earn cache in the industry among those who appreciate high-quality tequila, Large says this trend will help the company overcome its strongest challenge. "The biggest challenge for us is distribution," he says. "It's securing the right distribution partner to market our product because of the volume of tequila that are out there."
New Additions
Del Bravo Tequila continues to grow and develop new products, and Large says the company is in good shape to continue its upward mobility in the industry. The company recently completed a move of its headquarters from Tucson, Ariz., to Austin, Texas. Large says the company expects to receive a boost to its Route 66 brand next year, when it will appear at the 50th anniversary of the Sturgis motorcycle rally. He adds that a series of bachelorette party-themed promotions should provide a similar boost to the Diva brand.
In the near future, Del Bravo expects to launch new tequila such as its cinnamon-flavored Fuego and licorice-flavored Tequila 69. The company also is launching its Agave Infusions line, which features tequila infused with all-natural fruit flavors. "We think that's a product that's going to be well-received," Large says.