Del Papa Distributing is growing its share of the market in Southeast Texas.
After more than 100 years in business, Del Papa Distributing Co. thrives thanks to strong relationships with its suppliers and customers, as well as top service from its employees. "That's what helps make you successful: surrounding yourself with good people," Vice President of Corporate Relations and Communication Peter Williamson declares.
Based in Texas City, Texas, the company today markets and distributes beers across 17 counties in Southeast Texas from national suppliers like ABInBev and Constellation to national, regional and local craft brewers. However, Del Papa Distributing did not originally begin in the beer business, Williamson notes.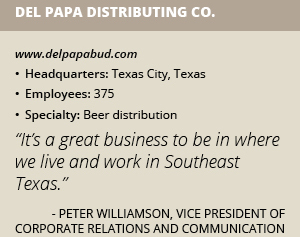 Instead, founder Omero Del Papa Sr. started the company in 1910 as a wholesale grocery business and became affiliated with Anheuser-Busch in 1930 during prohibition. "We were selling their products, like baker's yeast and malt," Williamson says. When prohibition was repealed in 1933, the company began to handle Anheuser-Busch's beer products.
Currently, Williamson says, the company serves a wide variety of small and large customers. "But our independent c-store channel is still our largest channel by volume that we do business in," he notes.
Wise Investments
Del Papa Distributing has not fallen behind when it comes to implementing new technologies. "Over the years, we have implemented many new hardware and software systems to improve our sales force and warehouse productivity," Williamson says.
"Our salespeople in the field [can] connect to our network and be up-to-date with information they can share with their customers," he says. "We feel you've got to invest in technology. Your suppliers and customers really expect that of you."
Staying Focused
Del Papa Distributing is coping with the challenge of SKU proliferation, Williamson says. "The solutions we have to bring to the retailer are much more diverse and complex than they were 30 years ago," he continues. "You're juggling a lot of balls in today's business environment. We have to have a focused and targeted sense of urgency when we go to the market each and every day.
This focus led Del Papa Distributing to add Two Row Distributing, a strictly craft beer focused distribution division. "When a lot of craft brewers are considering you as a partner, they're happy to know you have a group of salespeople that are really focused on their brands," he says.
The division has operated for the past two years and has earned a positive reaction from customers. Through it, "We provide our best efforts behind those brands and suppliers that aren't the big guys in the industry at the moment," he says.
Giving Back
Del Papa Distributing takes part in charities, Williamson says. "So many civic, religious and charitable organizations really depend on a beer distributor like ourselves," he says.
"We're very involved in our local communities and try to give back throughout the year," he says, noting that it sponsors local events, as well as makes donations to organizations like The Salvation Army and United Way.
"We also do things in our communities with employees volunteering their time on local projects like Habitat for Humanity, beach cleanups and blood drives," he says.
Aiming High
Del Papa Distributing provides training for its employees, Williamson says. "That's one of the things that we're really continuing to focus on with our strategic work force planning effort," he says.
"We want to onboard employees that fit our culture and develop them through training and leadership development," he says. "We want to make Del Papa Distributing a place our employees want to stay and make it their career."
Del Papa Distributing plans to stay such a place as it grows, Williamson says. "We have a goal to achieve a 70 percent share of market," he says. "There's challenges, but it's a great business to be in where we live and work in Southeast Texas.
"It's still a growing business and the future's bright," Williamson says. "We are growing and we are gaining share."