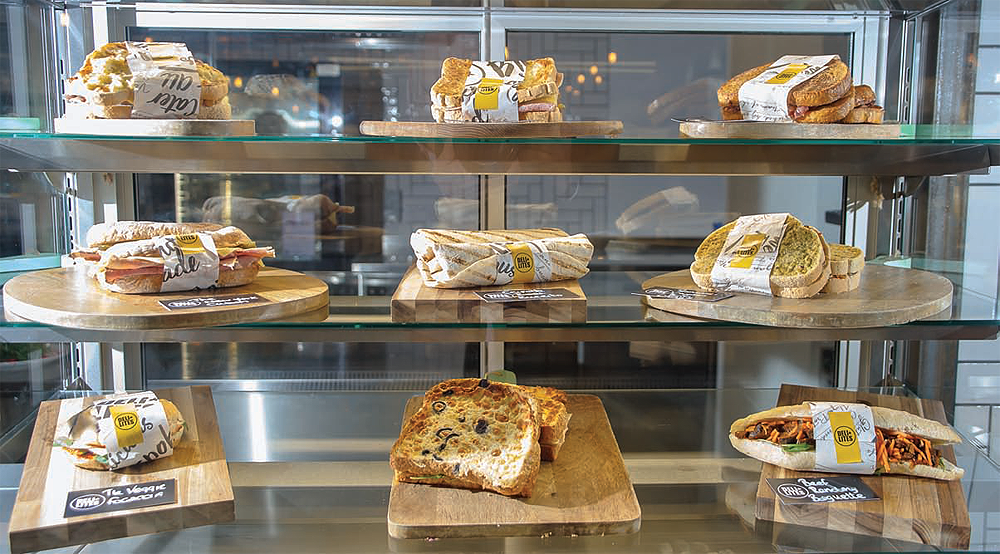 DELIteful experience
DELI LITES uses Irish quality ingredients and uncompromising taste in all its products, drawing inspiration from fashionable food trends to create its range of artisan sandwiches, wraps, salads, and luxury artisan bakery products
From the port town of Warrenpoint in Northern Ireland DELI LITES supplies the UK and European markets with its world class products, but the story of the on-the-go food producer began some
4000 miles away – in The City That Never Sleeps. Back in the 1990s, Jackie Reid spent an entire summer working in New York. A confirmed foodie, she immersed herself in the local deli scene and on her return decided to transfer her knowledge and skill to Ireland alongside her husband and business partner Brian Reid.
Twenty-five years on, the company is enjoying the time of its life, currently being on track to achieve a record-breaking turnover that's in the tens of millions. Brian Reid, DELI LITES' CEO, discusses the reasons for the organisation's ongoing success.
"Our ambition is to bring the best quality Irish food-to-go to the global market by championing chef-led innovation, fostering partnerships with local artisan producers and ensuring company-wide sustainability in everything we do. We have a strong and active culture here at DELI LITES, our people and our food are what's most important to us and we're eager to develop these areas in an environmentally friendly way, from how we package ourselves to how to package our products – it all goes hand in hand. We work with our customers to satisfy their needs and we address any challenges they may encounter. For us, this has been a key foundation to building lasting business partnerships. Owing to our consistency and reliability, we have a reputation that has enabled us to form and maintain relationships with a number of household names such as Costa Coffee, Applegreen, and Debenhams Cafes."
The genesis of DELI LITES has marked the subsequent development of the company in a significant way. Up to this day, Brian, Jackie, and their colleagues from DELI LITES' innovation team continue to travel far and wide to various trade shows to experience some the most futuristic food trends. "There is no other way of keeping ahead of the curve and staying up-to-date with what is happening in the industry. These events also give us the opportunity to present our innovations and receive feedback from other food specialists," Brian adds.
Bursting with ideas, DELI LITES has launched several industry-acclaimed products as of late, in line with the dominant global cuisine trends and to cater for the varying needs of its customers. "We are constantly developing artisan products for those with a discerning palate who want to try something a bit different," Brian expounds the company's approach. "For example, our range of Vegan bespoke bowls have been met with great success, being awarded two Gold Stars in the 2018 Great Taste Awards. More recently, our Asian bespoke bowl also won an award at this year's edition of the contest and so did our Turmeric and Orange cake with Yogurt and Pistachio topping.
"Other notable recent launches from our range include the Piri Piri Chicken Couscous and Feta wrap, Vegan Sweet Potato Fritter and Spiced Hummus Wrap, Chorizo and Chicken Polar flatbread and a New Yorker on Rye Toastie," he continues. "In order to meet the growing demand for non-meat options, we are also just about to release a plant based Healthy Donner Kebab using a Turmeric and Chia Flatbread with an in-house produced Seitan on crisp Lettuce with vine tomatoes, red onion, garlic and mint yoghurt dressing with spicy sriracha, as well as an ideal on-the-go plant-based breakfast item – Double Espresso and Coconut Moccachino Bircher topped with toasted Almonds. There is a clear move away from meat and the growth of the plant-based market has propelled us to collaborate with a plant-based company to strengthen our offering."
The ultimate dream of DELI LITES is to see its sandwiches sold in the city where the Eureka moment for the creation of the company occurred. And if establishing a presence in New York can be defined as the final leg of the journey to international expansion, DELI LITES is not rushing its export activities. "It is true that we have introduced some tósta, burritos, and hot boxes to foreign markets and while we are very keen on growing first and foremost in Europe, we are planning to do so gradually," Brian reveals. "We have just enrolled in a Dutch market programme, and we're keen to see what our efforts will yield in the next 12 months. In general, we are looking for markets that are not too mature, where we can bring our Irish products. We have recently placed investments in new technology to maximise our frozen export range, and we also intend on making a number of senior appointments to help us expand internationally."
Making note of another substantial investment DELI LITES has made lately, Brian moves on to analyse the role of the company's new £250,000 innovation hub. "It is a place designated to cement the strong partnerships we have with our suppliers. We want to ensure that we grow together through innovation and help each other to be the first to the market with our ideas. To do this, we will leverage our expertise, so that we can design bespoke additions to our products and thus gain advantage over our competitors. Since opening the hub, I can see that our suppliers are more responsive and demonstrating a real keenness to show us their innovations"
Summing up, Brian is confident that DELI LITES will hold its course in the years to come, continuing to do what has proven to work for the business. "We want to show the industry what we can do for them, we feel capable of adding real value across the sector. In the long-term, we would like to have a strong proposition internationally, all the while maintaining fruitful relationships at home."