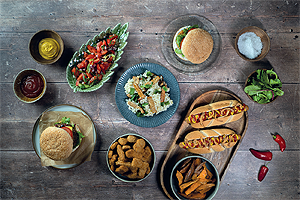 After parting company with Ocado at the end of 2019, Fry's is back due to popular demand with its classic range, which includes plant-based sausages, sausage rolls, burgers, nuggets and schnitzels.
Fry's will also be launching its pea protein mince in Ocado – a UK-first listing for the brand. The new pea-based mince is packed with protein and non-GM and is the perfect partner for any burrito or spaghetti bolognaise and will retail exclusively at Ocado for £3.50.
Tammy Fry, international marketing director at The Fry Family Food Co, said: "We're so thrilled Ocado has made the decision to re-stock Fry's again, making the range even more easily accessible to people across the UK.
"We want to prove that plant-based eating doesn't have to be about deprivation – you can still enjoy all of the delicious, mouth-watering dishes you always have, by swapping meat for plant-based alternatives which taste just as good, but are better for you and the environment."
The Fry Family Food Co's sister brands Oumph! and LikeMeat, part of the LIVEKINDLY Collective, also launched new products in Ocado this January. Oumph! Smoky Bits and Oumph! Balls, and LikeMeat's Like Schnitzel and Like Nuggets were available to Ocado customers from January. The LIVEKINDLY Collective's recently acquired No Meat brand is also available at Ocado.
https://www.fryfamilyfood.com/uk/