Family first
Delicious Ideas Food Group are a family run business who believe in providing their customers with the very best service, innovation and value in the snacking & drinks market. They are made up of a collection of keen foodies who also provide an end-to-end solution for clients and upcoming brands to bring their snacking ideas to life
Delicious Ideas Food Group (DIFG) takes pride in its family business, which, in 1991, was brought together through a passion for sweet and savory snacking. Based in Cambridgeshire, DIFG is run by siblings Jonathan Potter and Emma Smith, with an employee base of over 30 individuals. The company is one of Britain's fastest growing specialists in the production, storage and distribution of ambient snacks and drinks to a wide range of clients across the UK and Ireland. "We are dedicated to working in synergy with foodservice businesses and suppliers. Plus, we have an outstanding team that has helped transform DIFG from a man-and-van operation to a thriving food center relied upon by thousands of caterers throughout the country.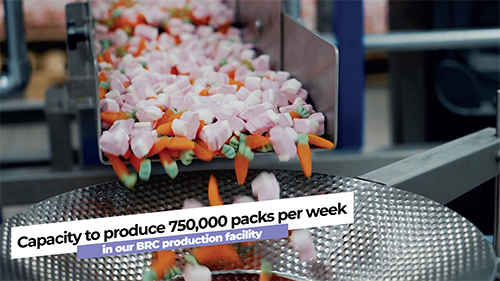 "We specialize in providing all manner of snacking products mainly to foodservice and hospitality clients. These vary from indulgent treats, such as our classic confectionery packs and Delicious Ideas bakery bars, to healthy nut bars and mixes, vegan and gluten-free 'grab n go' snacks, as well as added protein and keto brands. In 2020, we also added a variety of drinks to our portfolio, including kombuchas, cream soda, protein shakes, flavored water, fruit juices and iced coffee," shares Jonathan.
DIFG's three decades of expertise in snack supplying is unparalleled, according to Jonathan, which has allowed it to predict customer needs, and sets it apart from its competitors. "We are always striving to improve our customer service, but we know our innovative flavors and diverse range of products cover all consumer lifestyle and dietary requirements."
It is these values that Jonathan has worked tirelessly to build on and is what he attributes the company's success to. "Family businesses are naturally community-minded with, typically, a far higher propensity to invest more in people compared to standard business models. DIFG has been able to recognize that our corporate social responsibility is also important, even when facing difficult outlooks ourselves. This is why the common theme throughout our product selection is sustainability, which drives us to look to improving the impact of the nation's snacking consumption. We are continually increasing our product range with plastic-free and recyclable brands, and in the new year, we are launching a range of snacks under our Healthy Ideas banner that are plastic-free," says Jonathan.
Expanded services
In October 2021, the company celebrated its 30th anniversary, and Jonathan discusses with us how this milestone has been a refreshing reminder of the dedication his team have invested to overcome obstacles, particularly those brought on by the pandemic. "The past 18 months have been a trying period for our business. Our daily orders went from 200 to two, which was a result of hospitality closing down, but we're proud to have pulled though, and equally so to be celebrating 30 years in business. We ran competitions for our client base, gave away free stock to the winners, and raised money for ten different charities that were chosen by the DIFG staff, and we intend to celebrate properly at our Christmas party."
Recently, the business has undergone extensive measures to expand its services, and now offers bespoke packing solutions. As Jonathan highlights, his group is proud to offer private label, fulfilment, storage and distribution, which allows businesses to create their own snack brand. "The company possesses the capability to transform ideas into attractive products for the market place through an end-to-end process. We source the ingredients requested and create tasty sweets and snacks in visually striking packing that looks fantastic on the shelves.
"This is our biggest USP. Not only do we distribute drinks and snacks to all four corners of the UK, but we are also a BRC AA co-packer and have a fulfilment, storage and distribution division. We provide any existing brand, or up-and-coming challenger brands, with a complete 360-degree solution form that assists with product innovation, to design packaging, pack production, then B2B or D2C delivery." Whether that service is required for a healthy, ambient snacking product or indulgent confectionary, Jonathan adds that the business is happy to partner with its clients through the entire process. "With everything under one roof, DIFG will strive to save time, energy and money for our clients; from ideation to the state-of-the-art packing machines managed by our highly trained and professional team, all the way through to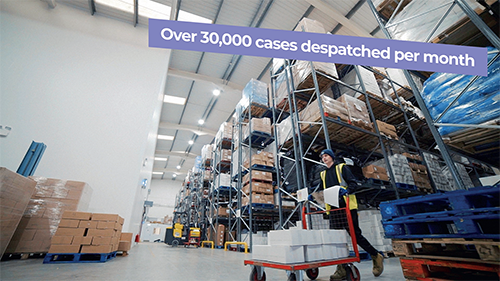 distribution and sales support."
With this ethos at the core of its operations, the business was able to overcome the consequences of the pandemic. "At the heart of our success story in making it through Covid-19, I think that the family model has been the foundation that we have all relied on. Lockdowns, guidelines, and potential threats have highlighted the importance of those closest to us, even if we haven't been able to express such closeness physically. Family is the backbone that most of us have been able to depend upon during adversity, just like we at DIFG have been able to do on a business level," Jonathan explains.
He adds how DIFG refused to buckle under the pressure, and drew from past obstacles to inspire the team in moving forward. "We decided to focus and reflect upon those things that have helped us grow as a business in the years preceding this unparalleled period.
"Our team's belief and hard work is the very thing that has helped us grow at such a fast rate. It is these same attributes that assisted us, as well as the contract caterers and suppliers we work with, to persevere through these testing times and emerge triumphant. Since we started in business, financial challenges have come and gone. The most important thing is that when instances like this happens, we are poised and ready to forge ahead just as we were doing before the virus arrived," he adds.
United attitude
Relationships with staff, suppliers and community are vital to the company, and as a result, it ensured that these remained strong and supported throughout 2020's turbulence. "We have 30 years of supply chain experience sourcing products from all around the world, but our bond with our supply base has never been closer after the events of the last 18 months. There has been a huge united attitude since the pandemic hit, and we have made it a point to thank everyone for their support. Between us and our suppliers, there was a massive amount of food products that were donated to front line workers and the homeless during Covid-19. We shipped snacks to hospitals and food banks all over the UK," he says.
On that point, Jonathan continues to elaborate, saying: "As a means to support those on the frontline during the pandemic, we were able to send snack boxes to local NHS hospitals as well as donating to charities and supporting children – the small things to make people smile can truly make a difference. We see that in our own families, which is why DIFG translates the concept to a business level."
He also expresses that decision-making during this time has had to be adaptable, quick, and critical, which was again, empowered by DIFG's values. "It can be easy in any business to approach decisions on a quarterly or yearly basis, but family businesses have a different viewpoint. We're looking on towards the next generation, not just the next quarter. Our generational legacy pushes us forward with resilience, fully aware that it is the future generations that drives us forward with innovation and strength," he adds.
This is why for the remainder of this year, and looking forward to the next, DIFG is keen to support its fiercely loyal workforce, while customer satisfaction remains its number one priority. "We will work hard to keep our business moving forward, as we try to keep that family feel within our culture. We have a new COO starting in January to add some strength and knowledge to help steer the ship over the coming years with the focus on increased sales and market share," Jonathan concludes.
www.delicious-ideas.com