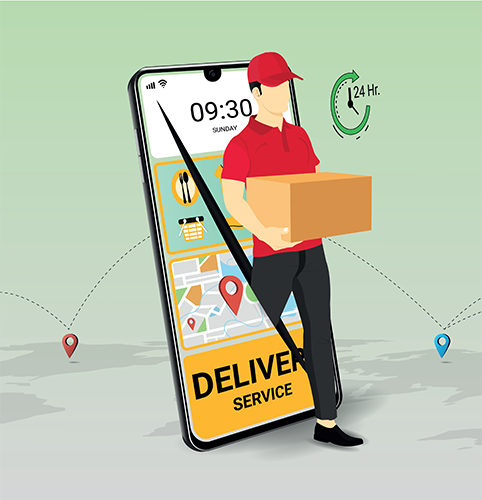 The past year has accelerated change and digitalization, crucial for the food and beverage sector's long-term survival. It's no surprise that the food delivery industry has increased in consumer popularity and demand. A recent Just Eat Takeaway.com report observed a 79 percent increase in online orders in the first quarter of 2021 – nearly double its predicted growth rate – as the boom in eating at home during the coronavirus pandemic continued around the world.
We saw this come to life when we found ourselves at Deliverect, a SaaS company that seamlessly integrates online orders from food delivery channels (Uber Eats, Doordash, etc.), helping to process more than one and a half million orders per week in the last year – a 750 percent increase from the year before. Even more staggering: the UK online food delivery sector's revenue is expected to show an annual growth rate (Compound Annual Growth Rate 2021-2025) of 9.60 percent, resulting in a projected market volume of £11,762m by 2025, according to Statista's Online Food Delivery Eservices Report 2021. So it's safe to say that online food delivery is only just getting started and will continue to grow, particularly as the UK continues to react to varying Covid-19 restrictions this winter.
Today, restaurants are looking for ways to thrive, which includes more options for digital orders. Restaurant owners are looking for ways to sell more easily and to reach more customers with less hassle in an environment that feels most comfortable to them. With an ever-changing external landscape spelling a permanent change for the industry as we enter 2022, restaurateurs need to speedily keep up with the year's forthcoming trends in order to ensure their restaurants are prosperous and ready to get through any challenge:
· Shopping delivered straight to consumer: Whilst observing the Fast Moving Consumer Goods (FMCG) space, we're starting to see new and emerging marketing trends. There's been an increased demand of FMCG suppliers (like supermarkets) looking to connect with their customers through delivery apps. Delivery is no longer just for takeaways. Building a direct-to-consumer business model is no longer the norm of restaurants and retail brands. Increasingly, FMCG brands are looking towards trends in online ordering and home delivery to keep on top of consumer demand and stay relevant.
To see the massive potential of D2C (Direct to Consumer) for FMCG brands, we can look to the success Amazon, Apple, and Tesla have had taking products directly to consumers and building lasting relationships, to create long-lasting loyalty.
· Food automation: The restaurant industry has and will continue to invest in in-store tech to pivot and meet the demands of customers and remain competitive. Many have gone toward contactless payment solutions using QR codes and/or tableside ordering technology to minimize customer contact with restaurant workers. Operators are also experimenting with cutting-edge air filtration and surface cleaning technologies to make diners more comfortable when sharing space with a crowd. More Smart Tech, such as robots, will be used for restaurant food delivery. For example, Starship Technologies have built hundreds of little robots to deliver pizzas around college campuses and even some city pavements globally. The reason for the surge in demand is due to the pandemic effect, with more than 1,000 robots being added to its fleet, up from just 250 in 2019, and hundreds more are being deployed soon.
· Sustainability: With consumers actively seeking more sustainable ways to get their on-demand food and grocery deliveries, the incentives are there for forward-thinking food companies to make the right changes. As an example, HelloFresh in the UK has implemented an in-house development software tool which optimizes the packaging of their meal kits by choosing smaller boxes, meal kit bags and cool pouches. Since its introduction more than two years ago, this tool has helped to save approximately 650 tons of plastic from landfill and reduce the use of cardboard by over 160 tons.
But you don't need to be a HelloFresh or invest in a tool, to contribute to sustainability. Every restaurant can look at how inefficiency within the order process contributes to the food waste crisis. For instance, our technology at Deliverect can help restaurants reduce order error by almost 80 percent, which leads to less food wastage (as well as less lost revenue on refunds for our customers). Beyond this we provide all partners with resources for sustainable suppliers to help them along their journey.
·Future gazing: To continue growth as an industry we expect to see an uptake in the number of restaurants investing in tech and innovation. The pandemic has changed consumer behavior – who now have greater expectations from the brands they engage with. Consumers now expect their everyday products to be available through more convenient means – including online delivery and contactless pick-up – in a way that personally suits them. This means that restaurants will need to rely on technology to harness and analyze customer insights to provide a more personable service for customers. By doing so, the takeaway experience will truly begin to rival in-dining experiences.
· Technology and Artificial Intelligence (AI): AI will be an integral part of the food and beverage industry because it simplifies and automates workflow. It also reduces cost, and ensures the best business environment by providing future predictions and sharing recommendations accordingly. For example, restaurants that offer outdoor dining need to be able to get the weather for the upcoming week, engineer the menu based on customer purchase analytics and re-price items based on the ordering rate. Therefore, artificial intelligence offers competitive advantage to restaurants.
As you've probably noticed, the common denominator in all the trends is: technology. At Deliverect, we believe in 2022, technology will help improve the hospitality industry by helping restaurateurs and FMCG brands to continue to meet and exceed burgeoning customer expectations in a post-pandemic environment where delivery is key. With a more digitized and streamlined approach, we hope this means that restaurateurs will be able to grow and manage their restaurants towards success in 2022 and beyond.
Deliverect
Zhong Xu is CEO & Co-Founder of Deliverect, an SaaS company that simplifies online food delivery management. Deliverect seamlessly integrates online orders from food delivery channels (Uber Eats, Doordash, etc.), allowing 13,000+ establishments to improve operational service and increase customer satisfaction. Operating in over 30 markets around the world, Deliverect is trusted by restaurant chains and FMCGs such as Taco Bell, Timeout Market, and Unilever, as well as small and midsize restaurants and dark kitchens around the world.
For further information, please visit: www.deliverect.com