With the correct technology and an engaged workforce, Derstine's plans to continue to grow its revenue in the next five years.
Derstine's Inc. is an independent, family-owned, full-line wholesale foodservice distributor. Since 1983, the company has provided food operations and restaurants with high-quality products and unmatched customer service.
"My parents started the company together and their goal was to further our family for the future," President Zach Derstine explains. "They wanted an income source that would provide the kind of revenue needed to not only buy a home, but also provide a future for their family. They both came from poor farming families; in fact my father was an orphan; his parents both died before he was 10-years-old, and he was raised by a Mennonite minister from the neighboring community. Ultimately, they wanted to provide their kids with a different life than they had."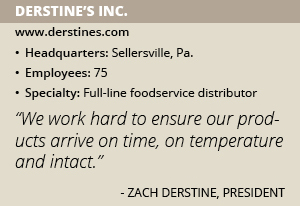 Derstine's distributes food to independently owned restaurants in the 80-mile radius around its headquarters in Sellersville, Pa. "We have more than 15,000 products in our database and stock over 4,000 of them, which cover all temperature zones," Derstine says. "We cover nine categories of food including canned, refrigerated, frozen, protein, produce, dairy, E&S, chemicals and paper products."
Above and Beyond
For the past 34 years, Derstine's has differentiated itself from competitors by emphasizing customer service. "Our customers expect us to be able to supply all of their needs with one delivery," Derstine says. "Our success is to intentionally stock products from every category that our customers require. We service and own our refrigerated fleet of trucks. Drivers, who are Derstine's employees, not only take personal ownership in developing relationships with our customers, but also make daily deliveries. Our night shift staff works to ensure early departure. Because customers expect "on time deliveries," we strive for 100 percent on-time departures. We find in doing so, we have happy customers and happier drivers."
Derstine's competes in an industry filled with publicly traded giants, but the company is set apart by being an independently owned family business, Derstine notes. "We're different than our competitors because we are an independently owned family company. We differentiate ourselves because we offer quality and service."
Derstine says customers can talk to an actual human being at the company, such as a manager or one of the owners. "If the customer requires a certain delivery day, time or product, or any other specific requirement, we go out of our way to meet their needs," he says. "We make sure the product arrives on time, on temperature and intact. We are in constant communication with our customers. Accommodating their needs is a key factor in the supply chain."
Derstine's emphasis on customer service extends to its employees. "I have personally observed our employees develop relationships with the customers," Derstine explains. "It begins when the sales person creates a sales order for the customer on an iPad. It continues when the night shift picks the order and scans it to ensure that the product is correct. The truck loaders in the warehouse, and the drivers making deliveries, all work to provide quality to our customer. Everyone in the supply chain is critical to Derstine's success. Customers expect and receive quality products and service from us."
In addition, Derstine's suppliers play a key role in the company's success as well. "Because our customers require a vast array of products, we work very closely with our suppliers to get everything they need. These items might range from a toothpick holder to a whole roasted pig," Derstine says. "We have thousands of products in our database. We have many suppliers and need them to be as flexible as they can, in trying to reach our customers' requirements.
"Again, that's something the other companies don't do in regards to service," Derstine adds. "When we service our customers, oftentimes that involves a relationship with our suppliers as well. If we need a specific product and need it quickly, we look to our suppliers to go above and beyond the norm to assure that our customer expectations are met."
Derstine notes that the company has worked with some of its suppliers since the company was founded in 1983. "We maintain those relationships by consistent business processes: We order, they deliver and we pay," he says. "That happens in a very timely manner, and also consistently, in order to maintain a relationship over the course of three decades."
Seeing Growth
In 2018, Derstine's will celebrate 35 years in the industry, an accomplishment Derstine says the company does not take lightly. "We're grateful for the steady growth of our company, especially being family owned in a business industry of publicly traded giants," he says. "Derstine's Inc. has a very bright and promising future with even greater opportunity. We can provide what customers require and that is service.
"That requirement will not go away," Derstine continues. "It's actually increasing because of the regulatory requirements of the government in terms of product safety and product traceability. Due to our technology, we are going to rise and shine in that area. It has made a huge impact because of the efficiency we've achieved by implementing state-of-the-art SAP computer software in our operations.
"Can you imagine managing the inventory of thousands of items – each one has a shelf life in a specific location and a specific batch number," Derstine adds. "Our software has helped us manage all of the aspects of our business, so as we grow, we can add more customers and products without having to add the same amount of administrative work."
With the correct technology and employees in place, Derstine's plans on doubling its revenue. "In the next five years, we would like to continue to grow at double digits by adding new customers as well as selling more products to existing customers," Derstine explains. "Our overall vision is to continue to be a premier supplier for our valued customers. In addition, we'd also like to be a premier employer for our employees. They go hand in hand, and those two assets are critical to our success.
"I'm thankful and at the same time proud that we have successfully maintained a viable business for more than 30 years. We were able to create a state-of-the-art warehouse, implement a sophisticated software program and maintain an excellent management team," Derstine concludes. "We have people, processes and assets all in place, which will result in continued future growth. A leader's success is measured by the effectiveness of those amongst him. None of this would be possible without our employees and customers, so to each of them I give a sincere thank you."