Dessert Holdings expands its portfolio across North America by ensuring its products are easily adaptable to consumer trends.
Dessert Holdings strives to be the premium dessert supplier in retail and foodservice throughout North America by expanding its three brands: The Original Cakerie, Atlanta Cheesecake Co. and Lawler's Desserts. "We are a new company with new ownership, but the heritage of the brands live on through our innovation and high-quality premium desserts made with the best ingredients," CEO Paul Lapadat says. "Our superior product proposition and best-in-class customer service create a runway for growth in the Foodservice and Retail channels."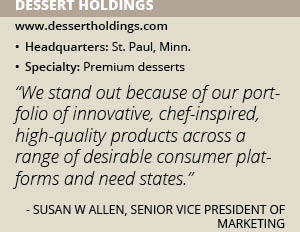 San Francisco-based Gryphon Investors established Dessert Holdings after acquiring The Original Cakerie in 2015. The London, Ontario-based company specializes in high-quality frozen desserts, including layer cakes and dessert bars. To further complement its portfolio, Dessert Holdings in 2016 acquired Humble, Texas-based Lawler's Desserts, which specializes in cakes and cheesecakes. In January, Dessert Holdings acquired the Atlanta Cheesecake Co., which specializes in cheesecakes in a variety of flavors and formats.
"We stand out because of our portfolio of innovative, chef inspired, high-quality products across a range of desirable consumer platforms and need states," says Susan W Allen, senior vice president of marketing. From on-the-go platforms and Desserts-for-One, to exciting extreme desserts, we have culinary chefs that develop a strong, sustainable portfolio positioned for growth now and in the future.
Our success is also driven by coupling an innovative mindset with a targeted approach in understanding customer needs," Kim Morgan, president of foodservice says. "We help our customers in foodservice understand their consumer and where their gaps might be and bring targeted, solution-oriented innovation that is unique to our customers to fill in the gaps."
Dessert Holdings sells its foodservice and retail customers' solutions by analyzing food trends in combination with a customers' dessert menu or assortment to determine how to drive greater relevance and target missed opportunities. We look to enhance a dessert menu with the latest trends that will drive restaurant traffic. Morgan explains, "Cake and cheesecake rank second and third, respectively, in consumer preference. So we present them with our products and creative ideas on how to serve or merchandise in-store to differentiate themselves."
The Wow Factor
Dessert Holdings continues to innovate its product and packaging based on consumer trends. For example, takeout and delivery is key in foodservice today, and the company is helping its operators respond by ensuring its desserts are portable. "Mobile apps, online ordering and delivery is one big area and we are looking at what role desserts can play and how we can bring solutions through our diverse portfolio," Morgan adds. "It's a missed opportunity for foodservice and a huge opportunity to increase check averages, and we are helping our operators determine what's most appealing and portable for their customers."
Fast casual is another area of growth Dessert Holdings is focusing on because there are not typically many desserts to choose from beyond cookies. "Bars, brownies and cheesecakes that are portable are critical," Morgan says. "We recently launched a small-size cheesecake, perfect for on-the-go that is less calorie and a lower price point than many larger options on the market today."
The company is also focused on its wow factor, Morgan says, by developing Instagrammable desserts. "Restaurants have been trying to attract millennials and generation Z, and Instagrammable desserts are a great way to build their brand," Morgan says. We are having a lot of fun with developing distinctive, eye-catching extreme desserts for our valued customers."
In addition to customers looking for extreme desserts, Dessert Holdings understands there are also consumers looking for a quick treat in single-serve and sharable portions. "We continue to innovate around packaging, small sizes, portability and Instagram-worthy extreme desserts," Allen notes. "We take our high-quality cakes made with the best ingredients and figure out what you can do to fit it into that wow factor."
To ensure its brands maintain high-quality standards, continue to innovate and are prepared for increased growth, Dessert Holdings has made significant capital investment in its plants. "We are growing significantly and have invested to deliver on that growth and expand our capacity," Lapadat says. "We are moving to direct one-to-one relationship building with our valued customers to further expand partnerships and continued growth in years to come."
Premium Desserts
Dessert Holdings is North America's premium dessert company, recognized for providing its retail and foodservice customers with chef-inspired innovative desserts made with real ingredients, a flexible and low-cost supply chain, and best in class service. The holding company is based in St. Paul, Minn., it is an umbrella organization of three premium dessert companies and brands: The Original Cakerie, Lawler's Desserts and Atlanta Cheesecake Company.
The Original Cakerie, founded in 1979, is a leading manufacturer of high-quality frozen desserts for retail and foodservice customers across Canada and the U.S. with locations in Vancouver, British Columbia and London, Ontario. Lawler's Desserts, a manufacturer of gourmet cheesecakes, layer cakes, pies and other premium desserts for the foodservice channel, is based in Humble, Texas.
Atlanta Cheesecake Company, headquartered in Kennesaw, Ga., is a manufacturer of premium cheesecakes sold through the retail trade in the in-store bakery or frozen aisle. Together, the companies serve more than 250 customers in Canada, the United States, Mexico and Europe.
Dessert Holdings is a portfolio company of Gryphon Investors, a San Francisco-based middle market private equity firm that focuses on high growth businesses. Dessert Holdings is a portfolio company of Gryphon Investors, a San Francisco-based middle market private equity firm that partners with owners and executives to build leading companies, utilizing Gryphon's capital, specialized professional resources, and operational expertise.