Central Illinois' DESTIHL is building on the success of its groundbreaking sour beers.
Central Illinois is known for a few different things. The region is made up of small towns and mid-size cities, but mostly it is known for agriculture, particularly corn and soybean fields.
One thing that it may not be as widely known for is microbreweries, which makes the story of DESTIHL unique. CEO Matt Potts founded the brewpub in Normal, Ill., in 2007 after attending brewing school at the Siebel Institute of Technology in Chicago.
There, he met Michael Roper, of the Hopleaf Bar in Chicago, known for serving craft beers, who gave a presentation to Potts' Siebel class about sour beers and other Belgian ales. "I give a lot of credit to Michael for igniting what would become my passion for sour beers," Potts says. "Michael's impressive knowledge and passion for these complex beer styles just caused something to click with me."
It clicked to the point of Potts making the brewing of sour beers a top priority after opening DESTIHL. "One of the first things I wanted to do was get a sour program going," Potts recalls, "and by May of 2008, we filled our first oak barrel with what would age into Saint Dekkera Reserve Sour Ale, years before the sour beer craze. We still have the original barrel, and about 700 more barrels now, all soured naturally with a microflora unique to the brewery's central Illinois terroir benefitted by all the nearby farmland."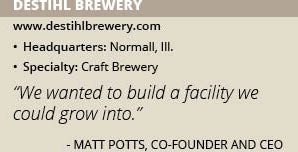 DESTIHL opened its second brewpub in Champaign, Ill., in 2011, and later that year, Saint Dekkera was discovered nationally during DESTIHL's first attendance at the Great American Beer Festival ®. Although it would have been easy for a brewpub from downstate Illinois to remain overlooked, "Within a half hour, word got out, and we had lines across the aisle," Potts recalls.
During this time, it should also be noted that Potts, who is a lawyer, began working with the Illinois Craft Brewers Guild in its efforts to amend the laws that kept breweries from distributing their own beer, which greatly changed the craft beer landscape in Illinois.
Here Goes Nothin'
Eventually, word spread across the industry with several distributors seeking DESTIHL's beers, particularly its sour beers, but there was problem: DESTIHL didn't have a production brewery yet. It took couple of years to get the production brewery open and the barrel-aged sour program off its feet in May 2013, but it generally takes about one to two years to properly barrel-age sour beer.
While waiting for the Saint Dekkera beers to mature – which matured enough over the years to win three medals at FoBAB and a medal at GABF – Potts needed a way to satisfy the demand for the brewery's sour beers. His team came up with an ingenious idea that would help change the craft beer industry.
"While waiting for our barrel-aged sour beers, we developed a 'kettle-sour' [or 'quick-sour'] beer using our house wild sour culture and decided to put it in a can," Potts says. "So, we launched our first WiLD SOUR Series beer, Here Gose Nothin', and became one of the first breweries to put sours in a can."
Launched in fall 2013 on draft and in the fall 2014 in cans, the WiLD SOUR Series won several awards, became a huge success and laid the foundation for DESTIHL's growth.
"Ever since we launched the WiLD SOURS in cans, much of our growth and demand started coming at a much faster clip," Potts says. "Within just two years, we reached full capacity in 2015 and realized we needed a new facility." Indeed, the company's WiLD SOUR Series is one of the most widely distributed and affordable canned sour beers on the market and has helped the brewery grow its distribution footprint to 20 states.
Plans were announced for a much larger brewing facility, and in June 2016 construction began on DESTIHL Brewery's new 47,000-square-foot, $14-million-dollar complex on six acres in Normal. The new destination brewery opened in May 2017 and features a much larger production brewery space, a huge beer hall (taproom) featuring DESTIHL's beer and food, a two-story barrel room and corporate offices.
"The new brewhouse was built to greatly increase the volume of WiLD SOURS we can brew as well as our other growing non-sour beer brands," Potts explains. "We wanted to build a facility we could grow into." While the former facility had a capacity of 10,000 barrels a year in kegs and cans, the new brewhouse can eventually produce more than 150,000 barrels a year.
Not only can DESTIHL grow into the new facility, it can also use the large beer hall to directly expose beer drinkers to not only its sour beer program but also so many other beers styles that the brewery cranks out. These include other core beers like Normal Pils, Weissenheimer Hefeweizen and Vertex IPA, seasonal beers, its award-winning bourbon-barrel aged Dosvidanya (which won Best in Show at FoBAB in 2015 and Runner-Up Best in Show in 2016, as well as a bronze medal at GABF in 2015), and many, constantly rotating, brewery-exclusive releases from its new 10-barrel pilot brewhouse, all rounding out its portfolio well beyond sour beers.
"Right now, sour beers are over 60 percent of our production by volume ," Potts says. "Eventually, though, we would like to get that number down to 50 percent by brewing larger volumes and varieties of our non-sour beers."
Destination Brewery
In addition to its sour beers, there is another thing that makes DESTIHL unique: its location. There simply aren't many craft breweries located in the middle of the state of Illinois. "It really is a destination brewery," Potts says. "You would have to travel far to find something comparable."
It may seem unlikely for a brewery from central Illinois to be on the forefront of sour beers in the United States, but DESTIHL embraces its location by taking advantage of the area's terroir and resources, such as the unique microflora in the area and ingredients grown locally in the state's rich soil, and the central location works well for its national distribution, too.
The area also has a workforce with a great work ethic. "We are in the middle of the country and we're well-grounded," Potts says, "even as our beers are taking off."