Devanco Foods remains nimble as the industry and consumers continue to change, demanding new and healthier products.
Devanco Foods has grown over the past 12 years from a $4 million company to one that generates about $50 million annually. President and CEO Peter Bartzis attributes the company's growth to its experienced personnel and continuous product expansion. "Keep in mind, our growth was done not by selling thousand-dollar computers; we're talking about stuff – Italian beef and gyros – that costs a couple dollars a pound," he emphasizes. "The way we got here was hiring the right people and producing high-quality products as we went along."
Before purchasing Elk Grove Village, Ill.-based Devanco Foods in 2004, Bartzis had spent the previous 19 years at a competitor, starting off in sales and leaving as a divisional president. "I wanted to become my own boss and did so via the acquisition of a smaller company, which was also one of my previous employer's competitors," he remembers. "We assembled a team for Devanco that was made up mostly of certain members of the management team at my previous employer. As I like to say, 'We put the band back together.'"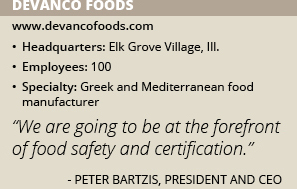 Today, Devanco Foods says it manufactures the highest quality fast-food products Chicago has to offer. These include gyros, chicken gyros, Italian beef, French dip, Italian sausage, pure beef hamburger patties, Marathon Chicken Burgers, pita bread and tzatziki sauce, as well as many other Greek and Mediterranean food products for the foodservice and retail markets in addition to private labeling for chain accounts. The company sells its products in all 50 states and exports to about 10 countries today, but is looking to further expand internationally.
"It's our customers that we want to see win the awards," Bartzis says of the company's food. "We have one customer in Kane County [Ill.] who beat out Buona Beef and Portillo's in the Best Italian Beef in the county category. We have a customer from Arizona who won the best gyros in Tucson award. Our reward is when our customers win the accolades for our products."
Total Upgrades
Devanco Foods will relocate by the end of the year to a 100,000-square-foot state-of-the-art facility in Carol Stream, Ill. The new facility is almost 70,000 square feet larger than its current operation and will be a Safe Quality Food (SQF)-certified manufacturing plant. "Certifications are getting stricter and our facility is getting antiquated," Bartzis explains. "We are going to be at the forefront of food safety certifications. We have ordered all new equipment that will allow us to produce in five days one shift what we currently produce in six days in two shifts."
Although Devanco foods will produce more in less time, Bartzis says the company will hire more people to get to its goal of $100 million in annual revenue in the next three to five years. "The plan is in place now to expand into markets that we were not able to get into due to the changing customer demands towards more stringent certification requirements," he says. "The SQF certification is what customers want and deserve because it means everyone has to be safer. We will be able to get to $100 million in three to five years after we move into the new facility."
In addition to facility upgrades, Devanco Foods is improving its products – making its labels cleaner and healthier. The company's Marathon Chicken Burgers, for example, are made with "freshly ground chicken seasoned to perfection with feta cheese, spinach, roasted red peppers, onions, olive oil, herbs and spices." "The consumer today is a lot more educated," Bartzis explains. "Millennials are more health conscious than people have been in generations past. They are at the forefront of the trend, but everyone is becoming more and more health conscious."
Devanco Foods meets its consumers' demands by developing new products and acquiring companies, such as its most recent purchase of a vegetarian gyro company. The company is now producing vegetarian gyros, shawarma, Mediterranean sausage and an egg scramble along with a vegetarian tzatziki sauce. "That's how we grow; we tell our customers that if they have an idea of an item they want to bring to market we can produce it," Bartzis says.
New Categories
Devanco Foods has grown its product lines organically and the company is always looking for new opportunities. Its goal is to continue to diversify its customer base and has been fortunate that not one customer totals more than 15 percent of its overall business. "There has been a transition in the restaurant industry," Bartzis says. "There are less Greeks in the business than there were 10 years ago. Business is changing to more chain accounts than independent operators – who, at one point, were 90 percent Greek-owned in Chicago – and now are shifting to Hispanic and Middle Eastern owners. It's a 30- to 40-year cycle."
The company plans to continue producing new products, such as hand-stacked shawarma and tacos al pastor, to meet the needs of the growing Hispanic and Middle Eastern restaurant operators. "In Mexico, on every corner they have these stands with vertical broilers that serve tacos al pastor, which is their version of shawarma or gyros seasoned with Hispanic flavorings," Bartzis explains.
Moving forward, Devanco Foods will remain a family owned business as the next generation works their way up to move into leadership roles and take the company from $100 million in annual revenue to "however big they can grow it," Bartzis says. "My son started in production and has worked his way up to general manager," he adds. "My nephew got started in shipping and receiving and is now a regional sales manager. My niece also works in the business, and we have more children interested in working in the business when they finish college. We work hard and have a management team with over 300 years of collective experience. That is pretty unique in this world to have so many employees working together that have more than 20 years of individual experience, with most of those years being spent together as a team."