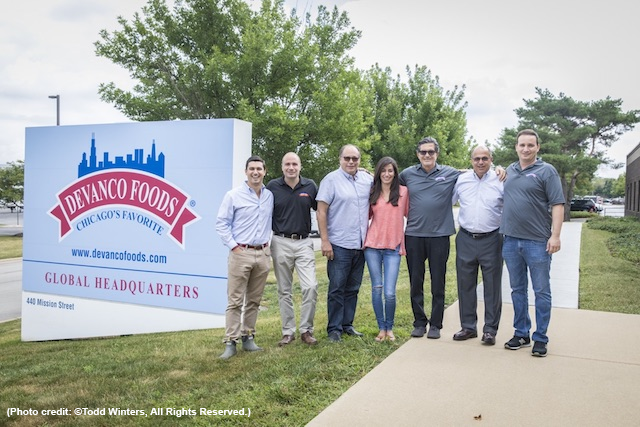 Devanco Foods has expanded its capabilities with its new facility.
When restaurateurs work with Devanco Foods, they are more than mere customers – they are family. "All those associated with Devanco, including employees, suppliers and customers are treated like part of the Devanco family," President and CEO Peter Bartzis says. "[That] is our whole mantra as a business."
Based in Carol Stream, Ill., Devanco Foods manufactures gyros, Italian beef, Italian sausage, French dip, hamburgers, pita bread, Tzatziki sauce, and other Greek and Mediterranean food products. Bartzis branched out on his own in 2004, after spending 19 years at a competitor.
To accomplish this, he assembled a team of family members and former colleagues to acquire Devanco Foods, which recently moved into a new, nearly 100,000-square-foot facility in Carol Stream. Today, its top-selling items are still its gyros and Italian beef, but this has not stopped the company from branching out into other products and categories. These include a line of flavor-infused chicken burgers it sells to retailers nationally, as well as 20 new products it has under development. Devanco Foods also recently finished construction of a new hummus and falafel facility, Bartzis adds. Currently, Devanco Foods is the only company in the country that can say it delivers hummus from farm to table. "We grow the beans and we have traceability all the way back to the farm," he explains.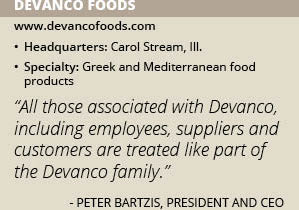 He also highlights its Eleni's Modern Mediterranean line, which consists of vegan and plant-based options, including vegan gyro, shawarma and breakfast sausage slices. "The movement into healthy eating is what we're trying to stay ahead of," he says.
Devanco Foods also recently acquired a halal manufacturer of beef sticks, beef jerky and other halal meats. "We're currently transitioning them into our facility," he says, noting that the company will expand on the growth of halal products as that demographic continues to grow.
Increased Capacity
Devanco Foods has expanded its capabilities with its new facility. In its previous location, Devanco regularly worked two shifts, six days a week. "Sometimes, [we worked] a seventh day," Bartzis admits.
But now, the company can produce that same amount in five days with all the employees currently working on one shift. "Our growth was constrained by our production capacity, which we've now increased by 50 percent on the first shift," he says.
Devanco Foods also has grown its workforce and spread responsibilities out amongst its new staff members. "When we were growing the company, everyone wore many different hats," he says.
"Today, team members who previously did three jobs have specific duties geared towards their expertise," he says, noting that the company's new hires include a purchasing manager, a meat procurement department, a corporate chef and several more staff. "We now have the capacity and team in place to produce and grow for years to come."
Bartzis adds that Devanco Foods has enjoyed growth of 20 percent in its sales after earning SQF certification. While clients were previously content with its suppliers having traditional third-party audits performed, "[SQF is] becoming a requirement to sell to the national retail trade and foodservice chain accounts," he says.
Giving Back
Devanco Foods also sponsors local and national events, and recently established the Joseph Peter Bartzis Foundation, named after Peter's son, who died earlier this year of amyloidosis, a rare blood disease. "He was a shining star in the sustainability field," the elder Bartzis says.
The foundation, he explains, will create awareness for why it is important for young adults to have regular doctor visits. "When I was growing up, you didn't have to go to the doctor until you were 40," he recalls. "There's so many diseases now created by the environment and big business."
Devanco Foods also created a scholarship in his son's name for students in the sustainability space and Bartzis would like to mentor its recipients. "It's time for me to not only start giving, but mentor and help young adults succeed in life," he says.
Going International
Bartzis sees a strong future for Devanco Foods, which he expects to grow to more than $100 million in sales in the next three years. One driver of that growth, he notes, will be healthier versions of its existing product lines. He adds that clean labels will also be a driver of growth for the company in the next 12 months, without compromising any flavor.
"Our products are fantastic and with the world becoming one big marketplace, we will strive to sell more products internationally," he says, adding that Devanco Foods wants to grow its international reach. "We also have a European division which is starting to gain momentum."
Bartzis adds that loss of his son Joey has put life in perspective. "We have established a youth movement and implemented a succession plan led by my eldest son Evan and my nephew George Kanavos," he says.
Along with other family members, the two have been working and taking on additional responsibilities in the business. "The future of Devanco is looking bright," he says.