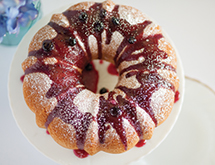 It's rare for a business to leave customers in awe, but Deya's Gluten-Free LLC does it on a regular basis, owner Deya Warren says. Based in New York, the company manufactures a gluten-free flour blend that can be used for multiple types of baked goods.
Warren's company has roots in her personal life. Once a lawyer by trade, Warren learned she had a gluten intolerance in 2008 when she and her husband were trying to start a family.
During a visit to a fertility doctor, Warren learned of a possible connection between her infertility and gluten consumption. After going on a gluten-free diet, "I quickly got pregnant," she recalls.
Warren, who also has a passion for baking, began investigating the various gluten-free flours then available. Ultimately, "I was unsatisfied with all of them," she recalls. "[They] just really tasted terrible."
She then took classes at the Culinary Institute of America, where she learned about using different gluten-free flours as ingredients. Warren developed a blend that mixes potato starch, white rice flour, tapioca flour, dried egg whites and guar gum, which worked as the perfect substitute in her recipes.
When people tried her treats, they could not tell the difference between the gluten-free items and ones made with traditional, all-purpose flour, Warren recalls. "[The] blend worked beautifully in all my recipes," she says.
Warren formed Deya's Gluten-Free LLC when she decided it was time for a career change. "At the time, I was practicing law, but I was not passionate about my job," she recalls. "My husband said to me, 'Why don't you quit practicing law and give the gluten-free flour a go?' That's how the company was born."
Today, Deya's sells a single blend, which is "the only gluten-free cake flour that I know of," Warren says, noting that the blend works for baking cakes, cookies, brownies, pancakes, waffles and much more.
Worthwhile Work
Deya's flour has won many awards, including the 2014 Food & Beverage Innovations Award during the National Restaurant Association Show.
"We're thrilled to be receiving this honor," Warren says. "I think it reflects the attention gluten-free products are getting and the growth in the market area. We have a phenomenal product that speaks for itself."
The company also has earned praise from customers. Warren recently attended the Atlantic Bakery Deli Expo in Atlantic City, N.J., and gave several bakeries sample bags of her flour to experiment with.
Two days later, she received calls and emails from bakeries that wanted to order more. "[They were] totally thrilled and in awe of what the flour could do," Warren recalls. "No one on their staff could tell the difference between our flour and the regular wheat flour they use in their recipes."
End-consumers also have thanked the company for the product. Often, Warren meets people who recently were diagnosed, or the parents of children who have a gluten intolerance.
"To see their faces when they try [items made with our flour] makes the whole startup challenge and being an entrepreneur worth it," Warren says. "[They say], 'I cannot thank you enough. You've made eating joyful for my child.'"
Product Pride
Going forward, Deya's plans to continue serving foodservice clients and bakeries, Warren says. She adds that the company is developing other flour blends, but will stay focused on selling its main product.
"Folks can be confident that they're going to end up with an end-product that their customer will love," she says. "Whether it's a wedding cake or ice cream waffle cones, all their customers will be more than satisfied, to the point where they wouldn't know that they're eating gluten-free."