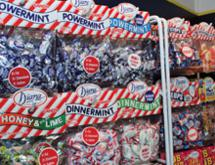 Diana Candy has its origin in the early 1940's. The name derived from the wife of its founder, William Perriera. The company's vision was to establish exciting Caribbean flavors in candy form. Ronald L. Grosberg and his wife, Cheryl, bought the family-run company in 1984 from Perriera's son, Peter.
With the company now in the hands of the Grosbergs, Diana Candy has really taken off. Grosberg has a background in production management in the food industry, spending more than 12 years between Nestlé and a leading ice cream manufacturer. All this know-how has taught Grosberg not to follow the latest fads and to create products that will stand the test of time, just as Diana Candy has over the last 70 years.
Diana Candy creates sweets in the hard candy, sugar free, chewy, mint and bar candy sectors, as well as novelties. The Power Mint! – a small, wrapped hard candy mint – is the company's most famous creation.
"The Power Mint! is well known throughout Trinidad and Tobago, and the Caribbean, and gaining recognition wherever it's introduced," Grosberg exclaims. "It's the strongest mint alive. It freshens your breath, clears your head and is an experience in itself. Some people even use it medicinally. Doctors recommend it. There's absolutely nothing like it around; it's so powerful it clears your nasal passages and is the best thing for sore throats and coughs. I would say this candy is considered a 'must-have item.' Anyone who has experienced it would want to have it on hand at all times. We have daily requests from all over the world from people who have come across Power Mint! You have to experience Power Mint! to know what it's all about, and then no other mint will satisfy you."
He adds that the company's hard candy line in general is the company's biggest seller."The hard candy range of products is more for the adult market," Grosberg says. But that doesn't mean Diana Candy is excluding kids. Quite the contrary, the company produces a whole line for the younger set, including hard candy, soft candy, nut bars and its Butternut, a unique peanut butter bar. "We have two varieties of peanut candy," he notes. "The Nut Krak'r, an authentic peanut brittle bar that is very popular. The Butternut is like 'peanut butter in a bar.' There's nothing else like it. The fact is that all our candy appeals to any age group."
The company's famous Jub Jub chewy candy also is unique and very popular with kids and adults. It is a traditional treat of Trinidad and Tobago. Jub Jub is a sugar-coated, gelatin-based soft chew, which comes in a rainbow of colors and rich flavors. Grosberg says these soft, chewy, flavorful "melt-in-your-mouth" sweet snacks are an unforgettable experience from Diana Candy.
Other special sweet offerings include Mr. G, a ginseng-infused hard candy; cough drops made with real honey and real lime; sour balls; ginger; Chocomint, steups mint (a soft mint chew); and toffees in seven flavors. Then there's paradise plum, a true, exciting taste of paradise, a Caribbean favorite.
Coming to America
Diana Candy, born in the heart of the Caribbean, enjoys dominance in the candy market in Trinidad and Tobago where it's well known and established. That's not the case in the United States – it's not known there, yet. "Much of our export is to people who have somehow come across one or more of our candies and contact us directly to supply them," Grosberg explains. "Our candies are readily available throughout most of the Caribbean, Belize and Guyana, but 75 to 80 percent of our business is in Trinidad and Tobago." The company has very limited distribution in New York and Toronto, but there are plans to grow this business.
He adds that this distribution also is rather limited to the Caribbean communities in New York City and Canada, but he's seeking a much deeper saturation of his products throughout the United States. "We really need to penetrate the American market," Grosberg states. "But we need the right people who have the expertise to get us into that market."
His plan, once the right people are in place, is to penetrate the market slowly and deliberately in one geographic area and grow from there. He has absolute confidence that with a dynamic, committed distributor, Diana products would "take off" in America. Grosberg knows the importance of advertising. Diana Candy advertises very heavily in Trinidad and Tobago, and he credits this strategy as a big part of the company's success. However, he knows that what works in Trinidad may not work in the United States, which is why he is using caution when choosing whom and how to penetrate the U.S. market.
Grosberg's son, Marc, currently heads the company's marketing department in Trinidad and Tobago, servicing about 6,000 customers, from the smallest roadside vendor to the largest supermarket chain.
"Advertising is most important," Grosberg states. "It has to be innovative, and we've been pretty successful with our campaign. We have devised a unique format in our ads, particularly television. They are well known and popular." He adds that while the company advertises primarily in Trinidad and Tobago, it sells well in the Caribbean.
New World Markets
Diana Candy imported most of its raw material from the United Kingdom and the United States in its early days. Today, Grosberg says the company sources its raw material from all over the globe. The company now buys in larger quantities and seeks the very best quality and prices. "It's the way we stay competitive and compete with candy products from all over the world," Grosberg explains. "For example, we buy the best grade of peppermint oil and menthol from India. We also source raw materials from the U.S., China, Brazil, Argentina, Colombia, Costa Rica, Mexico, Guatemala, Europe and others.
"Even 10 years ago, there were rather limited suppliers," he continues. "Today, we are seeing more suppliers than ever and the prices are better. Communications are excellent and freight is efficient. We are constantly striving to improve our business and candy. We are constantly researching and testing existing products and developing new and exciting items. Diana is very dynamic. That's why we are growing and seeking new markets. We are now ready for the U.S. market."
That need for constant improvement has resulted in the company expanding its operations. "In 1998, we relocated to our new premises and have since doubled our size in acquiring the property next door," he says. "We now have room for expansion and growth."
Sweet Hearts
Diana Candy doesn't just make quality candy, the company shows its heart when it comes to the community in which it operates. "At Christmas time, we give to more than 300 charities," Grosberg notes. "We help them all in one way or another." He adds that year round, the company helps in every needy case where it is approached.
Diana Candy also makes contributions to its local Cancer Society and even includes "cancer messages" on its Dinnermint candies that provide cancer awareness slogans. Each Dinnermint wrapper carries a slogan to inform the public about the disease, and part of the proceeds from every mint sold will go towards assisting the Cancer Society in its efforts. In fact, Grosberg is a life member of the Cancer Society.
The Future of Diana Candy
"We recently acquired the equipment to start manufacturing gum; not just any gum – it will be as unique as the rest of our line," Grosberg notes. "This will be up and running in early 2011. We also have plans to expand into other new types of products." These include chocolates, snack foods and others that remain confidential at this time.
Grosberg is very excited about the future and what it will bring. "We have the capabilities to create new candies in any shape and any flavor," he beams. "We have total control over what we want to make and what the public wants us to make. We have great ideas and tremendous opportunities and a positive approach. Most of all, we have the best employees: committed, hard working and industrious. Many have been with the company for over 25 years. That's Diana's greatest asset by far."
Diana is built on long hours of hard work. It is not a very large organization, but it has the heart of one. The company operates on the highest corporate principles. Grosberg says his company will continue to grow and thrive as its watchwords are: safety, quality, efficiency and service and its employees are seriously committed to this. He says: "Our motto is, 'We Love Our Customers,' and we truly live this out every day. "Look out for Power Mint!, look out for Diana, get to know us, we're coming!" Grosberg claims.