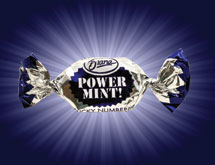 For nearly seven decades, Diana Candy has earned a position as a lead-ing candy producer in the Caribbean. It has carved out its regional niche by capturing the flavors, tastes and textures that are uniquely Caribbean and infusing them into its hard and soft candies. Now, the company is focused on growth outside of the Caribbean and West Indies to show the world what Diana Candy is all about.
Market Leaders
Founded as a confectionery maker, Diana Candy today strives to stay true to old-fashioned Caribbean recipes. Diana Candy has a wide array of product offerings that includes hard sugar candy, chewy candy, novelty candy, plain mints, breath fresheners, sugar-free candy, specialty nut candy and cough drops. Sugar-free products are its fastest-growing line. Its signature product is the Powermint, a concentrated mint that can do more than freshen your breath; it can clear your sinuses.
Throughout its product line, Diana Candy features an array of flavors. This includes everything from sorrel, passion fruit, pineapple, guava and coconut to carambola, coffee, cocoa, rum, sour sop and Caribbean cherries. The company has always tried to remain focused on quality and value in its products.
In its Trinidad and Tobago home, Diana Candy can be found everywhere, from the largest supermarkets to the smallest vendors. To help the company grow throughout the Cari¬b¬bean and West Indies, it works with distributors in Barbados, Gren¬ada, Guyana, St. Lucia, St. Vincent, St. Kitts, Belize, Jamaica, St. Thomas, Dominica and Antigua.
"In Trinidad, we pretty well saturate the market and are the market leader," President Ronald Grosberg says.
Diana Candy sees future growth coming from the release of new products. Specifically, Grosberg is excited about a gum line that the company is preparing to launch.
"Gum is highly competitive, but it is a substantial business opportunity," he says. "That will come out in the next few months. After that, we are looking to broaden into other snack food lines in this market."
Pushing the Limits
Although Diana Candy does have some minor distribution in Florida and New York, it is not enough to compete on a large scale. This is something Grosberg wants to change.
For the company to succeed in North America, it has to be proactive and find representation that can take its products and run with them. For the products to have traction, they must be dynamic enough to compete with the many options on the market. Grosberg says the Powermint is the product most likely to help Diana Candy break through in America.
"Powermint will take the United States by storm when it is introduced," he says. "It is the strongest mint alive."
Internally, the company is focused on finding ways to upgrade its plant so it can automate as much of its manufacturing process as possible. Although labor costs in places like Trinidad have traditionally been low, Grosberg says that is changing. Therefore, Diana Candy can be more effective as a company if it invests in automation.
As an island-based company, Diana Candy also has to focus on controlling its supply chain. Grosberg says the company needs to streamline how it buys supplies. Long gone are the days when companies such as Diana Candy were insulated by high customs duties that made outside competition challenging. Now, the open market economy means Diana Candy faces more competition, which is why it has to keep close watch on how and where it sources raw materials.
"We have to bring in supplies from around the world and must be on the leading-edge of buying," Grosberg says. "Price variations can jump up and down as much as 50 percent. Controlling how we buy and where we buy from is critical to cost controls and maintaining efficiency."
As it looks for growth, the company must ensure it is finding the key, competent people with the vision required to help it grow. Although Diana Candy is in a challenging industry, Grosberg says it is also an exciting one.
"We have to be sure that our expansion efforts don't come at the expense of profitability, but there is a lot of opportunity in this industry," Grosberg says. "It can be difficult to maintain the pace that this business requires, but we know we can take advantage of our product line and stand by our quality and principles."