A true Texas staple
The story behind Dickey's Barbecue Restaurants (Dickey's) and its famed Barbecue Pit dates back to 1941. That year, a World War I veteran named Travis Dickey decided to open his very first barbecue restaurant in the heart of Dallas, Texas.
To this day, that address – 4610 North Central Expressway – remains a central, flagship restaurant among the company's some 550 global locations. Though Dickey's would eventually become the largest barbecue restaurant company in the world, there's still much story left to tell.
The phase of rapid growth that brought Dickey's to where it is now can be traced back to 1994. Prior to that date, the Dallas-based restaurant company existed as a small, family-run operation with nine locations across the Dallas-Fort Worth region. But change was on the horizon.
In 1994, Dickey's began a franchising program with the aim of serving up classic and authentic Texan barbecue to the entire nation. Needless to say, the program succeeded, catapulting the business up into the upper echelons of the national restaurant space. In fact, the first two franchisees to join the brand still operate multiple Dickey's restaurants today, attesting to the robustness and longevity of the company.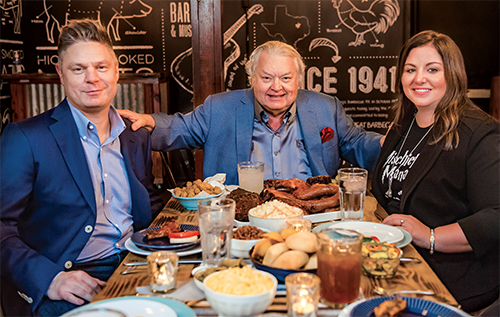 Unique experiences
Fast forward to 2010, and Dickey's had been named the largest barbecue franchise in the US. Five years later, the brand secured its place at the fore of its market niche by opening its 500th location.
"Dickey's has served legitimate Texan barbecue for over eight decades and across three generations of family," begins Laura Rea Dickey, CEO at Dickey's, who has overseen the addition of international locations like Abu Dhabi and Dubai to the brand. "Over the years, we've remained incredibly thankful for our amazing guests. Barbecue is passionate food; we love making memories with meats, smoke, and great folks.
"Though we aim to stay true to our roots, we also want to evolve with the times," she continues. "As a result, we've experienced tremendous growth. But we've also made sure those warm and intimate feelings conjured by our original Barbecue Pit haven't been lost. When guests sit down at any of our restaurants, they find an experience unique to Dickey's. Our authentic Texan barbecue fare, coupled with genuine and passionate service, is a winning formula – and it ensures that customers will return to us time and time again."
This brand loyalty has come to define Dickey's, and it continues to guide every undertaking for the Dallas-based restaurant giant. One example of such is Dickey's wider expansion to include several sister companies that all work together to enhance the barbecue experience for customers. Those are: Barbecue At Home by Dickey's, Wycliff Douglas Provisions, Spark Hospitality Technology, Wing Boss, Big Deal Burger, and Trailer Birds.
Earlier this year, Dickey's also expanded its Barbecue Pit retail line with the addition of its renowned Beef Brisket Rub and Rib Rub, which have been added to 134 Giant Carlisle locations across the US. In all, the retail line, which also includes canned beans, sauces, and meats, is available at over 5500 outlets.
In terms of restaurants, business has also been booming with an unprecedented speed. For instance, six new Barbecue Pit locations were opened in March 2022 alone, and Dickey's is seeking to expand its footprint further overseas.
There's no mistaking that the brand has come a long way since Mr. Dickey opened the original Dickey's in Dallas 81 years ago. One thing that hasn't changed, though, is how the family-run company chooses to smoke its signature meats and serve up its Southern sides.
"Dickey's Barbecue Pit is an American success story, and a true Texas staple," asserts Laura. "In our restaurants, we slow-smoke all our meats the same way we did in 1941, and we remain committed to source the very best, responsibly-raised meats. Our menu is based around the hickory wood pits that give our food its distinct, smoky taste; while we will continue to optimize our offerings, we will always serve a core range of barbecue meats to provide customers with a taste of authentic Texan cuisine.
"No matter the meat, everything is always pit-smoked," she adds. "Upon entering Dickey's, guests will be greeted by a pit master hand-chopping freshly barbecued meats; they will smell the hickory burning, they will hear country music, and they will find a game on the television. However, that all works to amplify the main event: food! Combo plates of pork and kielbasa, beef brisket, St. Louis-style ribs, spicy cheddar sausage, smoked turkey, marinated buffalo chicken, and an abundance of homestyle sides, such as jalapeño beans, green onions, creamy spinach, macaroni and cheese, waffle fries, and fried okra, all await eager guests. As always, kids eat free on Sunday."
Robust planning
Recently, Dickey's kicked off its summer celebrations, launching additional items that are bound to make mouths water. The limited-edition menu features the return of a fan favorite: the premium King's Hawaiian Spicy Chicken and Cheddar Sandwich, which is made with Dickey's signature pit-smoked marinated chicken breast, cheddar, jalapeños, and spicy barbecue sauce – all encased by a soft and pillowy King's Hawaiian Bun.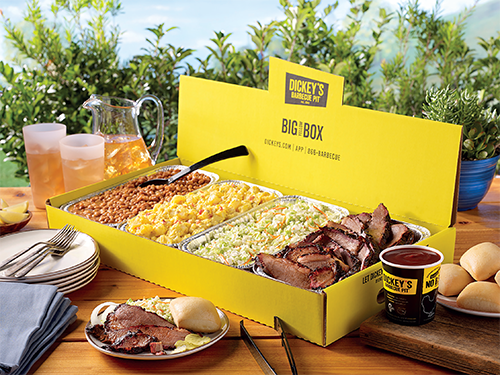 Like many other businesses, however, Dickey's has had to operate differently over the past few years. When the pandemic hit, for instance, the barbecue restaurant chain was forced to adapt, shifting its strategy to focus on digital sales and highlighting the availability of to-go, delivery, and catering options for its customers.
Yet the whirlwind arrival of Covid-19 and the marketing shift that Dickey's was pushed into making has since resulted in several new virtual brands being established, working to bolster the company and its various commercial interests. "Throughout the pandemic, we had to overcome supply chain constraints, labor shortages, and guest anxiety," admits Laura. "Fortunately, however, we came up with a robust business plan. For example, we cut royalties for 14 weeks to support our franchise operators and implemented tamper-proof packaging to ensure quality standards were maintained during delivery. To lighten the load for our guests, we also applied our beloved kids-eat-free offer to online orders every Sunday.
Enduring relationships
"Our people make Dickey's what it is, and we want to support them," she notes. "We're passionate about training and education for all our staff – from certified pit masters to our executive team – and therefore we offer them the necessary resources to fulfil their set objectives. As a result, our team is engaged, prepared, and successful. We have high standards governed by a culture of meritocracy; in that way, we celebrate our individual wins together. Our employees receive better than average pay, paid time off (PTO) days, and numerous other benefits. We bring lunch to our home office team every day and happy hour beverages on Friday afternoons to our Dallas home office team. Once a month, we close the office early to celebrate our successes and Barbecue University graduates. Naturally, our suppliers are partners within the wider business. When we succeed, our partners do, too; through that symbiotic relationship, we've created a mutually beneficial commercial landscape to work in. Reflecting on our long hstory, we truly value those enduring relationships that have stood the test of time, including Dr. Pepper (81 years), Coca-Cola (15 years), and Reser's Fine Foods (14 years)."
As a centenary of business draws closer, Dickey's shows no signs of faltering; instead, the barbecue giant boasts a fully-stocked expansion pipeline, and is currently busy promoting Behind the BBQ, an award-winning cookbook, as well as new menu items like hand-cut fries. "Now is the time to stay tuned," explains Laura. "We're in the process of opening more Dickey's locations overseas and will continue to facilitate our rapid expansion in the US, while also developing our emerging brand concepts. Going forward, we will be further merging barbecue and technology, measuring guest sentiment through data analysis; for example, we've already found that customers value high quality barbecue, which can be ordered online or through our mobile application, and loyalty rewards they will actually use. To that end, loyalty members are now able to earn more points through Dickey's Big Yellow Cup Rewards program with our new in-app QR code.
Ambitions for the future
"In the next five years, we want to add 300 more Dickey's Barbecue Pit locations across the US and double the size of our emerging brands like Barbecue At Home (bbqathome. com), which offers our guests the chance to smoke and prepare the food they love in the comfort of their very own home," she concludes. "Moreover, we will aim to increase the market presence of our retail line by adding Dickey's signature ribs to nationwide grocery stores. From a social responsibility standpoint, we're also intent on doubling the size of our Dickey's Foundation donations, thereby continuing to support first responders in the communities in which we do business. To date, the Dickey's Foundation has donated more than $400,000 worth of safety, protection, and rescue equipment through financial grants. Put simply, we want to keep providing the best, mouth-watering Texas-style barbecue to fans across the world and support the communities where we work and live. Needless to say, there's a lot more in store for the company!"
www.dickeys.com