DineAmic Group's chefs create dishes that inspire customer loyalty and social media buzz.
It is not uncommon to see a long line of people outside of BomboBar in Chicago's West Loop. The streetside walkup coffee, doughnut and gelato counter attracts people who often wait 45 minutes or longer for its specialty: the bomboloni.
The bombolonis – Italian holeless doughnuts available in flavors including salted caramel, maple cream, Nutella cream or peanut butter fudge – have inspired a following since the counter opened in 2015.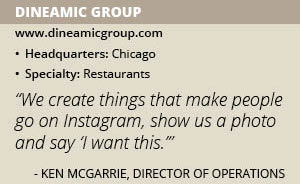 Drawing in curious diners with signature items is one of the main goals of BomboBar's owner and operator, Chicago-based DineAmic Group. "We focus on creating cravers – items on our menu that people can get excited about," Director of Operations Ken McGarrie says. "People will come based specifically on these items that people absolutely have to come in and try."
All of the company's seven restaurant concepts include a signature menu item or beverage that generates a buzz driven in part by social media. "We create things that make people go on Instagram, show us a photo and say 'I want this,'" he adds.
DineAmic's other popular "cravers" include the Vanilla Stout Cake Shake at Public House, the company's upscale pub in Chicago's River North neighborhood. The shake – a mix of ice cream, craft beer, sprinkles, icing and a piece of cake – has brought in scores of people including local luminaries such as Anthony Rizzo and Dexter Fowler of the Chicago Cubs.
"There are the things that will make people come in time and time again," McGarrie says. "Whenever we open a new location, we focus on creating these items."
Unique Concepts
DineAmic Group's newest venture keeps its streak of creating customer-favorite foods alive. La Bodega, a store adjacent to Barrio – a restaurant mixing Mexican and American influences – offers a Fruity Pebble churro, a mashup of the traditional Mexican dessert and the breakfast cereal.
Barrio is a partnership between DineAmic and chef Katsuji Tanabe, who has appeared on the reality series "Top Chef." "[Tanabe] is an incredible chef who brings very authentic cuisine to the concept," McGarrie says.
The restaurant is DineAmic's second partnership with a "Top Chef" personality. Celebrity chef Fabio Viviani teamed with the company to open Siena Tavern, which the company considers to be its flagship property, in 2013. The association with Viviani helped the company gain significant momentum as a restaurant brand. "He brought legitimacy to what was mainly a local brand and moved it to something that was restaurant-forward," he adds.
DineAmic was founded by principals Lucas Stoioff and David Rekhson in 2006 when they opened Stone Lotus, an upscale "liquor spa" concept that included a lounge as well as small plates of food. After the location became popular, the pair opened Bull & Bear, an upscale sports bar that drew inspiration both from the stock market and the names of two Chicago sports teams.
The company eventually sold Stone Lotus in 2010, but opened Public House in 2011. Bar Siena, the Italian restaurant attached to Bombobar, opened in 2015. Bar Siena is a sister property to Siena Tavern that offers regional Italian fare and drinks. Siena Tavern offers a more upscale and refined atmosphere than its more nightlife-driven counterpart.
DineAmic opened a steakhouse, Prime & Provisions, in 2015. In addition to its restaurants, DineAmic operates an event venue, Builders BLDG. Bull & Bear closed in 2016.
Creative Venues
All of DineAmic's restaurants have the common thread of operating from-scratch kitchens. In addition, the beef served at Prime & Provisions is all natural and free of hormones and antibiotics. Other locations offer gluten-free menus, and all restaurants can modify their menus to meet specific dietary needs such as allergies.
The menus at the company's restaurants change frequently. The head chefs of each venue meet weekly with DineAmic's management team to discuss and present new dishes. "All of our creativity comes from our chefs and cooks who come up with exciting ideas," McGarrie says. "Our management team tastes and listens to their ideas and finds ways to improve the concept, but allow the creativity to be at the store level rather than handed down from corporate. Nine times out of 10, the items on our menus are ideas that came from the venues themselves."
The management team takes a similar approach to wait staff at each location. "Everyone who goes through training is required to taste and be familiar with everything on the menu. We want everyone to find something they enjoy, and at no point in any of our venues do we encourage servers to push an item," McGarrie says. "We don't tell them what to fall in love with on the menu, we just want them to fall in love with something and talk about it with passion. "We want people to engage with guests and give honest recommendations based on their own opinions."
DineAmic staff is also encouraged to complete anonymous staff feedback forms, which go directly to the company's principals. "There's no one who feels his or her voice isn't being heard," he adds.
Working Together
The company's approach to staff reflects its corporate philosophy. "We focus on everyone working together; there's rarely a time here when our marketing, finance and operations teams are not working hand-in-hand for the common good," McGarrie says. "This company epitomizes the idea of working alongside someone versus working for someone, and that's why you can find people at all of our venues who have been there since day one. Our turnover is low, and people like to be associated with our brand."
The DineAmic team continues to seek new opportunities. A new concept is set to open in 2018 that will share similarities with existing concepts, only with a different menu and focus. The company is also examining how to potentially grow the BomboBar concept in light of its popularity.
Whatever the company does next will likely inspire the same positive word of mouth and "craveability" of its existing brands. "Everything we do is surprising," McGarrie says.