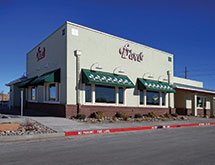 Some restaurants aim for the casual-dining format, and others fit in the take-out category. Dion's Pizza has found success by being in between both, CEO Mark Herman says. "We are kind of the best of both worlds," he declares.
Based in Albuquerque, N.M., Dion's Pizza operates 19 locations in New Mexico, Texas and Colorado that specialize in pizza, submarine sandwiches and salads. Founders Jon Patten and Bill Scott started the company in 1978.
The two men were friends who moved from Michigan to Albuquerque with the plan of opening a Greek restaurant. After buying a space that formerly served pizza, Patten and Scott had the perfect name for their Greek restaurant, "Dionysus," after a god in Greek mythology.
"When the sign guy came out, he gave them the price for a sign, and they couldn't afford it," Herman explains, noting the sign maker also jokingly suggested "knocking off a few letters," which is exactly what they did and "Dion's" was born. When Patten and Scott opened the restaurant, they served Greek food, but found that many of its customers wanted pizza instead.
"One thing led to another, [and today] we have nothing on the menu that is Greek except for our Greek salad and salad dressing," Herman says. "We went on to be Albuquerque's best pizza place."
Today, Dion's employs a staff of more than 1,300 and had sales of $54.5 million last year. The company also has won awards for its menu, Herman adds. "We've won 'Best of the City' from [Albuquerque The Magazine] from 2006 through this year," he says.
Dion's customer base consists of "anyone who is hungry," Herman jokes. "But to be more specific, our typical customer is going to be busy families. One of the unique things about us is we're a good option for lunch and dinner, and for dine-in and take-out."
Customers in Dion's markets are seeking out high-quality meals, Herman says. "People are looking [for] a more homemade type of meal that's less processed," he says.
Dion's meets its customers' expectations with its gourmet salads and pizzas, which are "the fastest-growing area of the company," Herman says.
Customers are also looking for ease, simplicity, and connection amidst the hustle and bustle of busy lives. "We continually focus on the comfort of the dining room," he adds, noting that its locations feature open and spacious dining rooms that are comfortable and lend themselves to conversations. "We're really ahead of the game on that one."
Being the Best
Herman is a longtime veteran of Dion's and joined the company in 1987. "It's a fun place to be," he says, noting that the company expanded his expertise with training and seminars. "I've been allowed to grow and develop myself."
He also appreciates Dion's commitment to its values, which are great food; fast, friendly service; clean, comfortable stores; exceptional people; and shared growth. "Those are really at the foundation of everything we do," he declares.
"Whether it's menu items or how we design the stores, [everything is based] around those five values," Herman states. "The consistency of that over time is something that the customers have come to love."
He also is proud of his entire team at Dion's, which includes many managers who have followed his growth pattern. "We've worked over many years on continually growing our own people from within and providing lots of training and lots of growth opportunities," he says. "We have a really well-rounded team in marketing, operations, training and human resources."
Herman predicts continued success for Dion's. "Our goal is to be the most admired regional restaurant brand," he says. "[But] we don't necessarily want to be the biggest.
"We want to be the best restaurant brand in the country," he says. "We want to grow into this regional space and maintain the values and the connection that we have."