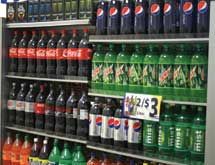 When the economy began its decline in 2008, the staff at Dion's Quik Marts decided to look at it as less of a challenge and more of an opportunity. With 10 convenience stores and two grocery stores dispersed throughout the Florida Keys and South Dade County, the locally owned and operated chain is a favorite stop of residents and tourists.
But even with its nostalgic appeal, Dion's still goes up against big-name chains on a daily basis. Standing out from competitors is a regular goal for the company, and has been since its beginning in 1948.
Larry Dion, a former World War II B-17 bomber pilot, moved to Key West, Fla., after the war, and together with his late wife Florence (Flo), bought out a small company that sold fuel and lubricants in Key West and the Lower Keys. Soon, Dion Oil Company expanded into gas stations, adding convenience stores in 1974 and moving to self-service gas. Larry and his late son Roger expanded the oil company and c-store business into Miami in the early '80s, capturing a niche in the South Florida market. He also acquired other commercial and residential real estate in both counties.
The companies are now run by his daughter, Suzanne Banks, who was recently featured on a Citgo commercial promoting one of the company's convenience stores with their accompanying Citgo Gas branding in Key West. But even with the extra press, Joe Sucharzewski, director of operations, says there is still work to be done.
"When reviewing sales growth and opportunities, I like to take cigarettes and gas sales right out of the picture," he says. "I tell our managers that the areas we need to constantly improve upon are our fresh food and inside sales." Dion's aim is to be a one-stop shop for gas, fresh food, beverages and groceries. Each mart has the basic coffee, fountain, cigarettes, soft drinks, beer and snacks associated with most convenience stores, but being a smaller company and a vacation destination has forced Dion's to constantly update its stores to appeal to two of the biggest buying power groups in the area: tourists and women.
Active Seasons
Sucharzewski says hurricane weather helped to compound the recession  and disrupted an already poor tourist season in 2008. "Whenever hurricanes approach and threaten our area and a mandatory evacuation of the Keys is called for, all stores in the hurricane's projected path or cone shut down," he says. "If you're not open a couple of days, as we were with Hurricane Ike in 2008, it has an impact and takes business away." However, tourism started to improve in 2009 and Dion's made sure to provide for each one's needs. The Florida Keys and South Dade are home to a number of major fishing tournaments, so some of the stores make sure to carry a stock of frozen bait for traveling competitors. However, frozen bait is not the only product reeling in the customers. Dion's stores are known locally and nationally for its Quik Chik Fried Chicken. It's part of Dion's legacy and is loved by locals and tourists alike.
The fried chicken is part of the hot foods section found in all of the company's stores. As well as hot foods, each location will soon offer a fresh food and deli section designed to appeal to women. "I want the female customer in our stores," Sucharzewski says. "And I want her to see that we've got healthy and nutritional products."
Sucharzewski says some of the stores sell more than 25 percent in fresh foods. "We've got to capture the ever-changing tastes and needs going on with the customers," Sucharzewski says. "What does sell? We make sure we have what we consider the best of the best."
The company practices simple stocking rules by ordering what customers want and enough of it. Category Manager Gary Frauenhofer reviews products and schedules resets for each store twice a year. In addition to routine improvements such as these, the company is also planning some big renovations.
Its Big Coppitt Key store is slated to be razed, rebuilt and will include the a car wash. The company is also planning to replace some of the store's hot deli cases, and expand the fresh sandwiches, fruit and produce sections. Even with these improvements, Dion's is maintaining its roots. The business is entrenched in its community and even continues to support Saint Mary's Star of Sea School and Church, where Banks' parents were married.