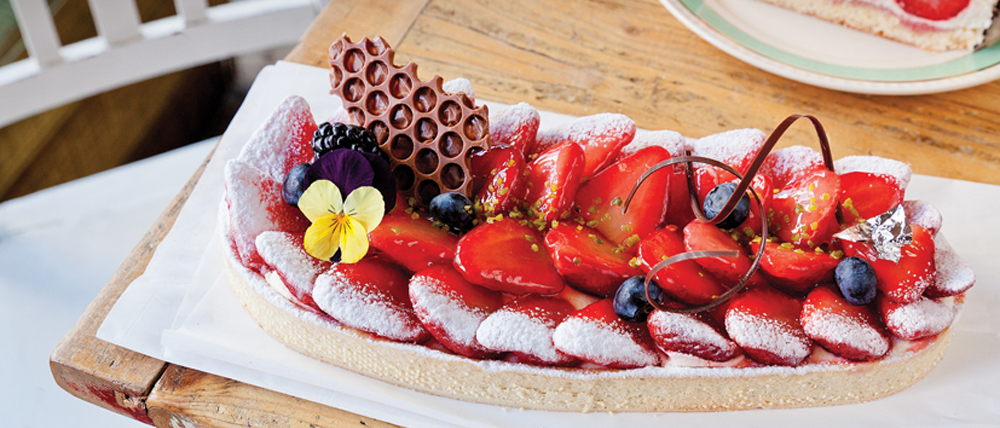 Fruiting up the future
Displaying endless passion for innovation, Dirafrost tackles every challenge with enthusiasm and expertise to redefine the global frozen fruit market
Established in 1988 in Belgium as a small family company, the supplier of individual quick freezing (IQF) frozen fruit has earned its position in the market through continuous innovation and an unrivalled collaborative approach. In 2004 Dirafrost became a member of the Austrian based and stock listed AGRANA group.
Combining the strength of a world leader and the agility and dedication of a small, family business is the formula for success for Dirafrost.
"We now view ourselves more as a solution provider developing products that address the specific needs of our partners, rather than simply as a supplier of IQF frozen fruit," begins Dirafrost's
General Manager, Rob Cogghe. "Therefore, we really prefer to talk about partners, instead of customers, because we co-operate closely with them to come up with tailor-made solutions. We bring food expertise, premium quality, and inspiring ideas to keep them delighted and meet their requirements."
To illustrate his point, Rob provides us with two recent examples of solutions Dirafrost has either already created or is in the process of developing. "Firstly, to prevent fruit from becoming weak and losing liquid during thawing, we developed a fruit coating, i.e., a thin layer of coating powder, which surrounds the fruit. This resulted in the fruit losing up to 15 per cent less juice after thawing than 'uncoated' fruit, preserving the texture, look, and taste of our partner's pies. With our coated fruit, we then created preformed fruit discs for the industrial and semi-industrial bakeries to eliminate loss of fruit (and thus reduce waste), always use perfect shape and quality fruit, and reduce labour and production costs.
"Another project that we have undertaken concerns the work we are doing for an international company, for which we are currently developing a new product. In our work, we adhere strictly to the specifications our partner has provided us with, and I have to say that we are very pleased with this kind of relationship, because it stimulates our R&D team to work on challenging tasks and creates a win-win situation for all parties involved," Rob discusses.
The two products discussed above are by no means the only new items Dirafrost has worked on in recent times. At the 2019 Anuga Fair in Cologne, the company launched its cacao fruit puree, which is deemed revolutionary by Rob. "It is a product that fits perfectly into our sustainability programme and is as pure as it can be. After centrifuging the total content of the cacao fruit pod, the cacao beans are distracted from the white pulp surrounding them. The beans are destined for chocolate production and the white pulp (normally wasted) becomes the cacao fruit puree," he explains.
"The pulp process consists of a specific and controlled heat treatment that provides the necessary microbiological guarantees without affecting the taste, nor the natural colour of the puree," Rob continues. "We are the first company in the European market to offer cacao fruit puree and the only one who offers this typical flavour. This is so, because we are co-operating with a family business in Ecuador who cultivates this special variety of cacao bean for us. We explicitly looked for a supplier who could offer high-quality fruit, delivering 100 per cent natural product with a natural brix level of 18-22."
Dirafrost's frozen fruit pellet for smoothies is another of the company's latest innovations to meet with instant success. Rob details: "The product creates endless new smoothie combinations and possibilities. An IQF pellet is a small, rounded, compressed mass of a substance, which creates an added value to our IQF fruit mixes and now also to our smoothies.
"In the context of overall health, we offer the possibility to add functional extracts and even probiotics to the smoothie portions that contribute to a healthy digestion. In this range, we include pellets with Echinacea, Linden, Spirulina, and Bee Pollen. It also bears mentioning that it is another product where teaming up with customers is vital for its success, as we have to work together to find the right combinations that align with consumer requirements."
Positive attitude
For it to ensure that the raw ingredients it uses are of the highest quality, Dirafrost checks these against several parameters. These include appearance (for example, colour and spots), brix (or
sugar level), loss of juice, and cultivation. "Fruits intended to be frozen are typically picked at their peak ripeness when they are most nutrient-dense, as opposed to products that are to be sold fresh, which are picked less mature, in order to last longer during transportation and storage," Rob remarks. "Our fruits are being picked, washed, cooled, processed, and frozen within 24 hours of being harvested and we constantly strive to keep the period between harvest and freezing as short as possible, so we can preserve all of the fruits' vitamins and nutritional values."
The company's facility in Morocco was chosen as the venue for the launch of a multi-stakeholder project called 'Frezna' (the Arabic word for 'our strawberry'), in which Dirafrost partners with customers, farmers and even competitors with a view of achieving common social sustainability goals.
"We attach great importance to the wellbeing of our employees, which is one of the main reasons why we have commenced the programme," Rob says. "It is known for a fact that if a company values its staff for their contribution to the business, they experience high morale and a positive attitude towards the organisation. We also know that workers with a positive attitude are loyal to their company, which, in turn, reduces employee turnover and human resources costs. Finally, promoting a positive corporate culture is something that even end customers acknowledge, so it is definitely important to have projects of this kind at all times."
The Morocco plant has also recently benefitted from a considerable investment. In 2019, Dirafrost installed a new hi-tech IQF tunnel to freeze fruit in a matter of minutes, in a move designed to improve product quality. "In rapid freezing, a large number of small ice crystals are formed and they produce less cell wall rupture than slow freezing, which produces only a few large ice crystals. As no breakage of cell structure appears, we can then have a higher capacity and yield, and no clumps," Rob notes. It surely is an area we keep an eye on all the time, being committed to regular improvements. Investments like these are crucial to keep up in the business, maintain product quality, and facilitate the working conditions for employees."
Future innovations
In Rob's view, the successful exploitation of new ideas is crucial for any business that wants to improve its processes, increase its efficiency, and ultimately, grow its profitability. Holding on to this belief, he and his R&D team have added a host of new projects to the pipeline, which are expected to see the light of day in the coming years.
"Last year, the fruit-based smoothie segment increased its market share in the total smoothie market and we expect this trend to continue. That is why we are planning to expand our range by developing detox smoothies, fat burners, organic mixes, ACAI smoothies, etc," Rob divulges.
"We are also about to successfully finalise the 'clean label coating' project," he goes on. "We have now decreased the number of ingredients in our coating powder to meet the increasingly stringent demands of consumers, as we noticed that they begin to evaluate their food based on criteria such as health, acceptable ingredients, taste, and sustainability."
As of late, Dirafrost has also performed well with its deco fruit discs for cost-effective tartlet production. At the moment, it offers strawberry, raspberry and apple discs, but it is the company's goal to create more different varieties of the product. "That means new versions that make use not only of fruit puree basis, but also of chocolate or caramel basis, as well. Just like the smoothie range, the possibilities here are endless," Rob reveals.
"If I were to cite some figures to demonstrate what exactly we are hoping to achieve in 2020, I would say that we aspire to grow our presence for smoothies in Europe and beyond by 20 per cent. One way to achieve this goal will be to develop innovative solutions for the offering of these products 'on the go'," he declares. "We are also about to focus on our puree product portfolio where we want to extend our global reach by 15 per cent."
Alongside product development, Dirafrost also has clear ideas to strengthen its image. "We need to become more visible to our target groups," Rob states. "We must let them know who we are, what quality products we offer today, and what innovations we are working on for tomorrow.
"As far as packaging is concerned, we are reviewing our packaging materials to see how they can be improved or even reduced, and make them more sustainable. We will do this step-by-step, starting with the IQF range. The idea is to implement a generic pre-printed foil, which will have only a small window to show what is inside. This will enable us to lower stock levels and packaging waste. We also recently replaced all white cartons by more sustainable brown ones.
"Finally, we will keep on investigating the possibilities for more eco-friendly packaging materials for our other products. As a frozen fruit solution provider, this is an even bigger challenge, as not all environmentally-friendly packaging is suitable to pack and store frozen food. Nevertheless, we continue to challenge our suppliers to help us contribute to a healthier world. Fruit up the future!"
www.dirafrost.com