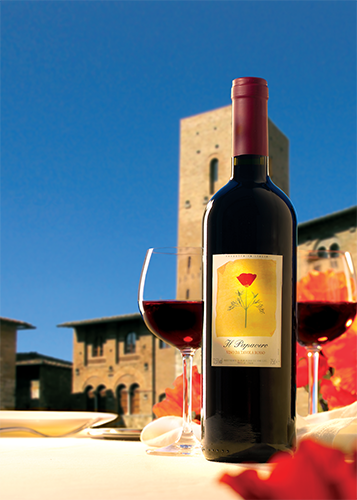 Grape expectations
After 40 years of working closely with producers worldwide, Direct Wines is ready to tackle the international market
In 1965 Tony Laithwaite set off to hitchhike around France before going to university and by chance, discovered a little world of wines and winegrowers lost in France, near Bordeaux. Tony realised very quickly that the perception that a vineyard site was the only crucial factor in determining a wine's quality was quite wrong. He also discovered that most farmers found their way to market via brokers, shippers, wholesalers and retailers, which was tortuous and bad value for both the farmers and the end-consumer. Four years on, in 1969, Tony was on the road to Saint Genès for bread when he was struck by a 'blinding idea' – go direct.
Inspired, Tony launched Bordeaux Direct on the unsuspecting British public via the telephone book and a suitcase of sample bottles of Roc de Lussac 1964 at 13/6 a bottle. With the first bottles coming from Bergerac, Duras, Madiran and other 'lost' regions of South West France, the company very quickly moved on to wine from Spain, Australia, California and Chile. To reflect the change in the wines sourced – from all over the world – the company changed its name to Laithwaites in the late 1990s. From its humble beginnings, Direct Wines Ltd is today the UK's largest leading independent wine merchant and largest home delivery wine company in the world. With trading identities like Laithwaites, The Sunday Times Wine Club, Barclaycard Wine Service and British Airways Wine Club, the company turns over £300 million, sells over 4.7 million cases a year, has over 800,000 regular private customers in the UK and sources its wines from 27 different countries worldwide.
Having successfully established its roots in the UK market for almost 40 years, Direct Wines is now actively seeking opportunities to spread its wings further into the international trade market. Previously a fine wine buyer for Direct Wines, Clare Tooley has recently been appointed the international trade manager: "Direct Wines International was created in September 2006 specifically to distribute our exclusive wines through trade partnerships outside of the UK – this is really the next logical step for the company and is also a sign of our maturity. We believe we have a real treasury of wines we have sourced, blended and often labelled, that we are able to market; wines that we know consumers drink, enjoy and re-order.
"We like to think of ourselves as a one-stop shop because we offer wines at all price levels, different tastes and styles. We also strongly believe we offer the best value from each region, which does not necessarily mean the cheapest. We have a team of expert wine buyers that travel constantly, tasting tens of thousands of wines each year to pick the best wines for our customers. Instead of just sitting in the comfort of our offices tasting the wines that we are sent, we'd rather buy direct, championing the smaller producers and focusing on the authentic – this is the only way to stay true to the company's core ethos: real wines to real people. We not only look for what's being produced out there now but more importantly, we're searching for the next big success story."
No other known merchant in the world takes as much trouble or travels quite as far to find quality wine. At the last count, the company has put over 53 previously unheard of wine regions 'on the map'. In the last year alone, the buyers travelled 180,000 miles and tasted over 30,000 wines to produce a range that combines originality of flavour, concentration and complexity. France make up 25.7 per cent of its portfolio, and Australia has also been growing significantly as a wine region over the last 15 years, contributing 22.3 per cent of products to Direct Wines' portfolio. The rest come from a range of other countries including Spain, Italy, Chile, South Africa, Argentina, Hungary, Moldova, New Zealand, Portugal, Romania, Germany and the US.
Tony believes that countless small producers inhabit a global village, a secret world that is a constant delight. Bottles of wine are certainly about taste; that's what all the fuss seems to be about, but that is not all – far from it. They also have their stories – ancient stories and modern – of real people and ways of life. This principle is at the heart of the company- there is so much more that comes out of wine bottles than just flavours.
For the last dozen years, Direct Wines has also had huge success with its renowned hyper-mobile team of talented winemakers, also known as 'the flyers'. The idea was that as well as driving around hundreds of cellars looking for the few good wines, it would also be beneficial to find those few cellars with the greatest unrealised potential, along with nice vineyards and good equipment, and lend them a 'star' winemaker from the southern hemisphere delighted to be given the chance to make two vintages instead of just one a year. Flyers are good at their job because they are incredibly painstaking in their labours – nobody could take more care. They tour vineyards all summer selecting the ripest, tastiest (smallest) grapes from the best (oldest) vines. Flyers work round the clock, after the grapes are cherry-picked and sorted, to scrub, clean and clean the grapes again. By keeping the production small, the skills winemakers would normally apply to 'crush' many thousands of gallons are applied to only two or three truly handmade cuvées. And it doesn't stop there – Direct Wines has winemakers working all year round who follow the maturation and insist on Grand Cru standards all the way to the bottle.
Clare adds: "I believe this sets us apart from our competitors especially when I am looking at a proposition for a distributor in a different part of the world. It gives me both breadth of range and flexibility, which isn't obvious from a lot of other suppliers. Most suppliers remain loyal to their own region, not mmany are able to offer such a wide and individual range of wines.
"In terms of the overall company, it is the energy of the business that gives us the edge over competitors. The fact that we are always looking to improve our service, broaden our range, bring the best available wines to market, quickly making them attractive and saleable. We have an extremely loyal customer base as a result – immense customer loyalty is generated through wines that 'hit the spot' as well as continuous innovation. I know it is such a cliché but customers are everything to our company because it is they who make it work."
Looking back to when Clare began her life in Direct Wines, she comments: "My background was with a much smaller merchant and I was predominantly dealing with the higher end products so when I joined the company, I was bowled over by the sheer size of it to start with. But more importantly, I realised that the people in marketing are marketing experts and the staff in distribution are distribution experts; this emphasis on professional qualification within each area perfectly complements the excellent wines. This isn't how it works in the traditional wine trade in the UK; it's often the case of 'this wine is great so we are going to sell it because that is what we do' rather than taking the time to listen to what the consumers might want or need."
Clare has been carrying out significant research, analysing the world market and seeking to understand what works and why. She states: "I have spoken to many of our current suppliers, to get their thoughts and comments on which of the markets work well for them, as well as where they are looking to develop, because emerging markets are terribly important. This ground research is pivotal in ensuring the success of the international trade business, and it will be essential to carry on – market knowledge will give us that extra edge.
"On top of that I have been travelling a fair amount – I recently travelled to the US and Canada as well as Moscow and Belgium. I'm sure the US will be an extremely important market for us. We also already have some significant orders from Japan, Bahrain, Germany, Cyprus and Guernsey. The world is a very large place and it's a matter of trying to get through to the right people in each market to communicate our unique proposition. We not only supply great wines but we also supply wines with real stories – the authentic added value for consumers that lies at the core of our business."
She continues: "In terms of current opportunities, we are very confident in the product and concept we have to offer. Wordof- mouth will be vital for us going forward. As Direct Wines International evolves, I believe people will very quickly realise the potential for their business. I am very optimistic and believe there are a lot of emerging markets that are practically untapped, ready for a whole range of different products. There are also traditional markets that perhaps need a breath of fresh air and this is also something we can bring."
Clare concludes: "However, I don't believe it pays to rest on your laurels. We need to be constantly aware of what's going on around us, what the competition is doing and be absolutely sure that the products we offer are true to our message. We also need to remain flexible and open to opportunities. No order is too small or too big for us. In terms of international trade, I follow up all leads because a small order today can often be a substantial order tomorrow."