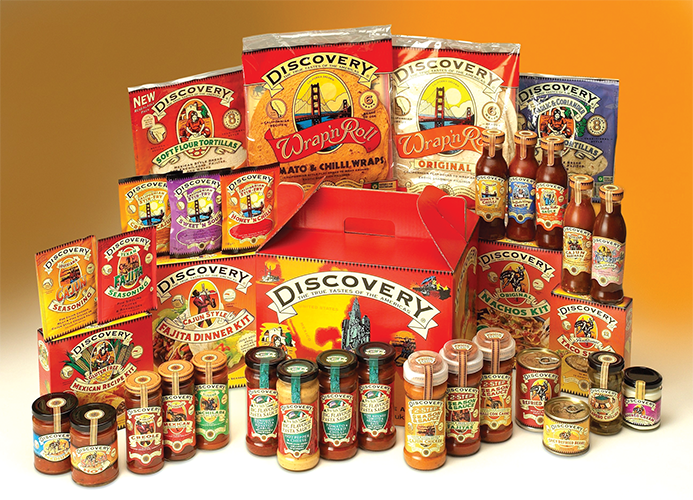 Success wrapped up
How Discovery Foods is helping UK consumers embrace the sandwich wrap revolution – and other food tales from around the world
Discovery Foods – the brand behind the exciting range of authentic tortillas, sauces and seasonings from Mexico and beyond – is helping pioneer the UK wrap revolution with its new range called 'Wrap 'n Roll'.
Known as much for its distinctive packaging as its flavoursome ingredients, the new Wrap 'n Roll range is the latest product launch from Discovery – and as befits the Discovery name, all products are based on authentic recipes and ingredients sourced from restaurants, chefs, markets and food lovers all over the world.
The company was set up in 1989 by chairman James Beaton, when it sold just three sauces: Mexican, Enchilada and Creole. Nearly two decades later, together with sister company Sonora Foods – which manufactures over six million wraps and tortillas and 50 tons of tortilla chips a week – it has an annual turnover over of £37 million, operates from three UK sites, employs around 350 people and exports to Europe, New Zealand and South Africa.
Originally from Zimbabwe, Discovery Foods' founder and chairman James Beaton, 49, suffered a serious motorbike accident soon after moving to London in his 20s – and ended up marrying the nurse who looked after him. And it was his new father-in-law, who worked in the fast food industry, who introduced James to the food business.
James explains: "At the time he was a multi-site KFC franchisee, and was able to combine the highly cash generative income from fast food with the longer term aim of supporting the growth of a company with real potential to develop a valuable brand. It was an eye opener for me – and in 1989 I started Discovery Foods, with three employees."
The company is now also the UK's leading brand of Mexican and Regional American food supplying a range of sauces, seasonings, wraps, tortillas and accompaniments (such as sour cream and jalapeno peppers) to all of the major supermarkets.
Today, James remains the guiding light and 'food lover in chief' of the company and has presided over the remarkable growth that Discovery Foods has seen.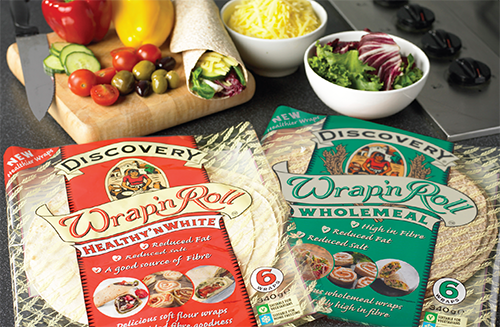 James regularly travels to remote areas of Mexico and other countries worldwide to seek out and sample local recipes. In the 1990s he first saw wraps in San Francisco, brought the idea back to the UK and was soon selling half a million a week.
He says: "We've spent 11 years learning about how to make tortillas, and we've putting all this learning into our new factory (in Milton Keynes). The British love affair with Mexican food has only just started, and we're determined to take it to new heights.
"We try to run the business in a way that reflects how we would like to be treated ourselves – honest, fair, professional and fun. We're delighted to have recently gained the Investors In People award at both Discovery and Sonora, which reflects our ongoing commitment to the development of all the people who work at Discovery."
In 1990 Discovery Foods began its long association with the world-renowned Louisiana chef, Paul Prudhomme, owner of the K-Paul Louisiana Kitchen restaurant. Chef Paul's recipes and seasonings have inspired much of Discovery's product and recipe development. Discovery is also the exclusive importer to the UK of Chef Paul's Magic Seasoning Blends.
This kind of product development represents an integral part of Discovery's business and the company's constant quest for innovation has delivered an exciting array of sophisticated and exotic recipe sauces, 2-Step cooking sauces, marinades and seasonings – enhancing its original range of traditional Mexican and Regional American fine foods and tortillas.
A recent example of this continual innovation was Discovery's launch of a new range of delicious healthy wraps under its Wrap 'n Roll brand. These new products were specifically developed to make it easier for UK consumers to embrace the sandwich wrap revolution.
Since Discovery first introduced wraps into the UK in 1995, they've rocketed in popularity and according to independent research, with Brits eating 50 per cent more wraps than two years ago. The same research revealed that Brits are increasingly ditching traditional sandwiches in favour of wraps, from busy mums preparing school lunchboxes to office workers and late night kebab fans – while the Bakery Wrap sector has grown from £83 million to £111 million in just two years.
Discovery is ideally placed to take advantage of the remarkable growth in this market following the recent opening of its state-of-the-art tortilla factory in Milton Keynes.
The company is launching two new products in the Wrap 'n Roll range: 'Healthy 'n White' and 'Wholemeal'. Both contain less salt, less fat and more fibre than the original Wrap 'n Roll wraps, and can be used for traditional or contemporary sandwiches, tasty kids' meals, quick and healthy snacks, party foods and even delicious desserts.
James Bennett, head of marketing at Discovery Foods, explains: "Consumers are increasingly looking to wraps as the modern alternative to bread to liven up lunchtimes by replacing the traditional sandwich. The double-digit growth of the brown bread market leads to us to being the first brand to launch a wholemeal wrap. And while the whole new Wrap 'n Roll range is lower in fat and salt and higher in fibre, there's no compromise on taste."
He adds: "Wraps are convenient and easy to eat on the move – and unlike sandwiches the filling won't drop out and land in your lap."
The Wrap 'n Roll launch is being supported with a series of roadshows, including events at The BBC Good Food Show at Birmingham's NEC in November, and in-store marketing activity.
This kind of constant innovation is just one factor in Discovery's ongoing success. Its people travel widely to find new ingredients, flavours and recipes. The company never Anglicises anything in the false belief that it may appeal to more people. Good quality, well sourced ingredients are everything – if having its Cajun Seasoning blended in New Orleans costs a bit more (it is and it does) then so be it.
Over the years Discovery has built up a wide range of products, but each addition has been brought to life with the same level of care and attention to detail given to its first ever products. This commitment will continue to underpin everything that the company does for many years to come.