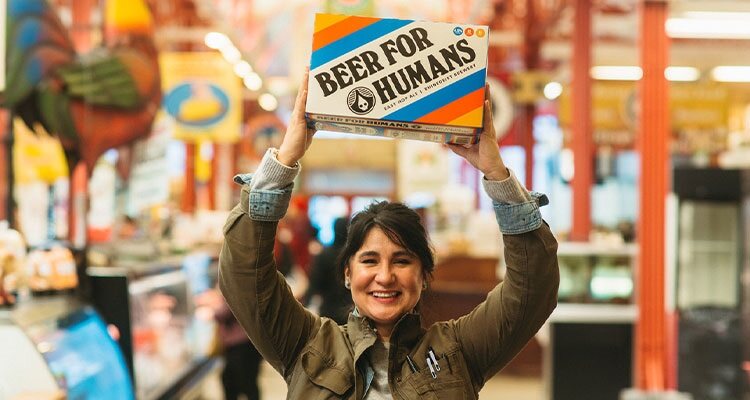 Dive into the craft beer revolution with Rhinegeist Brewery
Established in 2013, Rhinegeist Brewery Ltd (Rhinegeist) is one of the largest American craft breweries. Its name translates to 'Ghost of the Rhine,' paying homage to its location in the historic Over-the-Rhine Brewery District in Cincinnati, Ohio. Situated within the remnants of a pre-Prohibition brewery, Rhinegeist is dedicated to producing high quality craft beers. Believing in the unifying power of beer, the Rhinegeist team fosters a community that values both craft beer and camaraderie where exceptional individuals gather, inspiring ideas take shape, and a shared passion for quality brews thrives. The company's commitment to excellence has propelled it to become the 23rd largest craft brewery in the US, climbing two spots in the Brewers Association's annual ranking based on 2022 sales volume. Cole Hackbarth, Operations Director, delves into the company's journey.
"Rhinegeist's journey began in June of 2013, and we celebrated our ten-year anniversary this summer. In that time, we have experienced remarkable growth, now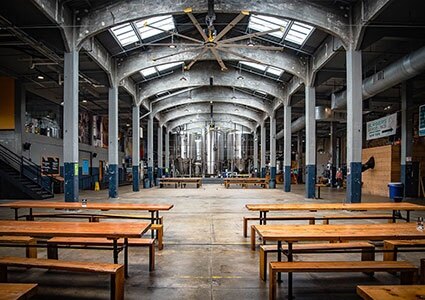 producing over 100,000 barrels of beer annually – which is how we earned our spot among the top 25 breweries in terms of volume. Our founders, Bob, and Bryant, established the brewery in the vibrant neighborhood of Over-the-Rhine (OTR), known for its rich German heritage and historic breweries. Our brewery is in the former packaging hall of one of the most influential 1800s breweries, a magnificent ancient building that we have revitalized as our brewery space," he begins.
Fruity flavors
To celebrate the significant milestone of its tenth anniversary, Rhinegeist released two new limited-edition brews. "One of the highlights of our anniversary party was a unique aged sour beer that underwent a fascinating aging process. In our basement, we have large wooden tanks called foeders, traditionally used in winemaking. We allowed the beer to ferment on fruit, harnessing the wild yeasts and bacteria naturally present in the fruit. This process added layers of complexity to the brew, a technique for which Belgian brewers are renowned. The result was a sour beer infused with nectarines, apricots, Cara cara and blood orange, grapefruit, lemon, honey, and pink peppercorns. Additionally, we crafted an IPA using a new technique and yeast that enhanced the fruity flavors by manipulating aroma compounds known as thiols. The industry is now beginning to understand how thiols work a lot more. Thus, we are now in a position where we can manipulate thiols with different yeasts and depending on how they react together, create new flavors. This special anniversary beer, known as a Thiolized IPA, featured a yeast strain designed to intensify tropical aromas, enabling us to achieve vibrant passionfruit and guava notes that were previously challenging to obtain in IPAs.
"Using thiolized yeast and creating thiolized IPAs has been a significant focus for us. We have developed several beers using this technique, including both lagers and ales. It's interesting to see how these beers manifest differently based on their respective styles. One notable creation was a robust triple IPA named Titanoboa, which we packaged in a 19.2-ounce can. These larger-sized cans have gained popularity in the American craft beer scene, particularly in convenience stores. It's an exciting innovation for us, alongside the exploration of new IPA styles, allowing us to offer unique and convenient options to beer enthusiasts," he adds.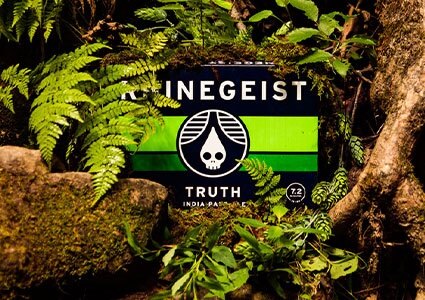 Reliable and respected
Rhinegeist's commitment to brewing innovative and flavorful beers has played a significant role in its success. However, the company's foundation and initial circumstances also set the stage for its achievements. "When we opened in Cincinnati, the craft beer scene was still relatively young, and there weren't many well-established craft breweries in the area. This timing worked in our favor, as we were able to contribute to the growth of the craft beer movement alongside a half-dozen other breweries that emerged around the same time. We all played a role in shaping and nurturing the local beer scene and having a spacious facility in a historic building gave us the capacity to expand and meet the growing demand without the need for additional space. Then, our core flagship IPA, Truth, has been phenomenal since day one and has consistently maintained a high standard of quality. The positive reception of Truth is what forged our reputation and helped us become trusted by consumers, positioning it as a go-to IPA in Cincinnati and throughout Ohio. We have become known as a reliable and respected regional brand, offering a trusted choice for those who may be unfamiliar with other breweries or unsure of what to order," he informs.
Fostering community
In February 2023, Rhinegeist unveiled its newest addition to its community support initiatives, known as Beer for Humans as a means of fostering unity among individuals. "Our charitable platform, called Beer for Humans, is a fundamental aspect of our mission. Coming out of the pandemic, we sought to reimagine our approach to charitable giving and how we spotlight local charities, both through donations and engaging taproom events. So, we came up with Beer for Humans, which brings all these elements together. Each week, we feature different charities in our taproom and host a dedicated event on Wednesday nights. During these events, a portion of all beer sales is donated to the featured charity, allowing us to actively support their cause. In conjunction with that, we also launched a beer called Beer for Humans. It is an easy hop ale with a light and enjoyable drinking experience, boasting an ABV under five percent. Despite its lower alcohol content, it still offers a pleasant hop aroma and a notable flavor profile. It is less bitter and aggressive than an IPA or American Pale Ale, yet more hoppy and flavorful than most lagers. It caters to craft beer enthusiasts who seek an easy-drinking option while still appreciating the presence of hops," he informs.
As Rhinegeist enters the second decade of its history, it will undoubtedly continue championing flavorful innovation and utilizing its platform to foster community through the universal language of craft beer.