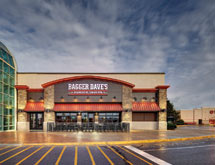 Diversified Restaurant Holdings
Diversified Restaurant Holdings (DRH) is not your common restaurateur. DRH is a franchisee and a concept developer at the same time. Not only does the company operate a large number of Buffalo Wild Wings, it also devised its own concept, Bagger Dave's.
"As a company, we have multiple brands so we can spread risk over two concepts," CFO David Burke says.
Dual Focus
DRH has two arms to its operations. One part of the company is focused on its Buffalo Wild Wings franchises. The company is one of the largest Buffalo Wild Wings franchisees in the country. The other part of DRH is focused on continuing to grow its own full-service, ultra-casual restaurant concept, Bagger Dave's Freshly-Crafted Burger Tavern. DRH created, developed and operates the Bagger Dave's locations.
Altogether, DRH operates 51 corporate-owned restaurants in Michigan, Florida, Illinois and Indiana, and it has one franchised Bagger Dave's in Missouri. On the Bagger Dave's side, there are 16 corporate-owned locations, as well as the one franchised location. As for Buffalo Wild Wings, DRH operates 35 restaurants. It has 17 in Michigan, 10 in Florida, four in Illinois and four in Indiana.
"We're building 10 stores this year in total," Burke says. "We plan to be at 54 by the end of the year."
Clearly, DRH is committed to growing both sides of its business. The company is on track to have about 50 Bagger Dave's and 48 Buffalo Wild Wings restaurants in its portfolio by 2017.
Part of DRH's growth on the Buffalo Wild Wings side came about with an acquisition of eight Buffalo Wild Wings locations in Indiana and Illinois in 2012. The transaction included an additional franchise agreement for a future location in Indiana.
As for Bagger Dave's, its concept is a full-service, family friendly restaurant and bar with a casual, comfortable atmosphere. The menu focuses on freshly made burgers (featuring beef that is a premium blend made with cuts of prime rib), more than 30 toppings, fresh-cut fries, hand-dipped milkshakes, craft beer and wine. In addition, each Bagger Dave's has a local feel to it because the restaurants are decorated with historical photos of the host city. Each location also has an electric train above the dining room and bar areas.
"Bagger Dave's is all about freshness, hot sandwiches and sides," Burke says. "There is enough diversification of the menu that we can satisfy everyone. We are trying to carve out a niche for ourselves with Bagger Dave's."
The most recent Bagger Dave's opened in Terre Haute, Ind., in late October and just recently in downtown Detroit, adjacent to the company's Buffalo Wild Wings – the largest in the country. These locations are consistent with the company's Midwest expansion strategy. At this point, DRH expects to open two more Bagger Dave's restaurants by the end of the year in Indiana.
"As a franchisee with Buffalo Wild Wings, we were able to learn a lot because it is a mature brand," Burke says. "That experience allowed us to develop a new brand and grow it faster than if we had started up with no experience."
Distinctive Approach
Not surprisingly, there is a difference between the methods DRH uses when it comes to building a customer base for each of its concepts. On the Buffalo Wild Wings side, the company can leverage existing brand equity. Buffalo Wild Wings' national advertising campaigns drive attention toward DRH's Buffalo Wild Wings.
"We supplement that through local marketing, radio, billboards and getting out into the community," Burke says. "But they own the brand and do all the purchasing and development of menu items. Our focus is on operations and development of new locations."
With Bagger Dave's, DRH's focus is also on brand development. "With our own concept, we must have our own purchasing people, marketing people and ad agency," Burke says.
With 12 more Buffalo Wild Wings to build over the next few years, DRH will probably build two to four per year. After that, the focus will be on the Bagger Dave's footprint.
The growth of Bagger Dave's will not come via franchising, however. There is one Bagger Dave's franchisee, but DRH plans to own and operate the rest of the Bagger Dave's locations for now.
"Franchising can help accelerate growth, but the risk is losing control of the brand as you grow the footprint," Burke says. "For now, we want to do it ourselves and stay in the Midwest strategically to get the brand off the ground."
As Bagger Dave's expands, DRH will work through growing pains. Fortunately, the company has strong partnerships, such as with Field's Fire Protection, a full-service fire protection company. Also, its financial position is strong, as it completed a follow-on equity offering and up-listed to the NASDAQ (BAGR) earlier in 2013. The plan is to ensure that existing stores perform as expected, and that new stores have the right resources.
"We have gained the respect of institutional investors who believe in our growth potential," Burke says.