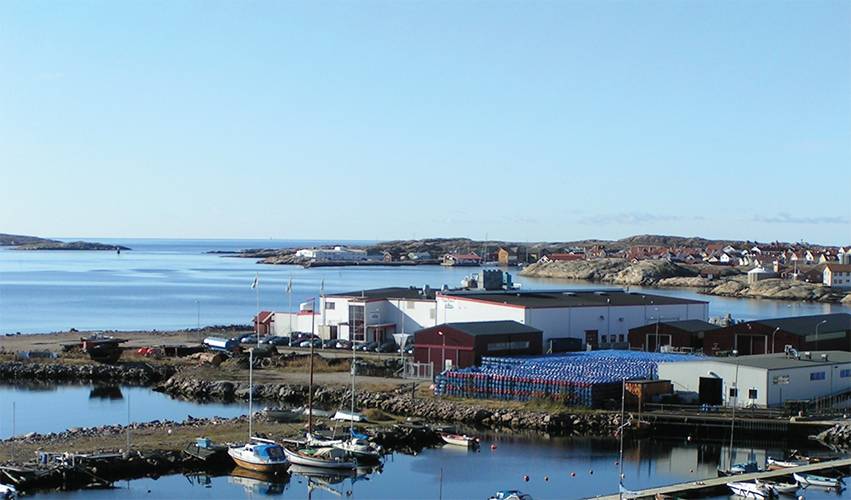 Catch of the day
Domstein Enghav serves the Scandinavian retail and catering markets with frozen, chilled and fresh seafood
Predominantly handling pelagic and whitefish, Domstein Enghav offers gratins, fillets, breaded and pre-fried fish, as well as caviar and ready-made dishes. Supplying under its own Enghav brand as well as a number of private labels, the company has a strong market position both in the retail and professional catering markets. Handling close to 200,000 tonnes of raw material each year, it has operations in Denmark, Sweden and Norway, with its plants mainly concentrated in the area of Målöy, alongside additional facilities in Vadsö and Bodö.
Founded in 1975, the Swedish part of the company, Domstein Enghav Sverige AB, currently employs 150 people and achieves annual sales of approximately 300 million SEK. A key part of operations is its Kungshamn plant, which, built in 1995, helps it to meet all of the requirements of a modern facility handling frozen and refrigerated products. As the headquarters for marketing and sales, it is also a production facility, quality department, laboratory, and a main warehouse. With 3300 square-metres of production floor space handling a capacity of 6000 tonnes per year, the facility has four separate production lines that handle gratins, breaded, pre-fried and caviar products.
Working alongside the Swedish company is Domstein Enghav Norge. With two production plants, it includes the business' largest site in Måløy. Built in 1993, this 14,000 square-metre facility has a production capacity of 46,000 tonnes per year, with six lines for filleting, packaging, wetpack, block, bag packing and breading. Its other Norwegian site, based in Vardø, was acquired in 2000 and specialises in caviar, with additional facilities for the preparation of raw materials and semipreserved products.
Across all of its facilities, Domstein Enghav stresses the importance of its quality policy, with an emphasis on meeting customer requirements, needs and expectations through a world-class service offering. Its quality assurance system follows strict requirements, ensuring complete traceability of the products, with raw markets carefully selected to ensure consistency, its inhouse laboratory performing tests on pH values, salt content, and aerobes, and independent laboratories also conducting inspections.
To ensure that it continues to work to, and improve, its high quality standards, the company has a strong emphasis on research and development with test kitchens thoroughly trialling every new product. Closely following the latest culinary trends, many of the product innovations originate from traditional Scandinavian cuisine, and as a result its efforts to develop new seafood dishes have achieved strong levels of success both with the consumer and professional catering markets.
Alongside these high quality standards, the company has a similarly strict environmental policy. This ensures that its own and associated activities take place in accordance with the principles of sustainable development, with all of the products, raw materials and components evaluated on the availability of resources and their environmental impact. The working environment is developed continuously, with the importance of awareness particularly emphasised throughout the employee base.
Such a focus has led Domstein Enghav Sverige to implement a number of energy saving initiatives, including a recovery system that has seen the total amount of waste products halved, and a system that uses heat recovered from its compressors to cover all of its hot water requirements and 80 per cent of the total heating requirement. Other initiatives include treating sewer water by three different systems, using CFC-free refrigeration units, and being a member of the recycling organisation, the REPA Register.
These high environmental and quality standards are vital both for the company to offer its customers the best possible service, and to help the Domstein Group achieve its mission of being the preferred supplier of marine raw material to the international processing industry, and the preferred supplier of marine value added products in selected markets.
Headquartered in Måløy, the Domstein Group is one of Norway's leading fishery companies. Listed on the Oslo Stock Exchange, the Domstein family are the principle owners of a company that is now in the third generation of family ownership. Comprising of three main businesses, Pelagic, Fish and Enghav, the group also has a 50 per cent ownership share in Ervik Havfiske.
Together these businesses work under Domstein's general objectives of creating long-term values for owners, customers and suppliers, to be a secure and attractive employer, and to contribute to sustainable social development. Working to create added value for customers, the group strives to work on the long-term development of its service while making sustainable use of natural resources.
Through its commitment to working to the highest quality and environmental standards, Domstein Enghav continuously works to the same values of the other divisions of the group. Working closely with both the professional catering and retail markets, the company has established a strong reputation for offering high quality pelagic and whitefish, caviar and ready-made dishes, and as a result the Enghav brand continues to grow across the Scandinavian market.