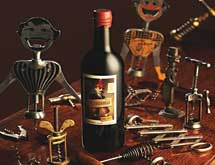 Don Sebastiani & Sons/ The Other Guys
One of California's longest-established winemaking families is continuing to evolve its business into new ventures while preserving the dynasty's traditions. Don Sebastiani & Sons and The Other Guys are the latest chapters in a more than century-old family history. Both companies operate as separate entities under the Don Sebastiani Family of Companies owned by Don Sebastiani Sr., his two sons and daughter.
"We're all quite pleased that our family's one hundred-plus year heritage of wine, spirits, and food is now being carried forward by the fourth generation of Sebastianis," Don Sebastiani Sr. says.
Don Sebastiani & Sons is operated by Don Sebastiani Jr., while The Other Guys is operated by August Sebastiani. Mia Sebastiani is the managing director of Mia's Kitchen, a division of The Other Guys.
One Family
Don Sebastiani & Sons, established in 2001 as an offshoot of another family business, acts as a negociant, buying and blending bulk and premium wines in addition to owning and operating its own winemaking facility.
The Other Guys launched in 2004 as a direct-to-trade wholesale company carrying and selling brands bottled by Don Sebastiani & Sons. Today, the company is completely independent from Don Sebastiani & Sons, offering only The Other Guys-branded products.
The Other Guys' brands are distributed through a number of trade channels. A few of the brands – Pennywise, Hey Mambo and Plungerhead – are distributed to big-box and major grocery stores and wine shops, while others can be found in club stores such as Costco. One brand, Leese-Fitch, is distributed primarily to restaurants, August Sebastiani says.
All of The Other Guys' brands are affordably priced, a strategy that allows it to continue to thrive during a difficult economy. "The evolution of The Other Guys has been in large part a response to the economy," Sebastiani says. "Instead of people bringing home one $20 Tuesday night bottle of wine, they're bringing home a $10 bottle; instead of a $200 Saturday night wine, they're bringing home a $25 bottle."
The Other Guys sold 112,000 cases of wine in 2009, up from 67,000 cases in 2008, a statistic Sebastiani says he is particularly proud of given the national economy.
Sales grew even more in 2010, with a reported 170,000 cases shipped. The company project further growth in 2011, with a projected 250,000 cases expected to ship, the company says.
"The Other Guys provides value to consumers in the form of unique lifestyle brands that enhance the food and beverage experience," Sebastiani adds. "We do our best across all our products – whether rum, merlot, or olive oil – to over-deliver the product a consumer expects at any given price point."
In addition to several labels of wine, The Other Guys is expanding Mia's Kitchen, its food division that offers sauce and oil recipes developed by Mia Sebastiani. A spirits division will launch next year. "The Other Guys has evolved into what is today a pretty diverse entity," August Sebastiani says.
Mia's Kitchen products include an extra virgin olive oil, a balsamic reduction sauce, and cabernet sauvignon and chardonnay wine reduction sauces. The extra virgin olive oil uses high quality California-grown olives and is an ideal pairing with Mia's Kitchen balsamic reduction sauces. The wine reduction sauces feature a sweet, tangy flavor that infuse foods with the aromas and taste of chardonnay and cabernet sauvignon, the company says.
The sauces can be paired with meats, or used in salad dressings, among other uses, it notes. The oil and sauces have been available in Northern California markets for three years.
Future plans for the brand include the launch of new spaghetti and pasta sauces in 2011 that Sebastiani hopes to take nationwide. "We want to lead with the pasta sauces and have those be our volume brand," Sebastiani adds.
The spirits division, named 35 Maple Street after The Other Guys' Sonoma headquarters, will launch in February 2011 with a Canadian rye whiskey and Dominican rum; Sebastiani plans to market a Kentucky bourbon and a domestically produced gin later in the year.
Top Quality
Don Sebastiani & Sons and The Other Guys source their grapes from many of the world's best growing regions, including the Alexander Valley, the Russian River Valley the Dry Creek Valley and the famed Napa Valley. The companies' California appellations are drawn from growing regions such as Monterey, Paso Robles, Clarksburg and Lodi, the company says. In addition to its California wines, Don Sebastiani & Sons also produce wines sourced from Chile's Casablanca Valley and Tasmania.
"Each wine's individual profile evolves with changes in established vineyard relationships, available fruit and flavor trends in the industry," the company says. "Our winemaking approach at Don Sebastiani & Sons is to consistently create noteworthy wines in a style which is recognizably our own."
Sebastiani says close attention is paid to the quality of grapes used in its wines. "We keep our nose to the grindstone and taste through our blends, and know which growers provide us with quality fruit," he adds. "We make sure each year that the wine is up to the quality we and our consumers have come to expect from our vintages.
"Quality is king; you can have the best salesman and the most attractive package known to man, but if the wine's no good, you won't sell one bottle."
Family Commitment
August Sebastiani grew up in Sonoma and studied marketing and political science at Santa Clara University. In 2000, while he was in college, his father stepped down from running the family's long-established winery Sebastiani Vineyards after 16 years. In 2001, Don Sebastiani Sr. founded Don Sebastiani & Sons using capital from the sales of several of the previous company's assets.
August joined his father's new company in marketing and brand management before launching The Other Guys. While August, Mia and Donny own a portion of Don Sebastiani & Sons, The Other Guys gives August and Mia a business venture of their own, Sebastiani says.
Outside of the family business,  Sebastiani is active in the community. For example, he is a supporter of the Sonoma Valley Boys and Girls Club and the annual Sonoma Jazz Festival. Sebastiani also recently served on the Sonoma City Council.
Hall of Fame
The Sebastiani family recently received a high honor with the induction of August Sebastiani's grandfather and namesake into the Culinary Institute of America's Vintners Hall of Fame. Sebastiani was honored as a "Pioneer" in the Hall for his contributions to the California Wine Industry, the Culinary Institute says.
The "Pioneer" category recognizes those who made significant contributions to the California wine industry and passed away more than 10 years ago, the institute adds.
The Vintners Hall of Fame is located on the Culinary Institute of America's California campus. Each inductee is honored with a bronze sculpture displayed on historic 2,200-gallon wine barrels.
"The Vintners Hall of Fame celebrates the men and women whose collective vision, determination, and hard work have been responsible for the growth and worldwide prestige of the California wine industry," the Culinary Institute of America says.
Other 2011 Vintners Hall of Fame inductees include Joel Peterson, found­er of Ravenswood Winery and Bob Singleton, owner of Sutter Home Winery.  Past inductees into the Hall of Fame have included Ernest and Julio Gallo, Frederick and Jacob Beringer, and Robert Mondavi.