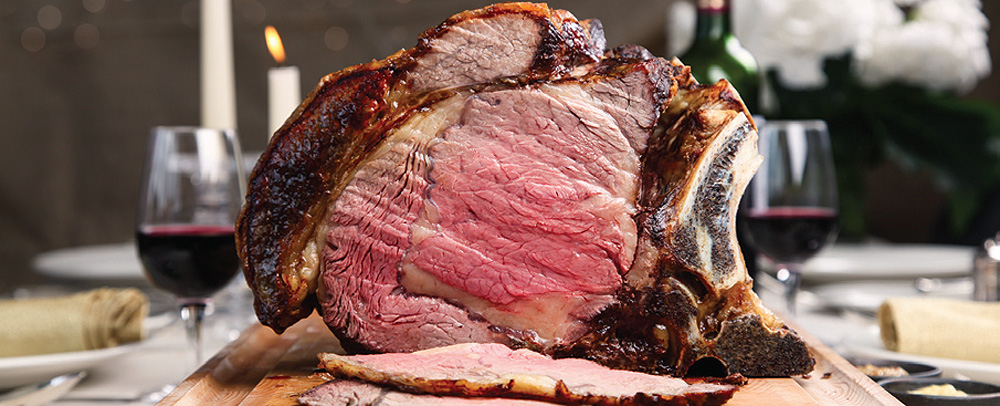 Obsessed with perfection
Old-school butchering and incisive market behaviour have turned Donald Russell into one of UK's most respected butchers, whose meat adorns the tables of thousands of homes and restaurants across Europe
Boundless passion to create the perfect steak or roast, or in fact any meat dish, makes Donald Russell a butcher like no other. As Managing Director, Tazio Gagliardi, observes, "we are quite
obsessed with being perfect." The Aberdeenshire company takes pride in its butchers' craftsmanship, stressing the fact that they cut the old-fashioned way – by hand, believing that only the touch of an experienced butcher can get the very best from any piece of meat. "We constantly think about quality and how to approach the preparation of every product, so that we can get the best result every time. For example, we are true masters of maturation, which allows us to achieve a richer, deeper flavour and unrivalled texture," Tazio points out.
The 'quality first' creed has accompanied Donald Russell since its very beginning. Founded in 1974, the company was the result of a collaboration between William Donald – a farmer in Aberdeenshire, and the owner of Russell Meat – a London-based butchery. Tazio takes us on a brief journey through its history: "The two gentlemen got together, because Russell Meat had a customer in the Far East they were unable to serve, due to them not having an export licence at that time. William Donald, on the other hand, had the licence, but was looking to expand his customer base. Once established, the company spent its first 20 years mainly exporting to more than 30 countries."
Having been faced with certain hardships such as the BSE crisis in the late 1990s, Donald Russell had to redefine its strategy and it was an article in The Telegraph that helped the business change its direction. "In the article, we talked about the quality of our meat and how we had dealt with the BSE crisis. Our phone number was included in the article, and all of a sudden, customers were phoning from all over the country looking for our products," Tazio remembers. "This is how we started our mail-order business, which now accounts for 70 per cent of our total sales. The remaining 30 per cent comes from our work with the foodservice and hospitality markets, including many of the most prestigious restaurants in the country. Today, as part of the Vestey family, we retain our presence abroad, being well represented in countries like Germany, France, Sweden, Switzerland, and Hong Kong, to mention but a few."
New brand & website
Donald Russell has been focussing on intensive investment activity for the last few years. The company's commitment to continuous improvement has driven its development of various aspects of the business, enabling it to take on the daily challenges it encounters. "Even though we cut our meat by hand, we have still invested in pieces of machinery that help us streamline the process. In addition, this year we underwent a complete rebrand, with a view to redefine our position in the market. This included the launch of a brand new website with improved design and usability. Another of its competitive advantages is that it has been optimised for different devices – be it a PC, a mobile phone, or a tablet.
"We recently became an 'Investors in People' organisation – a testament to our efforts in developing our staff and supporting them on their professional path. Furthermore, we were BRC-accredited for the first time this year, in recognition of the process improvements we have been introducing. It can be said that the business is going through changes, hence the innovations I am speaking about, as we expect these to keep us up to speed with market requirements," Tazio explains.
2018 has been a milestone year for Donald Russell for yet another reason. The company was awarded 10 Great Taste Awards, including the maximum of three stars for three of its products – the Easy Carve Carvery Rib Roast, the Dry-aged Veal Rib Steak, and the Dry-aged Veal Rump Cap. Tazio picks up on the latter two: "In fact, we are one of the few companies in the entire world that dry-age veal, meaning that we have carved a niche in the market, which is proving to bring us a lot of success at the moment.
"It is an inherent idea of ours that we need to have a different USP for every product we offer. For example, our ready meals like lasagne, or the pies we sell, have the highest meat content you can find in the UK. What's more, it's excellent meat – even in pies or mince, we use only the best. To us, it is very important that 43when people cut the pie, they are able to see what is actually inside, getting peace of mind that they receive real quality and value for money," he continues.
While the external market and trading conditions are challenging at the moment, Tazio remains positive about the company's abilities to continue growing, thus preserving its status as one of the finest butchers in the UK. "We are aware that young people are becoming a lot more conscious of what they eat, as they strive to lead a healthier lifestyle, and we have to be ready to serve their needs. There are also debates around packaging going on, which we are monitoring very closely. It is good, though, that we are talking about these challenges and working on how best to overcome them. We can guarantee that we are not going to compromise on the quality of our products and we will look to be innovative in everything we do, in order to progress in our industry," he concludes.