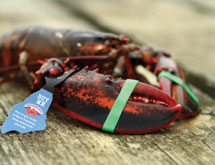 Dorr Lobster is a family run business built on risk and innovation. Rick and Lynda Dorr started the company in 1978 on Bar Island in the downeast town of Milbridge, Maine. Once a busy boat-building and sardine-processing center, today the community of Milbridge is home to the country's largest blueberry grower, Wyman's of Maine, and to Dorr Lobster.
Rick Dorr never wanted to be anything but a lobsterman. He fished every day and sold his catch to wholesalers. "But we knew we could get ahead and provide a better life for our family if we could store the live lobsters until winter when fishing is difficult and the market offers a higher price," Rick Dorr explains. He knew of a cove on a small island where he and his best friend used to hunt and thought it was the perfect spot to build a pound and, in fact, the original owners had planned to do just that. "It was a big risk," Rick Dorr says. "But we made an offer and were really surprised when they accepted it."
"We sold our house, bought a secondhand trailer and moved to Bar Island," Lynda Dorr recalls. "The road was so narrow that if you met another vehicle, one of us would have to back up or try to pull off the road. Mud season was horrible. We constantly got stuck and there were only a few other folks on the island who could help us out. People said we were crazy to start a family and a business in such an isolated spot. But we fell in love with the island and have wonderful memories of raising our kids, Chad and Monica, here." There are more homes on Bar Island today, but it remains a close community where neighbors watch out for neighbors and everyone knows which lobsterman's truck is rumbling down the dirt road to the wharf at 4:30 in the morning, the family says.
To build the pound – a holding pen for lobsters – the Dorrs erected a wooden dam across the mouth of the cove to keep ocean water inside at all times. Lobsters are released into the pound where they are free to roam, feed and grow. "I could store up to 10,000 pounds of lobsters in that pound," Rick Dorr says. "We'd keep them until winter when the catch was low and the market price was high and that gave us a big advantage." It worked so well, they built a second, larger pound with a capacity of more than 80,000 pounds.
Their son, Chad Dorr, joined the family business after graduating from college and put his business degree to work growing the company through innovation and technology. Also not risk-averse, his first goal was to add value to his father's catch by building a cold-water tank house. Inside is a large concrete holding tank that looks like an Olympic swimming pool. It is filled with circulating seawater kept at approximately 34 degrees Fahrenheit where up to 30,000 pounds of live lobsters can be stored in floating crates and conditioned for several weeks. Conditioning, Chad Dorr explains, is like a spa treatment for lobsters that improves their quality prior to shipping.
Every day, six or more local lobstermen including Rick Dorr and his nephew unload their catch at Dorr's wharf and take on bait and fuel for the next day's work. Chad Dorr grades the lobsters by size and quality and every lobster is identified by the lobsterman who caught it. The highest quality are destined for fresh market customers, whether local or online. Those less than perfect are processed immediately right at the FDA-HAACP-certified tank house or shipped live to other processors to be used in value-added seafood products.
Drawing Attention
Chad Dorr inherited the pioneering spirit of his parents and seeks new ways to promote the fact that Maine lobsters are the best, and that those from Dorr Lobster are the best of the best. "Everything about catching lobsters is done the way it's always been done, but how they are marketed and how you get people to see the product has changed. We have to stay ahead of the curve," he explains. "We're expanding our website to attract people who want a variety of fresh, quality seafood – not just lobsters but shellfish, crab and fresh fish. We still use the pounds for long-term storage, and the new facility lets us immediately pick a customer's order by size and quantity and ship it overnight – directly from Dorr to door."
The family complements its direct-to-the-consumer business by selling wholesale to food retailers, foodservice companies and restaurants. A new live-lobster kiosk run by Chad's wife, Stephanie in touristy Bar Harbor is increasing exposure. Two years ago, the company jumped on the "app for that" trend and created an app to make on-the-go ordering easier for the consumer. With the rise of mobile Internet connections, the app is not accessed as often today but, like his parents before him, Chad knows that "if you're the first to do something, you get recognition from it," he explains. "It was something different and a way for us to promote our business."
Marketing ME
Anyone remotely familiar with lobster knows about Maine's most popular crustacean. The frigid nutrient-rich waters and low pollution off the Maine coast, combined with proven sustainable practices, such as trap limits, catch-and-release guidelines for egg-bearing lobsters, and minimum and maximum size limits to promote reproduction, sustains the supply and makes Maine lobster the quality standard. The Dorrs know the fishermen they buy from and how to care for lobsters.
"Being able to grade the lobsters in the tank house is critical to a quality product," Dorr explains. "Ninety percent of the time, I'm the one handling the product. When my hand is on nearly every lobster, I'll see if there's a problem. I wouldn't want to buy inferior products, so I won't sell inferior products. That's why we're excited about our BUY ME initiative." "ME" is the postal abbreviation for Maine.
Every Dorr lobster shipped sports a tag in the shape of Maine. It reads, "Wild caught in the USA by a Maine Fisherman, using sustainable practices," and includes a code. The consumer can go to dorrlobster.com, click on "Track Your Lobster," enter the code and see the actual fisherman who caught that lobster. The BUY ME initiative serves three purposes – it reminds consumers that if they want to eat a real Maine lobster it has to be caught by a real Maine fisherman. It enables people to track the source of their food and be assured that sustainable fishing practices were utilized. Finally, it increases traffic to the Dorr Lobster website, generating exposure for the company and all its products.
Dorr Lobster will continue to innovate, taking advantag¬e of advances in communications and technology to improve the quality of their product and increase their marketing reach. "We will never abandon the traditional values and practices of lobstering in downeast Maine," Chad Dorr says. "They have sustained the industry for everyone, and two generations of this family have combined those values with hard work and determination to get this business to where it is. Now we're eager to see where new ideas and technology take us in the future."