The idea of an unused company suggestion box for improvements has become something of a corporate cliché derided in recent times. At Douglas Machine Inc., the company ditched the suggestion box of old in favor of a more dynamic employee-driven improvement program.
With its Douglas Improvement Projects (DIPS) program, worker ideas to improve products and processes are actually implemented. By 2012, more than 1,000 DIPS were completed.
"It could be anything from something very small that meets a need and saves a little money to a significant design improvement or modification of an employees work cell," explains Chris Haugen, VP of Supply Chain.
The DIPS participation rate is greater than 85 percent of the workforce and includes improvements in the areas of safety, quality, productivity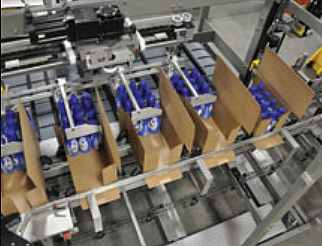 and cost reduction. "It is something that has really taken off," Haugen says. "To qualify, employees have to have an improvement implemented," he says. As employee owners, employees see the value in turning their ideas into improvements rather than mere 'suggestions.'
DIPS kicked off four years ago with a goal of 200 improvements. Now, the number of improvements made each year exceeds the number of total employees, adding to the overall success of Douglas Machine. The continuous improvements program has achieved significant manufacturing enhancements, Haugen says. The company relies on its efficient manufacturing operation including engineering, fabrication, metal finishing and assembly.
Automated Packaging
Founded in 1964 by Bud Thoen and Vern Anderson, Douglas Machine is now recognized as a global leader in automated secondary packaging solutions for packaging with paperboard, corrugated and shrink film. The company specializes in the design and manufacture of cartoners, sleevers, case and tray packers and shrink wrap systems. Based in Alexandria, Minn., it is a 100 percent employee-owned company that has installed more than 7,000 machines in 30 countries.
Its machines are used in the food and beverage industry as well as in the household and personal care sectors of the marketplace, among others.
"A good example is bottles of energy drinks," explains Steve Lipps, VP of Sales and Marketing. "Our machines can create 6-pack display cartons for the store shelf and the 24-count shipping cases or shrink bundles to get them there."
For the machinery and automation Douglas Machine provides, its clients have very high expectations for performance and service, so the company pays close attention to details. It is aware that automation equipment needs to be tolerant of variations in products and packing materials in order to run at high levels of efficiency and OEE (overall equipment effectiveness) so it provides top-level service and quality, Lipps says. The company believes successful automation requires acute attention to detail. This includes innovation, design analysis, avoiding short cuts and customer support.
"Our customers put their trust in us and our machinery," Lipps says. "Many of our customer's plants run multiple shifts but no individual wants to work 24/7. We see it as our job to provide the best products and services so when they leave work they can focus on family and a good night sleep."
So Much Variety
Douglas Machine employees enjoy the variety of work challenges presented, Haugen says. "There is so much variety," he says. "A lot of different products come through the facility. It is everything from toothpaste to olive oil, pickles and beverages. It's not the same thing over and over."
Douglas Machine has been adding more robotics for improved flexibility as technology evolves. It also makes investments in research and development working toward new applications, higher speeds, flexibility, sanitation and efficiency.
It's important for it to partner with clients so it can provide technology to best handle the specific packages and materials and at the lowest cost. Once a machine is in operation, Douglas Machine provides continuing service, support and follow-up calls.
Its mission is to enrich lives by providing differentiated packaging automation. "We take a lot pride in making sure we provide the best possible equipment satisfying our customers," Haugen says.