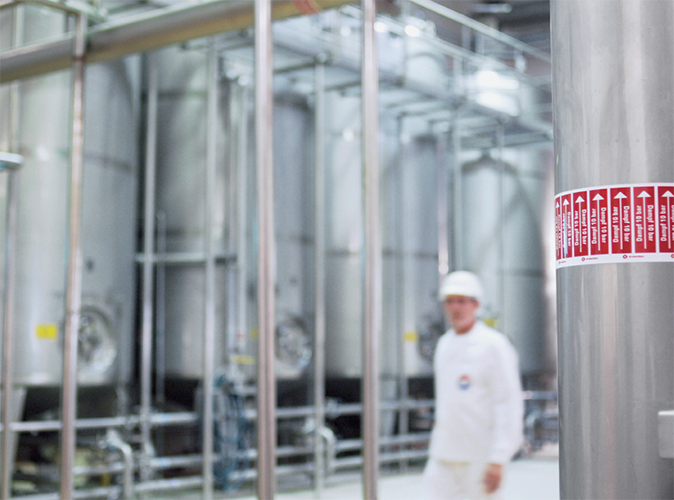 Aroma-therapy
The quality of Dr. Otto Suwelack Group's products lies in the company's passion for aroma and taste
For Dr. Otto Suwelack Group coffee is a true passion. The company, which boasts more than a century of experience as a leading provider of coffee and other food products, places the highest emphasis on quality taste, and most importantly, aroma – the soul of coffee. The business, based primarily in Germany, uses the latest technology, including unique aroma protection processes to manufacture a range of leading coffee blends for customers across the world.
"The Dr. Otto Suwelack Group dates back to when the founder, Josef Suwelack, established the company's first dairy in 1884," says Ronald Felber, CEO at Dr. Otto Suwelack. "Later, in 1910 the company started the spray-drying of milk, and the very first spray-dried speciality products were introduced to the market in 1952. The company expanded in subsequent years, and in 1969 the first freeze-dryer technology became operational, whilst later, in 1997 Suwelack acquired Business Unit SuCrest.
"Today, the Dr. Otto Suwelack Group produces a range of products and services, divided into two strategic focus areas – freeze dried soluble coffee and natural food ingredients." Ronald continues: Our Natural Food range of ingredients includes a broad selection of milk and yoghurt powders, sourdough powder, bakery products, freeze dried fruits, and sweeteners. Furthermore, we produce a range of compound coatings, such as creams, pastes, caramel, brittle, and crunch. To manufacture our products we use a wide array of technologies, including fermentation, extraction, spray drying, freeze drying, vacuum drying, and extrusion, and our bio technology expertise ensures unique qualities that meet market needs best. The second pillar of our business is coffee, were we hold a leading position, offering a selection of coffee and own blends."
A key element of the success of Suwelack is its focus on the highest standards of customer service, particularly close co-operation with clients throughout projects. The organisation's diverse clientele ranges from some of the industry's largest multinational companies, through to small-to-medium sized, family run businesses.
As a provider of the highest quality food produce, Suwelack places considerable importance on its suppliers, carefully selecting raw coffee beans from the most
important coffee growing areas of the world. Production manager at Suwelack, Martin Ahlers, explains: "Our supply chain is driven by quality, economics and service, and only the best ratings will define whether we chose to use a supplier. This often means that we have to look further than local suppliers to source the best ingredients. One of our core business units is 'Natural Food Ingredients', which means that we need raw materials that are authentic, and of the best standards available."
Alongside this, the company implements continuous investments in product innovation and development programmes, together with the latest manufacturing technology, to ensure its products always satisfy the highest demands. The company was among the early pioneers of freeze-dried coffee, and today uses specially developed manufacturing processes and complex aroma management techniques to achieve the highest quality. "Being able to offer successful services requires a dedicated R&D team with the best knowledge and experience," Martin explains. "The permanent launch of new products generates a significant part of our overall revenue, and operational and strategic R&D activities lead to a stream of product innovations."
Suwelack understands that aroma is the soul of all coffee, and aims to awaken the typical aroma of each type of coffee through its roasting processes, and unique Coffee Aroma Protection System (CAP). Developed by the company's engineers, CAP represents the gentlest and most innovative process for modern coffee extraction, and ensures the exceptionally high quality, and diversity of flavours of all Dr. Suwelack coffees.
CAP initially involves the careful roasting of high-quality raw beans, which are roasted according to origin and desired result. Following this, the roasted and ground coffee passes through a number of extraction percolators, which extract the coffee aroma substances. The taste of the freeze-dried coffee is achieved through careful monitoring and control of temperature, pressure and extraction time, and the selected aroma substances are added to the coffee after the refinement process, and before the freeze-drying process.
Despite the challenges of supplies, and the demand for continuous innovation, Ronald is confident that Suwelack will remain passionate about providing the highest quality, finest tasting products.
"We will continue to invest in additional production capacity and new technologies by primarily focusing on organic growth for the future. During the last couple of years we have invested more than 25 million euros, and are planning to execute thenext investment of 24 million euros within the next two years. This investment will offer the feasibility to extend our range of quality products and will enable further growth. I am confident that we have an excellent technology platform that serves our different business fields in the food industry, however, what is more important, we do have a great team of competent and motivated people that – like millions of our consumers – can still respond to our food products with enthusiasm and passion, day-in and day-out," Ronald concludes