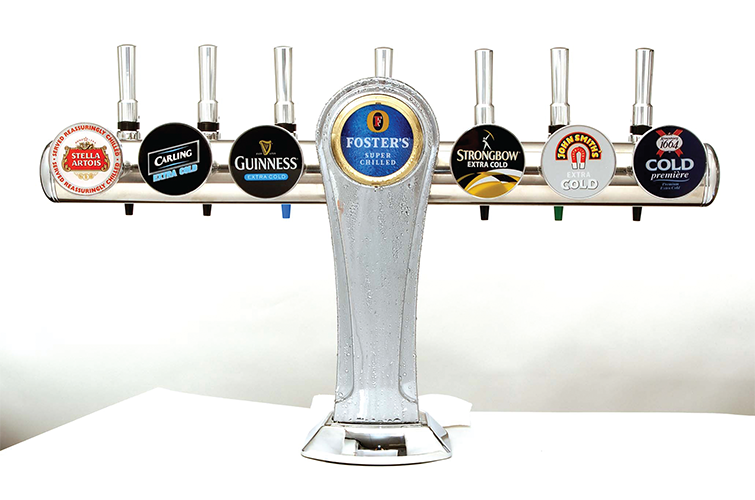 A long cool one
Innovation is the cornerstone of Drink Dispense's offer
If you were lucky this summer, you will have attended a sports or other outdoor function where a Draft Caddy was being used to serve beer. This coming summer you're likely to see more around the place, as it's such a great idea. "Draft Caddy was developed by Icefloe Technologies Ltd, in Canada," said Jonathan Wildgoose, managing director of Drink Dispense, a company based in Chesterfield that specialises in innovative and eye-catching solutions for bar-top drink dispensing. "It's a very innovative, standalone bar system for outdoor or temporary events and it's very successful because it cools beer from ambient temperature to 2C almost immediately – and it pours a pint of beer in just nine seconds!" It sounds like a miracle and one that would be expensive in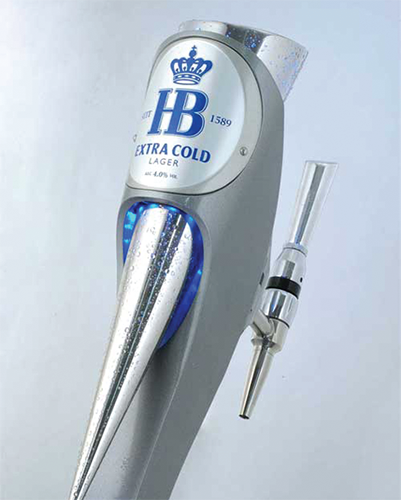 terms of operating power, but in fact it uses straightforward physics. "The cooling medium is ice and water, so it's massively simple to operate. You simply stick a keg inside; add ice and water and it cools the beer, very quickly. We launched it this summer and the sales figures have been very encouraging." Jonathan sees a potentially huge market in pubs with beer gardens. "When the weather is good, smokers (who will be banned from lighting up inside) will be quite happy to sit outside. But they would prefer to have beer available nearby, rather than have to traipse in and out with trays of beer. Nonsmokers will probably like it, too."
Cold beer is very much the flavour of our times. Drinks Dispense has been working with Vin Service of Italy, and Creative Cooling from Australia, as well as Icefloe, to develop other products suitable for the UK market, including sophisticated heat exchangers and point-of-sale refrigeration and cooling systems for draft dispensers. Icefloe has, in return, been selling Drinks Dispense's products in Canada. When Jonathan acquired the company in 1999, the outlook was very different. "The business was originally called Hi-Gene Beer Pumps Ltd," he said. "We invested in new technologies and we're now one of the largest designers and manufacturers of traditional-style hand pumps, T-bars and brand-specific fonts. That wasn't always the case but changes in the management team and the adoption of a customer-driven approach has helped it to deliver some remarkable figures. After two years of what he describes as 'stuttering performance', Drinks Dispense has been on a dramatic upward curve and took a big step forward when it secured the contract to develop and supply a range of entirely new T-bars and fonts for J. D. Wetherspoon's.
"We're now supplying over 5000 fonts and T-bars, plus the bartop equipment to all of Wetherspoons' outlets, in cooperation with Scottish and Newcastle and Innserve," said Jonathan. He believes it was the creative and innovative approach Drinks Dispense brought to the project that was instrumental. "The drinks dispensing business is ever-changing and we've seen some rapid progress in the market, particularly in draft beer, all across the world. It offers excellent opportunities for innovative and creative companies. We believe our understanding of market requirements and our ability to design, project manage, and deliver in a short timescale has been crucial." Its versatility is illustrated by Drinks Dispense's new product for Hall & Woodhouse, the Dorset brewer.
"We're rolling out Phase Two of the Icicle font into 350 pubs in the Hall & Woodhouse estate," he said. "It's very pretty – it has a great visual impact. It has a stainless steel icicle pushed through a matt body; condensation gathers on the icicle, which is illuminated with blue lights. Our customer got the design, gave it to us and asked if we could make it. We did." Drinks Dispense has ongoing projects with Mitchells & Butlers in the Midlands; Holsten; Poretti (Carlsberg UK); Blackthorn; Addlestones and others. The technology of delivering cold beer is vital but the company's attention to the importance of visual impact is important, too. "A goodlooking pump attracts attention and stimulates people to try the product. We undertook a study recently and found that an attractive pump that delivers cold beer increased sales by over 30 per cent."
Drinks Dispense received a SMART Award – the scheme that helps small businesses pay for technical and feasibility studies – and used this to develop its technological solutions. Drinks Dispense also enters the Cranfield University British Factory Awards as a means of benchmarking performance. This year it also won the prestigious Innovation Award. "The percentage of new products in our range is high and our ability to bring them to market quickly impressed the judges – but we were surprised and delighted to find ourselves among the finalists," said Jonathan. It fits in with the ambitions of this forward-looking company. "We've been achieving 20 per cent growth a year for the last four years and I'm looking to maintain that for the foreseeable future," concludes Jonathan. Raise a glass to that.