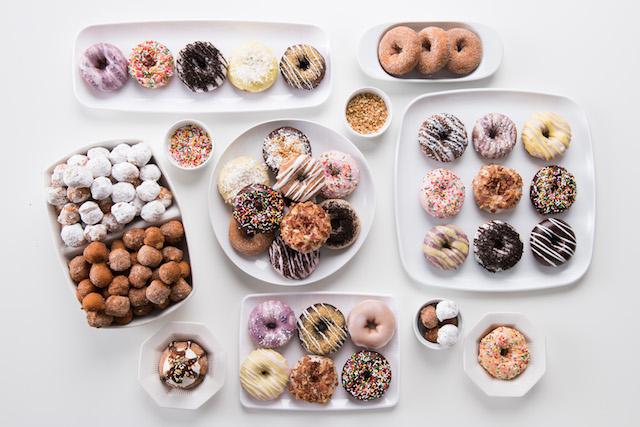 Duck Donuts' unique made-to-order concept has helped it become a rising franchise opportunity.
Duck Donuts takes a unique approach to one of the nation's most popular comfort foods. "Our concept stands out – I don't know of another donut chain on our scale that does what we do," Founder and CEO Russell DiGilio says.
None of the company's 70 current locations features a case of donuts at the counter from which a customer can select one or more donuts. Instead, customers are greeted by an employee who guides them through the coating, topping and drizzle options available to top the store's signature vanilla cake donut.
Once the customer chooses what they want, they watch as the cake batter for their donut is made and shaped behind the counter. Still in front of the customer, the donut is then fried and taken to the topping area and customized as ordered before being placed in a box. The customer's number is then called, and they are asked to look at the donut before the box is closed and given to them. "We are connected to our customers from the time they enter to the time they leave – we make them a part of the entire process, which is what makes us unique," DiGilio says.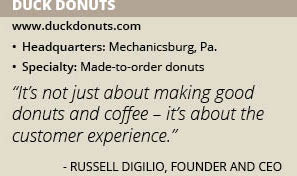 "We have built a different theme and approach to what others do – we took the idea of making warm donuts the way you want and built an entire company around it," he adds.
Humble Origins
DiGilio, a former executive in the healthcare industry, conceived of the idea for Duck Donuts while on vacation in a resort town in the Outer Banks of North Carolina.
"We noticed there were no places where we could go to get a donut at all, so we came up the idea to do something ourselves," says DiGilio, who took inspiration from donut vendors he remembered as a child while vacationing with his parents. "We wanted to create a family-friendly place with a beach theme where people can just come in and have a donut made from scratch as well as coffee." DiGilio opened his first two stores in the towns where his family vacationed – Kitty Hawk and Duck, North Carolina, which also gave the shop its name.
Success and growth came gradually for the company. "We struggled for the first few years, but the people who vacation on the Outer Banks are loyal and kept coming back and telling their friends, so we broke even the third year," DiGilio says.
By its fourth year in business, Duck Donuts had opened additional locations in Kill Devil Hills, North Carolina. A location in Corolla, North Carolina, followed in 2012.
Throughout Duck Donuts' first five years, DiGilio often received letters from customers. "People told me that visiting our store was one of the highlights of their vacation," he says. "It was unexpected and exciting to see how well this concept was received."
Several fans of the brand expressed interest in opening a Duck Donuts franchise. The first franchise location opened in 2013 in Williamsburg, Va., and was followed closely by stores in Virginia Beach and Richmond, Va.
Today, Duck Donuts has sold more than 210 franchise locations in 23 states. Of those, 70 stores are now open in 15 states; 90 locations are expected to be open by the end of the year, including additional locations in California, South Carolina and Texas.
In addition, the company later this year will open its first location outside of the United States in Santiago, Chile. The store will be the first of 10 locations planned in the country.
Duck Donuts was recently named one of QSR Magazine's six best franchise deals in the treat or snack category as well as one of the eight emerging donut chains in the U.S. In addition, Restaurant Business included Duck Donuts in its "Future 50" as one of the nation's fastest growing restaurant concepts, Public Relations Manager Kristin Kellum says.
Organic Growth
Duck Donuts to this point has relied on word of mouth as well as its website and donut boxes – which include franchising contact information – to find new franchisees.
"All of our growth has been organic," DiGilio says. "People reach out to us and fill out an application; if they meet our requirements and have a good location, we will go down the path to make them a franchisee."
"We have always thought we had a much better chance of success if someone has a positive experience in one of our locations and reaches out to us instead of using agencies to find franchisees," he adds.
The company seeks franchisees who are able to financially assume the responsibility of opening a store as well as people who have a good business sense and personality. "It's not just about making good donuts and coffee – it's about the customer experience," DiGilio says.
New franchisees go through an extensive training process that includes visiting existing Duck Donuts locations and learning about the company's donut making processes. Regional operations and marketing staff remain involved with franchisees after they open their doors.
Staying Engaged
In addition to seeking new markets for franchise locations both domestically and internationally, Duck Donuts also continues to enhance its services and introduce new flavors. The company continues to roll out online ordering in its locations as well as plans to introduce a loyalty program in 2019.
"We are keeping our customers engaged by rolling out new products and flavors with a seasonal and local tie," Kellum says. "We are excited about the growth we've already seen, and feel there are many exciting opportunities that lie ahead."
Giving Back
Through its Quack Gives Back program, Duck Donuts' franchisees are encouraged to participate in charity or volunteer activities in the communities in which they are located. "We don't want to be viewed as just another chain coming into the area," Founder and CEO Russell DiGilio says. "We want our franchisees to be connected to the community."
On a corporate level, the company is involved with Gabe's Chemo Duck Program, a non-profit organization that provides education, comfort and hope to children undergoing cancer treatment. The organization provides stuffed yellow ducks that teach children what to expect during treatment as well as offer comfort. All Duck Donuts locations raise money for the organization throughout National Childhood Cancer Awareness Month in September.