The Dusty Trail Steakhouse is a new addition to an unusual Missouri truck stop.
Truck drivers, wild game trappers and adventurers traveling through Missouri have a new destination spot. Specializing in wild game, an American frontier-like steakhouse has popped up alongside the Trail's End truck stop in Rockport.
The Dusty Trail Steakhouse opens its doors in December and the owners hope it will become an attraction for both local residents and out-of-state travelers. Owned by Karen Brown and her two daughters, Elizabeth Brown and Rachel Brown, the steakhouse is designed to cater to wild game enthusiasts.
"You can buy a steak in lots of different places," Karen Brown says. "But we offer dishes with a twist that you may have never imagined. We are trying to broaden people's horizons."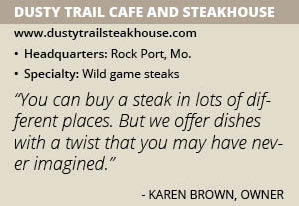 The menu – which will feature rotating specials – may include a variety of American wild game such as bison, deer, elk, wild boar, rabbit, duck, pheasant and turkey. Visitors will be treated to venison steaks, elk burgers, wild boar sausage and a variety of gamy appetizers. Although wild game is the star attraction on the menu, the restaurant will also offer a variety of traditional beef steaks.
"We are in a very small town and there isn't anything out here that has such a special offering," Elizabeth Brown explains. "We did a lot of research and received positive feedback about offering wild game. People are very excited about it. It's definitely unique."
The Wild West
Vintage mirrors, taxidermy décor and charcoal drawings depicting wildlife and nature adorn the restaurant's walls. Bartenders serve guests from a Frontier-era wagon. A double-sided fireplace keeps guests warm. Even the tables and booths resemble an era long gone.
"It's a collection of things I've found at antique stores and every single one tells a story," Karen Brown says. "I have spent a lot of time and energy picking out everything from silverware and dishes to designing the restrooms. We really want people to feel welcome, relaxed and cozy."
When deciding what to name their new restaurant, the Browns found inspiration in Santa-Cali-Gon – the Santa Fe, California and Oregon trails that flourished during the country's great westward expansion by early pioneers.
"The trails back then would have been very dusty," Karen Brown says. "That's how we got Dusty Trail. We needed a name that would convey the theme of our restaurant."
A Trucker's Refuge
The new steakhouse is located across the street from Trail's End truck stop. The Browns bought an existing building that used to house another restaurant and refurbished it. The new steakhouse is an extension of Trail's End, which has been owned by the Brown family since 1978.
Aside from Trail's End, the Browns also own the Oasis Travel Center in Robertsdale, Ala. For the Browns, it's not just about the food. It's about the journey.
"It's not just about coming in and buying things," Elizabeth Brown says. "It's also about looking around and checking out the uniqueness of the store, stopping to smell the roses if you will."
While Trail's End focuses more on all things western, the Oasis' theme is transportation. It has a "Derailed Diner," a desk in the shape of a semi-truck, customers fill their drinks at what resembles a fuel filling station and the cashier stand mirrors a shipwreck.
Both truck stops are popular among truckers for their unique mix of novelty shopping, fast-food offerings and entertainment centers. Both feature a Subway, Chester's Chicken, Stuckey's convenience store, gas station with express lube service and a commuter lounge.
But what tends to distinguish them from other truck stops is their novelty gift shops. "We sell a wide variety of unique gifts," Elizabeth Brown says. "We try to be a destination truck stop."
Clothing, specialty gifts, books, jewelry, wall décor, lawn ornaments, coolers and potholders can be found at both locations. But no matter how many times a customer visits, each experience is likely to be different.
The gift shops change themes. On one visit, a customer may find gifts that depict farm life. On another visit, the theme could change to the Wild West. Books are rotated regularly and both truck stops have a toy store that sells old-fashioned wooden toys as well as modern ones.
Visitors will also find a plethora of spiritual and religious gifts, as well as a large selection of Wrangler t-shirts and jeans. Being truck stops, they also feature a section called the Man Cave that sells a variety of sports merchandise, beer mugs and other testosterone-infused novelty items.
The Brown family has operated travel centers and other businesses from the Midwest to the Deep South. They purchased the Oasis Travel Center in 1996.