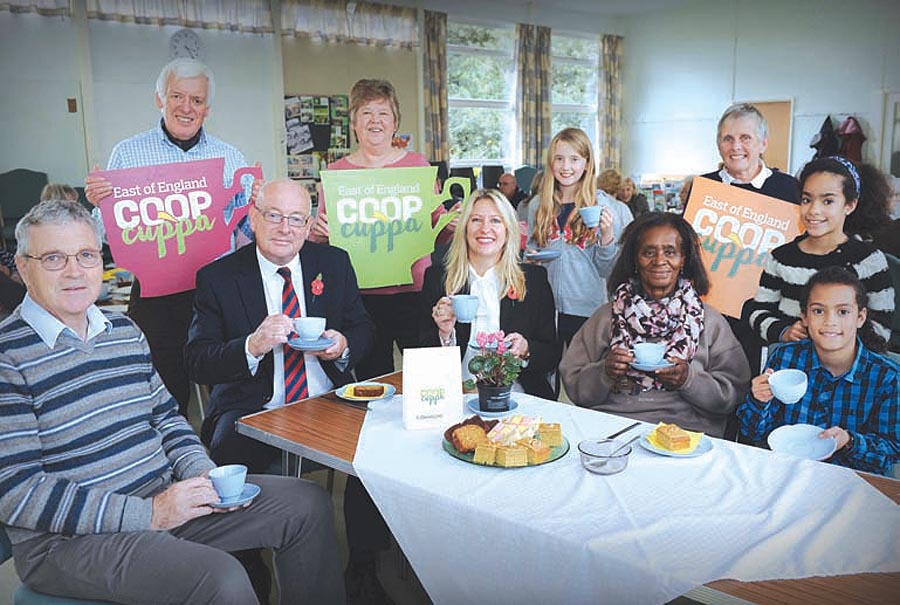 Going the extra mile
With roots tracing back to 1861, today the East of England Co-op is one of the four largest independent consumer co-operatives in the United Kingdom
The East of England Co-op, as it is today, was formed in 2005, following the merger of Ipswich and Norwich Cooperative Societies and the Colchester and East Essex Co-operative Society. With stores stretching from Cromer in Norfolk down to Burnhamon- Crouch in Essex, the East of England Co-op have over 200 stores and branches. They run a wide range of businesses, including food retail, petrol forecourts, funeral services, travel, pharmacy, opticians, Post Offices and stone masonry. They also have their own security business, Secure Response Services, as well as running an
events and conferencing centre at their head office Wherstead Park, in Ipswich.
The retailer also owns over £100 million of investment property in East Anglia. The 500 properties, a mix of commercial and domestic, generate an annual income of £7.1million through rent.
A jewel in their food retail business, the East of England Co-op launched their Sourced Locally initiative in 2007, bringing locally produced food and drink to their shelves. Ten years on, Sourced Locally is stronger than ever, thanks to ongoing investments and improvements. Indeed, since speaking with Roger Grosvenor, one of the East of England Co-op's five Joint Chief Executives, in June 2016, the initiative has developed its Three P Policy – Profit for the producer, Profit for the society and a Price that is acceptable to the customer – into a Five P Policy, adding, Paying its producers on time and on their terms, as well as providing Professional support from their food safety expert.
Truly local
Since 2007 the retailer has put over £57 million back into the local economy through payments to suppliers, and helped to create and protect more than 400 jobs.
In 2016, the East of England Co-op won the Collaboration Award at the Retail Week Supply Chain Awards for Sourced Locally. They were even more proud to, on the same night, be named 'winner of all winners' taking home the Hermes Grand Prix Award, beating the likes of O2, John Lewis, Marks and Spencer, Boohoo, ASOS and Hobbycraft.
Roger continued: "We continue to grow in this area of the business, with like-for-like sales growing a further 11 per cent, and exceeding £17.5 million in turnover, in 2016 alone.
"We are also working on a truly local food hub where we bring local suppliers together through our own distribution network. Our goal is to supply hotels, schools, restaurants and so on through a truly integrated supply chain, from end-to-end, supplying local food from East Anglia. As we have our own vehicles we would backload to our warehouse and cut food miles down too; this is something we are currently in discussions with our suppliers about with the goal of the East of England Coop supplying these products.
"Since we were previously featured in FoodChain magazine, we've employed a former Trading Standards Food Officer who has joined us to support local suppliers. This has enabled us to provide them with expert advice, free of charge, on things such as labelling and allergens. Getting labels checked can cost in excess of £2000, an amount that our smaller suppliers may not have been able to afford, so we're pleased they're now able to turn to us for advice."
The company is scrupulously honest when it comes to the production of food products in East Anglia acknowledging that, coffee beans may come from further afield, but they can be roasted and blended in the region. However, the majority of products available under the Sourced Locally banner come from within 30 miles of the store. For example, Tim Briscoe from Buxton Potato Company in Cawston supplies their Norfolk stores with potatoes, while for those seeking fresh asparagus and strawberries, Emma and Charlie Tacon of the Tacons near Great Yarmouth, have been providing the East of England Co-op with these products since 2009. Furthermore, the company work with local chocolatiers Hadleigh Maid to produce a range of sweet treats for stores across East Anglia, while Rossi Ice Cream from Southend-On-Sea stocks their Essex stores. Additionally, many of the company's stores receive their sausages, hams and bacon, all of which comes from happy, homereared pigs, from Lane Farm Country Foods in Suffolk.
Alongside improvements within its Sourced Locally initiative, the company have also been busy strategically opening new stores, refreshing current stores and selling nine stores that were no longer financially viable. This programme of investment includes repurposing and relaying stores, with food for now, food for tonight and food for later.
To give their members and customers more choice, they've also introduced a number of concessions into their larger stores, including brands such as M&Co and Bon Marche. They've also added 11 Subway sandwich outlets.
A notable development in 2016 was the opening of a new generation Supermarket in Woodbridge, Suffolk which was a former Budgens. Roger explained: "Despite initially being met with some resistance from the local community, when we opened the store locals were amazed by the quality of product and service we're able to provide and sales have been up 15 per cent above target.
"It is a very different store, a step change from anything we have ever done before. It's focused on the local community and local produce, as well as a well thought out food journey.
"As a company focused on service, we also provide home shopping deliveries for those that find it difficult to come in store; and so far around 650 to 700 people benefit from this service every week. It's all about the small things that make a big difference to our members and customers."
"Small things, big difference is our articulation of our Co-op difference, because, when it comes down to it, there are so many small things that we do, when added together make a big difference. From selling asparagus that grows in a field just down the road and paying local suppliers on time, to our colleagues going the extra mile, whether that's removing a mouse from the home of a customer to assisting a visually impaired customer across the road; we do small things that make a big difference because we are a Co-op and we do things differently," explained Minnie Moll, Joint Chief Executive forMembership, Marketing & Media at the East of England Co-op.
Good causes
Minnie continues: "As a Co-operative, we absolutely have our purpose, vision and values at heart; not many organisations do, but it is imperative to us. Our purpose and how we articulate it is to be 'a business that is for people and communities, not just for profit'; it isa constant balance. First and foremost we are a business, but we are always balancing the challenges and tough decisions
of being a business with our ethics, principles and values and of doing the right thing for the community. An example of these ethics is the fact that Co-operative own brand toiletries are not tested on animals. We also have our community token scheme. When a member shops with us they receive a token and can then choose to support one of three local causes. These causes are changed four times a year and at the end of each quarter they receive £500, £300 and £200 respectively. So far we have given nearly £200,000 to local communities through this scheme."
Another notable scheme for the East of England Co-op is Co-op Cuppa, which is based on the notion that you can sort the issues of the world out over a cup of tea. Set up with the goal of getting people together, to share and communicate and work on issues together, the company have given more than 500,000 Co-op Fairtrade teabags away so far. "People can apply online and tell us what they will do with the teabags, whether it is have a coffee morning in the village hall for people living alone or for a mum and toddler group. As long as it is a good cause that you are using the tea for, then we are supporting it," says Minnie.
The scheme that is at the heart of East of England Co-op's ethos, however, is its major community focus on becoming the leading dementia friendly retailer. As the largest independent retailer in the region, the company have embarked on a programme of colleague training and awareness raising throughout their stores and offices in response to the fact that there are more than 50,000 people diagnosed with dementia in Norfolk, Suffolk and Essex alone. In a survey conducted by Alzheimer's UK, 23 per cent of participants stated they have had to stop shopping as a result of living with dementia.
Positive changes
In addition to the training, the company also held a workplace challenge for its colleagues; named 'Shopping in their Shoes'. Those taking part gathered a basic shopping list and paid for items at the till, while wearing an ageing suit. These suits replicate a range of agerelated conditions that distort senses and make movement more challenging.
"We're proud to say that 88 per cent of our colleagues have now completed the voluntary dementia friendly training, with the goal of reaching 100 per cent by the end of June 2017. The training helps colleagues to understand dementia more, to not be anxious or unsure how to behave, and to, critically, be able to support people who live with dementia when they come into our branches.
"We received a wonderful letter from a lady who complimented our colleagues for 'the amazing care and support that they provided' for her mother; the letter said: 'My mother has Alzheimer's but wished to remain at home. She would continually visit the Co-op store on Coleman Road and the staff would offer support, which was way beyond customer care. The staff would call me to share my concerns and keep me updated on mum's behaviour.' This letter really brings home the impact that our colleagues can have by providing this service.
"We also recently won the Princess Royal Training awards for our dementia training and the Large Organisation of the Year Award at the Alzheimer's Society National Awards for our work," enthuses Minnie. Now part of 12 dementia action alliances across East Anglia, the company have offered their award winning dementia training to other businesses in the region for free. With the East of England Co-op performing well, both Roger, Minnie and their three fellow Joint Chief Executives, are keen to further improve service by investing more time in colleagues. "We want to deliver on expectations; if we continue to meet the needs of our customers we can only see prosperity from that," says Roger.
"Our vision is to be trusted as the first choice locally. We're pleased with the results we have seen over the last 15 months, even in challenging times. There are still choppy waters ahead but we are very satisfied with the fantastic work we have achieved. It is about all parts of the business working together and pulling a lot of levers at the same time; there have been a lot of positive changes within the East of England Coop and we're certain this will continue," concludes Minnie.