Eastland makes sure it delivers customers fresh, safe processed produce.
Not many fruit and vegetable processors can get an order at 5 p.m. and have their trucks and products at the clients' location by 4 a.m. the next day, but Eastland Food Products can, President Anthony DeMarco says. "It's kind of like we're an extension of [the customer's] building," he says.
DeMarco's father, Anthony DeMarco Jr., founded the Cranston, R.I.-based company in 1963. "At that time, it was basically a one-trick pony," the younger DeMarco says, explaining that the firm specialized in processed potatoes and had a staff of about 15.
But Eastland has grown steadily over the years. "Today, we currently employ 170 people and our product line has gone from strictly processed potatoes to every possible vegetable and fruit you can imagine," DeMarco declares.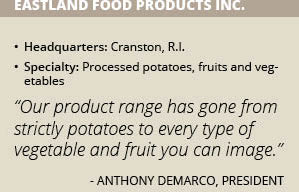 The company primarily services New England, but also services customers in New York, Pennsylvania and even as far south as Maryland, he adds. "We're definitely a leader whether it's tonnage or food safety standards, which is a biggie."
Happy Clients
Eastland has a broad customer base that ranges from further processors to foodservice distributors, as well as convenience store and supermarkets chains. The further processors are food manufacturers that use Eastland's produce as ingredients in their items.
"Our product might be one component of one finished product," DeMarco says. "They might buy shredded cabbage and make coleslaw out of it."
Eastland also recently began supplying Amazon Fresh with the produce for its meal kit delivery program. "We began R&D for Amazon in June of last year and it's continued to escalate from there," DeMarco says.
The company currently supplies 40 items to Amazon Fresh in New England. "They're really pleased with us so far," he says, adding that both companies have discussed expanding their partnership to more areas.
Eastland is seeing increased popularity for Amazon Fresh's service. "People are more inclined and getting comfortable with the home delivery service," he says. "They're having meals as well as fresh produce delivered to their home."
Second to None
DeMarco joined his family's company at the age of 12. "It's the only place I've ever worked," he says, adding that Eastland prides itself on being there for its clients, 24/7. "We also always keep our pricing in line with competition."
Eastland's focus on food safety also drives its success. "We are probably second to none in New England as far as food safety goes," DeMarco says. This focus begins with thorough receiving procedures and is carried through the processing, loading and shipping stages. "Maintaining the cold chain is an integral part of our food safety program," adds DeMarco.
"There's no cross-contamination possibilities across the way," he says, adding that Eastland has implemented multiple washing processes and constant food testing programs. "We're also SQF/GFSI Certified, which is the standard in the industry."
Employees receive extensive food safety training when they are hired as well. "Back in the old days, you would hire someone and five minutes later they would be working," DeMarco recalls. That's not an option today. Constant retraining, as it relates to food safety, is also an important aspect in Eastland's ability to maintain its industry leading standards.
Changing Spaces
Eastland operates from a 30,000-square-foot facility in Cranston. Space has recently been a challenge for the company as it has gone through this growth phase, but it has creatively worked around it, DeMarco says.
"We also don't inventory any finish product," he adds. "All items are processed to order, with short shelf life and a quick turnaround."
Eastland also has spent the last five years investing heavily in upgrades to the facility, as well as new equipment, DeMarco adds. He notes that these investments are what is separating Eastland from of its competitors.
Like Family
The DeMarco family's involvement has benefited Eastland, and enabled it to nurture an environment that enjoys low turnover. "Our core workforce has been here at least 20 years," DeMarco says, adding that some have 30 years with the company.
"Everyone is treated as family," he continues, adding that the company provides them with flexible working conditions and an open door policy. "If anyone has an issue, they can always come and talk to me. My door is always open."
Eastland's essential team members include Vice President Dayne Wahl, who was once a customer before the company hired him in 2000. "He had the experience in the retail sector, which we didn't really have here," DeMarco recalls.
Wahl also had extensive expertise in food safety, which helped develop Eastland's program. "He was a big factor in taking us to the next level," DeMarco says.
Plant Manager Tom Glasgow also joined Eastland in 2000. Although he did not have as much experience in the food industry, "In this business, you just learn as you go," DeMarco says.
"He runs a tight ship down there," he continues, noting that Glasgow creates the company's truck delivery schedule and oversees the production process, and well as directing the shipping/receiving and maintenance departments. He is also responsible for the day to day purchasing.
Quality Assurance Manager Kjell Hokanson has been with the company for over 10 years and has also been instrumental in developing and maintaining Eastland's strict food safety programs.
Up to Standard
DeMarco predicts slow and steady growth for Eastland. "We don't want our sales to go up 30 percent," DeMarco says, explaining that immediate, quick growth can lead to inefficiencies for the company.
By expanding at a gradual pace, Eastland can better meet the needs and demands of its customers, including some who have been with the company for 35 years. "We have to react and make sure we're meeting their standards," he says.