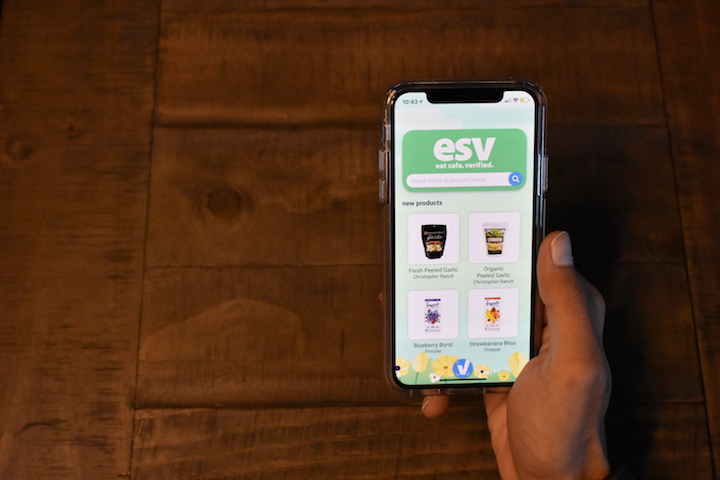 Eat Safe Verified launches a new app to create transparency in the food industry.
Food transparency is becoming an essential focus for the food industry as consumers gravitate towards engagement and personable interactions with brands they buy and eat.
Price and convenience are no longer the most important factors when deciding what brand to buy. Consumers are demanding data that will allow them to make informed decisions while shopping for themselves and their families.
San Jose, Calif.-based Eat Safe Verified (ESV), which launched a new app this year, is helping the industry accomplish this goal. It is redefining the food industry by offering users a new platform that outlines a food product's safety, health attributes and traceability, while giving a voice to food companies and promoting conscious shopping.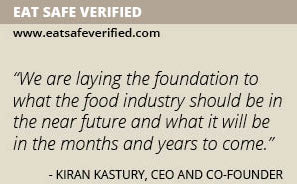 "We are laying the foundation to what the food industry should be in the near future and what it will be in the months and years to come," says Kiran Kastury, CEO and co-founder. "Our app connects consumers with food companies and is a technological embodiment of food transparency." 
Eat Safe Verified, which is the name of both the company and the app, allows users to gain insights into a food product in terms of food safety, health attributes and where it was processed. It also offers relevant information about the manufacturer and how the product's ingredients were sourced.
"We partner with food brands in order to develop this content," Kastury explains. "We realize that there are bigger players out there that are taking food head on but I believe we are doing things a little differently by crafting a platform that can be used by anyone: whether that person be the gym buff, the health nut, an inquisitive millennial, a baby boomer who's always looking to learn more or a mother who wants to feel comfortable about buying a food product for their child."
ESV is a tech company that believes it is leading the charge to a more sustainable future. Its mobile app consolidates much of the information that consumers want to know more about such as food safety tests, health  characteristics and even offers a sneak peek into a manufacturer's facility operations. It also contains tips about food education and conscious shopping.
"Because of ESV's cutting edge technology, consumers are able to gain valuable insights into brands that are partnered with ESV – all the way up to the point of purchase and will find comfort in knowing about the effort that it takes for brands to ensure product quality and safety," Kastury says.
Presently, the company has seven products on its platform. They are Christopher Ranch Fresh Peeled Garlic, Froozer Blueberry Burst, Froozer Strawbanana Bliss, Pavel's Plain Original Russian Yogurt, Christopher Ranch Organic Peeled Garlic, Barsotti Apple Cider, Barsotti Organic Carrot Juice and Pavel's Plain Low Fat Russian Yogurt.
"We are consistently updating the content that currently exists on the platform while also being on track for adding about six new products to the app," Kastury adds. "We're always open to have a conversation with any company that is interested in placing themselves at the forefront of the food transparency movement."
An Idea Is Born
Eat Safe Verified was built upon the principle of transparency. Through the use of cutting-edge software via mobile and web platforms, ESV is bringing light to the food safety programs established by food companies across the nation.
Kiran Kastury and his partner, co-founder Arun Kastury, are trained engineers with diverse professional experience in the field of analytical food testing and consulting.
"As consumers, we were astonished at how saturated food education was, how easily misinterpreted food science could be by consumers and the disadvantage that food companies possessed when trying to communicate with their buyers," Kastury says.
The idea for ESV was born in 2017, when the two engineers dived into the world of food tech – seeking to make a difference.
"We recognized the paradigm shift that was occurring with food as people today were looking to interact with what they eat a lot more than they would in the past," Kastury says.
For example, today's generation often "Instagrams" its food before eating or "Snapchats" a friend about the latest food trends.
"We launched our mobile app a few months ago and we've already garnered some exceptional responses from food companies and consumers alike," Kastury says. "I think that we are game changers in the food tech world, moreover, the world of tech itself. People are looking to brands for quality information on the product and its elements and ESV is there to provide that information in a way that is easily digestible by the consumer."