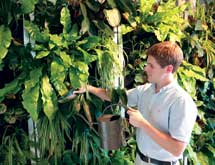 You get a sense EcoLogic Solutions Inc. is a different type of chemical company the moment you walk into its Brooklyn Navy Yard headquarters and see walls made out of plants and furniture fashioned from old doors and reclaimed materials. In one corner, a worker uses a hand crank to filter used restaurant grease, fuel for the company delivery truck. A saleswoman grabs a bicycle and heads out to an appointment.
"At EcoLogic, sustainability isn't just a slogan or a side offering – it's a way of life," says company founder and CEO Anselm Doering. "From our products to our operations to our partnerships, we are 100 percent green from the roots up."
EcoLogic Solutions manufacturers and distributes environmentally friendly cleaning products and technologies for restaurants, offices, hospitals, hotels and schools. Its full range of offerings help customers enhance cleaning, "green" their operations and improve employee health.
Its signature technology is a device called electro-chemical activation (ECA). ECA technology allows users to make their own cleaners and sanitizers onsite using only tap water, salt and small doses of electricity, all for less than a penny per gallon.
"ECA is a disruptive, game-changing technology in the commercial jan/san business," Doering says. "It allows users to eliminate toxic chemicals and use electrolyzed salt water to do everything from running dishwashers to sanitizing food prep surfaces to making 'active' ice that prolongs the life of food. It's as green as it gets."
EcoLogic Solutions caters to a range of clients in the restaurant business, everything from Michelin-starred fine dining establishments like Mario Batali, to nationwide chains, such as Chipotle or Whole Foods Market. A member of the Green Restaurant Association, the company offers a complete line of green chemical products to clean the front and back of any house. The offerings give restauranteurs healthy alternatives that often best toxic counterparts in price and effectiveness as well.
Sustainable Partnerships
Along with promoting environmental stewardship through its products and services, EcoLogic Solutions takes pride in supporting minority and underprivileged segments of American society through its hiring practices and business partnerships.
For its business operations, the company also has taken a progressive approach, securing support from groups far beyond the typical bank or hedge fund. For instance, EcoLogic Solutions forged a historic green business-Native American partnership with Onondaga Nation/Iroquois, a tribe widely regarded as the environmental stewards among all Native Americans.
Doering says the partnership has helped EcoLogic Solutions make sales inroads with other Native American nations who own and operate casinos and resorts throughout the United States, such as the Cherokee, or Oneida Nations. It's also created truly sustainable jobs for Onondagans, who sell EcoLogic products on their land and throughout the region, and use the products and technology to maintain their own operations.
EcoLogic also partnered with the Industries for the Blind for packaging, filling and distribution, creating jobs for the visually impaired.
"From day one, I wanted to create a business that not only offered safe and low impact cleaning alternatives, but challenged the business-as-usual model," said Doering. "A company that makes decisions based on people and planet in addition to profit.
This "triple bottom line" approach led EcoLogic Solutions to become a certified B Corporation. B Lab grants the status to companies that meet rigorous standards of social and environmental performance, accountability and transparency. There are roughly 600 certified B Corporations in the United States today.
"Nothing makes me happier than to walk into a Whole Foods Market or a restaurant and see a sign that says, 'We Proudly Use Green Cleaning Products from EcoLogic Solutions,'" Doering says. "It's a testament to all the value-adds that go into every bottle.