Eddie Merlot's brings one of the world's finest beef filets and a new prototype design to its growing restaurant brand.
Successful restaurateurs know that the only way to move forward is to constantly change. A restaurant that stays content risks becoming irrelevant.
After 15 years, Eddie Merlot's is introducing a prototype design that caters to the modern sensibilities and needs of its diners. When it opens in February 2017, the company's newest steakhouse, in Ashburn, Va., will forgo the Mediterranean exterior of its existing restaurants in favor of a contemporary look. The interior dining room will be smaller with three enclosed areas for business functions or private events and the lounge area will the twice the size of other Eddie Merlot's restaurants.
The prototype restaurant is being designed to better support Eddie Merlot's three buckets of business: private functions, lounge and à la carte dining. The large lounge area, for example, is a direct response to changing dining habits. "We're seeing our lounges so busy, especially on Thursday, Friday and Saturday night," founder and CEO Bill Humphries says. "People wear jeans and maybe a sport coat."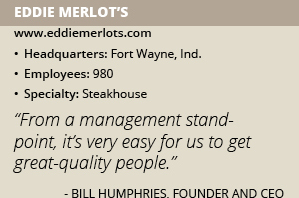 The interior of the restaurant will retain Eddie Merlot's signature contemporary open look, which utilizes light woods such as maple and cherry, stained glass and backlit onyx stone.
The innovation in design is matched by innovation on the menu. In August, the company introduced 5- and 7-ounce versions of a Wagyu Filet, which comes from Wylarah Wagyu cattle raised in Australia and has a marble score of greater than 9. The balance of marbling and lean meat earned Wylarah Wagyu grand champion honors at the 2015 World Wagyu Forum. "We are the only exclusive steakhouse in America that can get that beef," Humphries says.
Customers are eager to try the highly acclaimed steaks. In the first full month, Eddie Merlot's restaurants sold more than a half-million dollars of Wylarah Wagyu filets. "It's a high price point and we're selling a ton of it right now," Humphries says.
The updated menu and new look represent the realization of Humphries' original vision for a restaurant that blended elegant design, exquisite cuisine and impeccable hospitality. Those values have grown the company to 12 locations in eight states.
This success comes from Eddie Merlot's understanding of its audience. Even as gender roles become equalized, women are still seen as the primary decision-makers in the household. Women make 85 percent of consumer purchases, according to Greenfield Online for Arnold's Women's Insight Team, and Humphries says 65 percent of women make the decision on where to eat. Eddie Merlot takes care to appeal directly to its female customers. Restaurants feature 75 wines by the glass, robust dessert menus, more seafood options and smaller cuts of steak, and even custom seating designed to be more comfortable for women.
The concept has proven flexible, able to evolve with its customers even as its core stays the same. Regardless of what new meats are added to the menu or how the dining room changes, Eddie Merlot's will remain a place for professionals who want to be seen and foodie lovers who want to enjoy the work of the industry's most talented chefs.
Staff Support
Great suppliers are only part of the recipe for great dishes. Finding high-quality chefs and managers is a challenge in the competitive restaurant industry, but Eddie Merlot's notoriety has helped it secure talent for its back-of-house operations. The company has a James Beard Award-winning chef coming on board at its Virginia locations and recently lured three new general managers – two of which are taking positions as assistant general managers just to be part of Eddie Merlot's growth. "Right now we have a waiting list of general managers who want to come to work for us," Humphries says. "From a management standpoint, it's very easy for us to get great-quality people."
Part of Eddie Merlot's attraction for potential employees is the extensive support the company gives its workers. The restaurant group recently implemented a major back-of-the-house training program aimed at increasing consistency across locations and ensuring each dish meets the company's highest quality standards. The training process is ongoing with corporate management teams evaluating each restaurant on a consistent basis and holding their staff accountable. Monthly reviews by corporate are supplemented by weekly self-assessments within each restaurant.
Although the recent focus has been on the back-of-the-house, Eddie Merlot's will debut a new front-of-the-house training program for servers, food runners and hosts. The 3.5-month-long program will be hospitality driven with a focus on the consumer and maximizing sales volumes.
Growing Green
Restaurants generate a lot of waste. Uneaten food, paper products and packaging all end up in disposal. At the same time, quality food relies on a healthy environment to grow vegetables and feed livestock. Eddie Merlot's takes its responsibility to the environment seriously. The company is looking for any way it reduce its carbon footprint, from ordering from suppliers that specialize in sustainable seafood and grass-fed cattle to using biodegradable products. "We're looking at everything for how we can go to as much green as possible," Humphries says.
Eddie Merlot's began seeking out green products about a year ago and has already made a number of environmental improvements inside its restaurants. The next big green effort will be something customers can take home with them. The company is phasing out its current supply of to-go boxes and will replace them with biodegradable containers. Humphries expects the switch will go into effect after the holiday season.
The company's efforts to go green will have a larger impact as the Eddie Merlot's brand expands across the country. "We're taking a new look at how we're developing restaurants right now," Humphries says. "We basically started in the Midwest. We're really in neighborhood locations. That's how we started the business."
Like the design of the restaurants, the neighborhood model is changing in response to customer and market trends. The company only has two restaurants in metropolitan downtowns but its Pittsburgh location was named one of OpenTable's Best Steakhouses in America. Humphries believes there is opportunity to build off that recognition.
The company has a wish list of future sites that includes restaurants in the heart of Chicago, Washington, D.C., Boston and Nashville, all high-growth areas with reputations for tremendous foodie cultures. "We're taking that model in downtown Pittsburgh and saying we need to take our chain to some high-profile downtown locations."