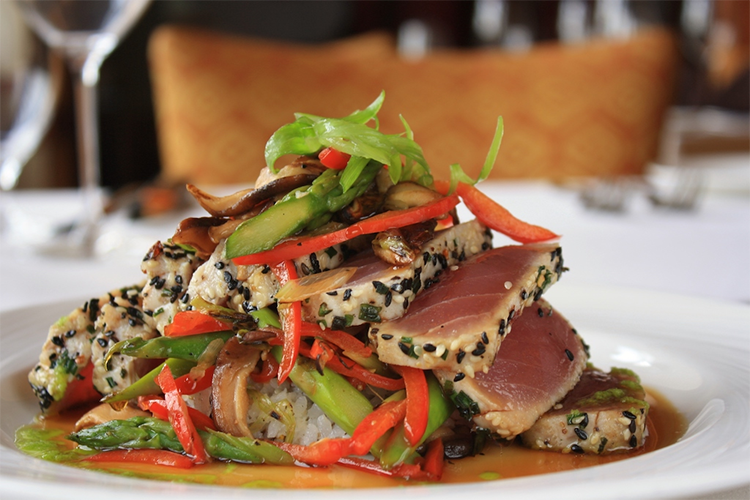 Eddie Merlot's revamps its food and drink menus while developing a new contemporary design for its restaurants to enhance the guest experience.
It is all about the guest experience in the restaurant industry and Eddie Merlot's recently revamped its menus to add a bit of entertainment to the fine-dining experience. "We went through a six-month process of looking at our menu and bringing tableside service back," founder and CEO Bill Humphries says. "From chateaubriands to the baked Alaska, we are doing more things that are entertaining because people want to be entertained in the restaurant industry."
The Fort Wayne, Ind.-based company has become one of America's greatest steakhouses because of its quality, exceptional hospitality and unparalleled atmosphere. Although the company in October adopted 32 menu changes, guests can rest-assured the prime-aged beef and seafood selections on which the restaurant built its reputation have remained.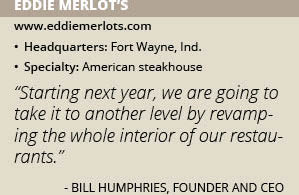 New to the appetizer portion of the menu are Maryland crab cakes, candied Cherrywood bacon, sesame calamari, yellowfin sesame tuna sashimi, beef carpaccio, crab martini cocktail, ahi tuna poke, steak tartare and a chilled seafood tower. A king crab and corn bisque soup was added, as well as a merlot iceberg, heirloom tomato and burrata and crab and avocado salads.
A number of signature sides and steak and seafood enhancements have been added to the menu, as well. Eddie Merlot's has added veal Franciscan-style, Gerber Farms chicken breast, Creekstone Farms pork chops and a vegetarian bucatini to its house specialties. Grilled shrimp, yellowfin tuna steak and blackened sea scallops are also new items added to its seafood creations.
Wine and Spirits
In addition to its dinner menu changes, Eddie Merlot's hired Bretton Lammi as its beverage director earlier this year to redesign the wine menu. "Wine is a big part of our business," Humphries says. "He basically took our whole wine menu and redesigned it and put it into a different format for us. He then went out and started different programs and promotions throughout the year that have really driven our wine sales to a new level."
The company will continue to promote its new wine menu while Lammi's focus shifts next year to redeveloping the spirits menu. He is also rewriting the company's wine and spirits training program to further educate the team, including selling suggestions.
Last year, Eddie Merlot's focused on a major back-of-the-house training program aimed at increasing consistency across locations and ensuring each dish meets the company's highest quality standards. The training process is ongoing with corporate management teams evaluating each restaurant on a consistent basis and holding their staff accountable.
The company this year launched a new front-of-house training program for servers, food runners and hosts. The training program is hospitality-driven with a focus on the consumer and maximizing sales volumes. Training began in August and will run through December. "We have a really great team of educators to write the programs and educate our teams," Humphries says.
Contemporary Upgrades
Eddie Merlot's last year introduced a prototype design that caters to the modern sensibilities and needs of its diners at its steakhouse in Ashburn, Va. Its newest location boasts a new interior and exterior design, which Humphries says has been well-received in the marketplace.
The restaurant was designed to better support Eddie Merlot's three buckets of business: private functions, lounge and à la carte dining. "There is a lot more lounge space and an entertainment area in there, as well as bigger private dining areas," Humphries adds. "The dining room is a lot smaller, but from a perception standpoint it looks full all the time."
The interior of the Ashburn restaurant retains Eddie Merlot's signature contemporary open look, which utilizes light woods such as maple and cherry, stained glass and backlit onyx stone. This location is also Eddie Merlot's first free-standing building with the new exterior design.
"We are going to continue to evolve," Humphries says. "Starting next year, we are going to take it to another level by revamping the whole interior of our restaurants. It will be a contemporary look and the development and design work will begin next year."
Moving forward, Eddie Merlot's will focus its concentration on metropolitan areas to develop new locations. The company has intents in Washington, D.C., and Chicago, and is also looking at sites in Boston and Nashville. "We started as a Midwest chain and have driven the business to some high-profile downtown locations," Humphries says. "From our new menu, training and décor, we have a lot of new things going on at Eddie Merlot's."
Photo credit: Jenny Boyd