Eddy Packing continues to grow its high-quality protein product lines and enable solutions for customers.
Eddy Packing Co. is a broadly diversified premier processor of high-quality beef, pork and poultry products. Offering a diverse array of fresh and frozen products through three core business channels: retail-branded, foodservice and private label. With more than 60 years of experience, the company is committed to developing the best, most flavorful meat products for its customers. Eddy Packing treats its customers more like partners, ensuring all products fit their specific needs.
"We listen to our customers," President and CEO Pete Ryholt says. "We like to pay special attention to their needs and wants. We try to be very responsive. We try to make sure we understand market requirements, so that we can meet and exceed those requirements to be their go-to company. We've beefed up our marketing and customer service department on the R&D side to support the product development activity on the front end. My product development director is the tip of the spear and if he's dull, then we're in trouble. So we have to keep that sharp and continue to be responsive to customer demands."
For foodservice, Eddy Packing mainly supplies institutional organizations such as school lunch programs, along with partnering with major distributors. On the retail side, consumers can find Eddy Packing meat products at a variety of retailers including Costco, Kroger and Aldi. "This is another area where we try to partner with our customers to make products they desire versus us trying to sell products we want to make," Ryholt notes. "We believe partnering with our customers in that manner grows our business and gives them products they want."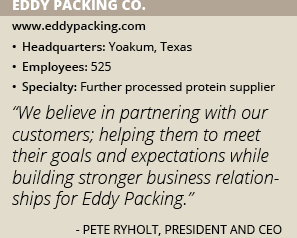 For its private-label meat products, Eddy Packing has heavily invested in its packaging department. Ryholt says the packaging looked old, boring and was in desperate need of a redesign. The company's marketing department developed a fresh, new packaging presentation that highlights the positive qualities of the products and presents them in a leading-edge design. "We changed the label design and added more colorful artwork," Ryholt says. "It has better eye appeal and stands out onthe shelf. From there, we made it consistent across our product line. We integrated the platform and implemented certain standards of representation across the market. We revamped our point-of-sale material and added our new tagline: 'with Flavor BIGGER than the Lone Star State.'"
Protein Market
One major thing Eddy Packing must contend with as a meat processor is the tumultuous protein market. Ryholt says it has been rather volatile the past two years, but finally the market is more stable now and the company is in a better position having recovered from high meat prices. "It has been refreshing for the company," he says. "The industry was in complete turmoil from pricing. Drought affected the cow supply, then the avian flu affected poultry and the pig population dropped due to PEDv virus in young pigs."
In the protein industry, success depends on the total price of the product. If something such as an epidemic sickness affects the animals, it has a huge impact on the overall pricing.
"Across the board, it was an assault against the protein supply side," Ryholt adds. "That finally subsided and we're seeing it stabilizing somewhat and making it easier to manage an environment that's a little more predictable than what it was."
Another positive aspect in the protein market is the high demand for RWA and organic meat products from Eddy Packing customers. Many companies such as Whole Foods are leading the charge because customers want healthier, organic and raised without antibiotics certified protein products. Eddy Packing would argue that healthier, higher-quality product doesn't always have to mean more expensive.
"We've been investing product development around better for you protein and investigating possible development around organic proteins and see it emerging in the next two to three years," Ryholt explains. "We're seeing that, as 'Better for You' reaches critical mass, the industry itself will accelerate its ability to support product improvements and pricing will become more reasonable. The front end is where the most money is to be made. Typically, on any evolution for any category or product type is where most money is to be made – from a business management perspective. The more you can get in front of trends and lead those trends, the better it will be for the company's direction and growth."
Being a leader in the industry is the driving force behind Eddy Packing. "I want everyone that's here to want to be here and understand what we're trying to do as a company and I want everyone to have a positive outlook on those goals," Ryholt says.
"I believe that this industry is so ripe for change," he continues. "A lot of people would consider the meat industry as mature, but there's so much opportunity for innovation in so many areas of new development and we want to participate in that – whether it be ingredients, product functionality, new methods of preparation or ease of use. There are a lot of options and opportunity, and we won't limit ourselves."